Tips & Tricks from Students Around the Globe
Being a student is not just about attending classes and studying – it is an experience that can be both terrible and wonderful depending on how organized, motivated, and hard-working they are. For many people, college is (or was) one of the best periods of their lives even next to all the exams and occasionally boring lectures. So, if you'd like it to be so for your child as well, here are some tips and tricks from students all around the world that will hopefully help your child turn their college experience into something they will gladly look back to even in your more mature years.
Taking enough time
While there are many students that feel most inspired to study one day before the exam, such postponing inevitably comes with a lot of stress that could have been avoided. Besides the fact that this isn't exactly the best way to approach your college exams – or anything else in life for that matter – it can also catch them off guard if they notice that there is something they don't understand and it's too late to ask anybody for help. And that's when the panic and stress can hit them. So, advice them to write down the dates of their exams, and depending on how much studying they think each exam will require, they should organize their time so they can manage to learn everything and still take a couple of breaks between the studying.
Organizing the space
This goes for both their physical and their digital space. Get them a comfortable chair that won't hurt their back while studying, don't let them study in the dark, and advise them to clear their desk of any unnecessary items so there's enough room for their books and notes. In case they don't have the best studying conditions, they can always study in the library if peace and quiet is all they need. Moreover, if studying – in their case – requires using a computer, they should get rid of all the usual distractions – Facebook, YouTube, 9GAG, reddit, etc. Whatever it is that they know they won't be able to resist for longer than 10 min, they need to make sure they can't access it.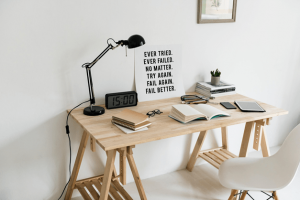 Using the apps
Since we do live in the digital age, make use of it. There are many useful apps that can help them during their studies. For example, if they need to scan something but they don't have a scanner and they can't go to any copy shop because it's Sunday, there is a great app that can help – CamScanner. It is an app that allows you to take high-quality pictures, which it then turns into PDF documents that look as if they were scanned by an actual scanner. It can be a true lifesaver for every student, so don't forget to download it as soon as you can– you never know when they'll need it. There are also apps that can help them block distracting websites, so take some time to browse through Play Store – you will surely find more apps that can make your college life much easier.
Practice
One of the best ways to study for exams – and to ensure that they are ready for them – is to practice by taking older versions of those exams. This will allow them to see what is expected of them to know, and what they still need to learn.
If you live in the Land Down Under, there are good Deakin uni papers that can serve this purpose, and they can be their extra study material if there are any incomplete sections of their own notes. It's also a good idea to make connections with older students, as they might have some extra tips that can help your children study, or some great notes they could share with them.
Don't neglect social life
It's good to be ambitious and study hard for your grades, but even the best students will agree that everyone should take a break from time to time. So, advice them to go for a walk whenever they feel like they could use some freshening up. Or they can watch an episode of their favorite show, or go out for a cup of coffee with their best friend, and go to that party on Friday night if they feel like it. College is not all about studying, and they won't enjoy it much if they spend all those years glued to their chair. Plus, making connections and improving their communication skills is just as important as having good grades – in some cases even more – so don't neglect their social life.
Regardless of where you and, your beloved students, are in the world, all students share the same struggles of dealing with stressful exams, gathering enough good study material, organizing their time, and balancing their academic life with their social one. However, with a couple of useful tips and tricks, the years they spend in college can turn out to be some of the happiest and most active years of their life.
Happy Parenting!