After marriage one thing that brings change to every girl's life is 'The Kitchen". Especially when you have to cook for your family.
Each day begins with the thought of breakfast and when you are an Indian, you cannot settle for bread and cereals every day. Since, I face this situation with a pressure to make each meal healthy and tasty, so I keep experimenting with the available things in my kitchen. Today I will share one such recipe with you which is easy to prepare, is nutritious and a treat for your kids when served with tomato ketchup.
This might seem close to Besan Ka Cheela recipe and is prepared very similarly, also has a resemblance to Rava Uttapam. There are different ways to prepare this recipe; basically with a few variations here and there you may create your own version of it. Here is Suji ka Cheela Recipe for you all.
But before I share Suji ka Cheela recipe I have some tips for perfect Cheela:
Add curd to brighten the flavor, adding vegetables of your own choice will make it more nutritional and finally always cook cheela on medium flame to get it thoroughly cooked.
Suji Ka Cheela Recipe:
Preparation Time: 20 minutes
Cooking Time: 15 minutes
Servings : 4 person
Ingredients Required:
Suji/ Rava : ½ cup
Besan : 1 tbsp
Rice Flour : 1 tbsp
Curd : ½ cup
Water : 1 Cup
Onion : Finely chopped, 2 tbsp
Tomato : Finely chopped, 1 tbsp
Green chilli : Finely chopped, 1 tbsp
Coriander Leaves : 2 tbsp
Zeera : Roasted and grind, 1 tbsp
Kasoori Methi : 1 tbsp
Black Pepper : To taste
Oil for roasting
Salt : To taste
Instructions for Cooking:
Firstly take rava, besan and rice flour in a large bowl and add ½ cup curd.
Add Salt and water and mix it well with a whisk without forming any lumps.
Rest the mixture for 20 minutes or till Suji swells.
Further add finely chopped onion, tomato, green chilli, coriander leaves, kasoori methi, bhuna zeeera and mix it well. (add water it required to make it a flowing batter)
Now grease the dosa pan with oil and spread a ladleful of thick batter.
Brush the pan on edges with few drops of oil.
Cover and cook chilla for 2 minutes on medium flame
Flip over and press gently to cook cheela from both sides.
Keep it on flame till the other side gets bit crispy on the edges.
Finally serve Suji ka Cheela with green chutney and tomato ketchup.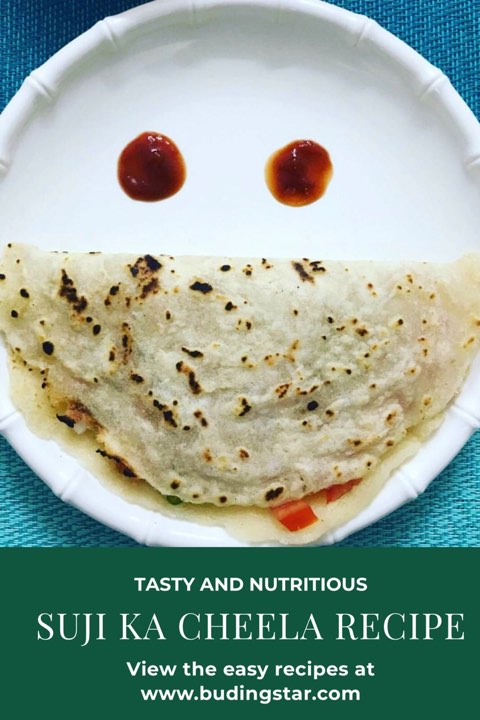 Hope you will try Suji ka Cheela Recipe. Happy Tasting!