[heading tag="h2″ align="center" color="#000″ style="lines" color2="#000″]In this Article[/heading]
Foods to include in Indian Diet Plan for Breastfeeding Mothers
Foods to avoid in Indian Diet Plan for Breastfeeding Mothers
Indian Diet Plan for Breastfeeding Mothers
[divider height="30″ style="default" line="default" themecolor="1″]
This article is for new Mothers who breastfeed their baby and for To-be Mothers. The post describes Indian Diet Plan for Breastfeeding Mothers. Now days, most of the mothers opt to breastfeed as breast milk provides best nutrition to the baby. Even WHO recommends that breast milk should be continued to be part of a child's diet, up to 2 years of age and beyond. Before describing the Food chart for breastfeeding mothers, let's read the benefits of breastfeeding.
Benefits of breastfeeding a baby:
Breast milk

contains all the nutrients the infant needs for proper growth and development.

It promotes brain development of baby.

Breast milk is a great way to improve and increase immunity in kids, because it contains antibodies and white blood cells, which boost the immune system and help the body to fight against diseases.

It also helps Mothers in shedding their post- pregnancy weight more easily.
Thus, it is recommended to breastfeed a baby at least up to 6 months. It can be extended along with solid diet, and it is no harm if one pursues breastfeeding up to 2 years of age and beyond. Do remember Moms! Your baby's growth is the utmost thing and it all depends on you. So, go ahead and nurse your baby for as long as it feels right to you. The longer you breastfeed, the greater the protective effects.
We all know whatever a mother eats a food, a baby can taste it in her milk. So, in a way a baby eats whatever goes in his/her mother's tummy. Thus, a breastfeeding mother need to be very cautious about her diet. But it doesn't mean that anything you eat or drink while breastfeeding can cause colic (indigestion) to your baby. There could be many other reasons of colic like if your baby not being latch on well, or swallowing milk too fast, and inhaling too much air.
Before penning down Indian Diet Plan for Breastfeeding mothers, let us first find the list of foods that you should include and avoid while Breastfeeding.
Foods to include in Indian Diet Plan for Breastfeeding Mothers:
Those days are gone now when a mother was made to eat khichdi and porridges for months post-delivery. But now, diet plan for lactating mother includes all the best part of traditional and modern diet. Let's find out list of foods that can be included in Indian Diet Plan for Breastfeeding mothers.
1.  Proteins:
A diet rich in protein is essential during breastfeeding as it helps in producing breast milk and for nourishing your infant. It will also assist mothers in losing post-delivery weight. Breastfeeding mothers should take milk at least two times a day. Regular use of milk promotes proper lactation. You can also add protein powder in the milk.
Vegetarian Mothers can include orange Masoor dal, green mung dal (chilke), paneer, cheese and kidney beans (for some it's colic). Peanuts can also be included in the food chart. Make it in a powdery form for consuming or mix it in your Panjiri Ladoos.
Non-Vegetarians Mothers can include eggs, fish, and boiled chicken as per your preference. All includes lot of protein.
*Avoid curd in first two months after delivery and can start consuming from 3rd month on wards.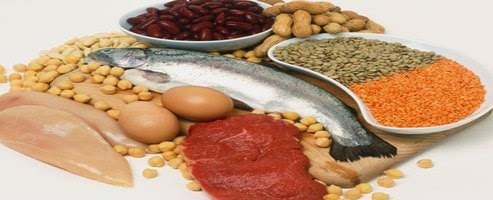 2. Liquids:
When you breastfeed, your body experiences plenty of loss of fluids as breast-milk comprises 90% water. To make it up this loss, a lactating mother should consume enough liquids. You should have at least 8 glasses of water in a day. Intake of liquids also helps in milk production. If it is not enough, it may lead to dehydration, lesser production milk, constipation, dry skin, etc.
You can take water (fennel seeds, ajwain), coconut water, vegetables soups, spinach soup (good source of iron), bottle gourd, beetroot and carrot juice (good source of iron). To quench your thirst, add mint or strawberry in your regular water. You can include vegetables and fruits like watermelon that have high water content in your diet.
You can have herbal teas with safe ingredients like fennel seeds, ajwain, black pepper, etc. It helps in proper digestion and shed some fat also.
*It is recommended to drink liquid half an hour prior before breastfeeding your baby as it makes you thirstier.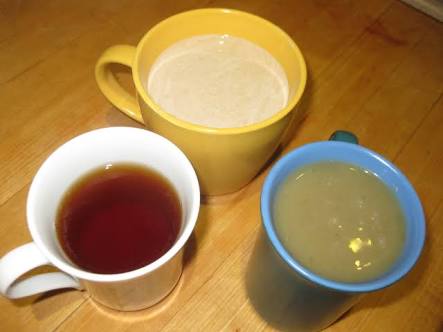 3. Whole grains:
They provide essential minerals which are necessary for you and your growing baby. Also, it is easy in digestion for breastfeeding mother.
You can include whole wheat flour, oats, Porridge (daliya), brown rice, quinoa, ragi, museli, khichdi, etc. in your diet chart.
* You can use sprouted grains in place of usual dry grains as they are much healthier. Try Wheat/Ragi/Bajra/Jowar. Make flour of sprouted and dried grains and use it for making porridge.

4. Iron: 
You need to replenish your iron stores in the body after delivery. So, it is essential to include iron rich foods in the Indian Diet Plan for Breastfeeding Mothers.
Vegetarian Mothers can have dry beans, turnip greens, kale, black eyed peas, green leafy vegetables, wholegrain bread and cereals and green peas. If you will cook food in iron vessels with tomatoes, this can also provide some iron content. Almonds and walnut are again good sources. Jaggery is a good source too.
Non-vegetarian Mothers can have liver and organ meat of chicken, meat for replenishing iron content in body.
5. Vitamins:
Vitamins help in developing baby's growth and boost milk production. Diet Plan for Breastfeeding Mothers should include lots of green vegetables and fruits. You can have bottle gourd, spinach, fenugreek, pumpkins, Tinda, carrots, and beetroots. Fruits like apple, pear, pomegranate, papaya, etc. should be included in your diet.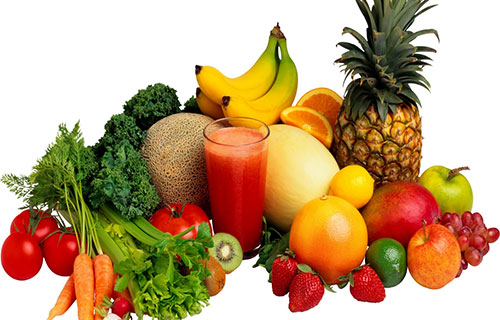 6. Calcium:
Calcium is vital for breastfeeding mother as it helps in growing your baby's bones.
A mother can include leafy vegetables like spinach, kale, mustard greens and turnip tops. Milk and its products like cheese and paneer are must.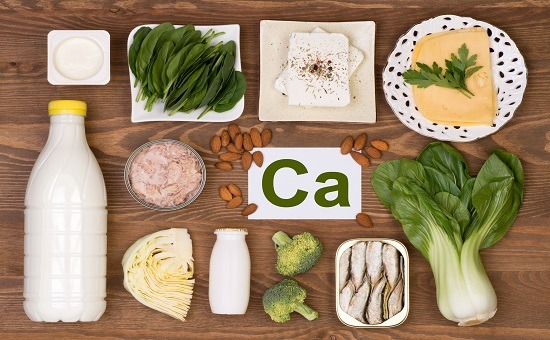 7. Galactagogues Food:
Galactagogues food is must for the breastfeeding mothers as it helps in boosting milk production and for the growth of a baby.
Diet Plan for Breastfeeding Mothers can include Galactagogues food such as:
Whole grains especially oatmeal

Green leafy (spinach, brocolli, kale)

Fennel seeds, cumin seeds

Garlic and ginger

Chickpeas, nuts, almonds, flax seeds

Dry fruit Gur Chikki (source of iron and protein)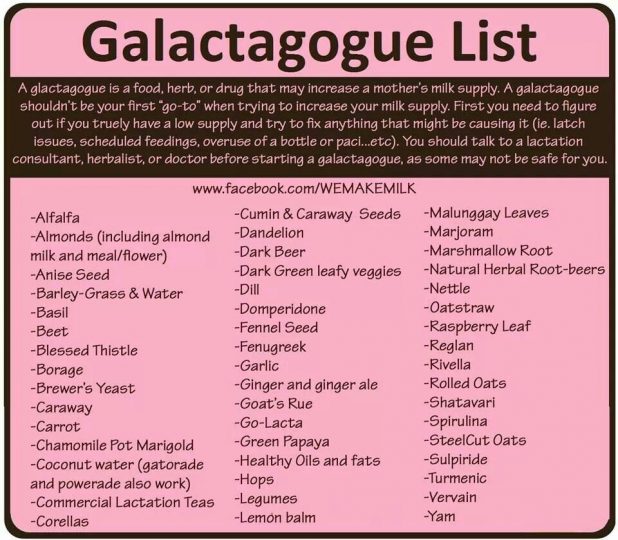 Foods to avoid in Indian Diet Plan for Breastfeeding Mothers:
A breastfeeding mother needs to very careful while taking her diet. Some foods are not easy to digest and some are not good for baby's efficient growth and health. Follow the mentioned above list of foods to be avoided in Indian Diet Plan for Breastfeeding mothers.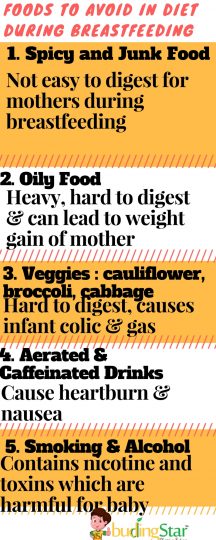 Now when we know what food is to be included and avoided, here is Indian Diet Plan for Breastfeeding Mothers for your reference.
The Breastfeeding period can be alienated in 3 stages as below:
Stage 1. First 40 days (post-delivery)
Stage 2. After 40 days till 6 months (Remaining exclusive breastfeeding period)
Stage 3. Extended breastfeeding (ideally till 2 years)
Stage 1. Diet Plan for Breastfeeding Mothers for First 40 days:
Immediate after delivery, the next 40 days are very crucial for a mother and baby. Extra care should be taken as a mother experiences hormonal and physical changes in her body. Her body is healing; regaining strength and producing milk.
Indian Diet Plan for Breastfeeding Mothers :
Food Items
CALORIE (KCAL)
PROTEIN (GMS )
Tips and Nutri-fact
Morning : 6:00-7:00 AM

Herbal Tea/Milk

100

5

Herbal Tea increases the metabolism rate. Milk lowers down the stomach's acidic rush that improves the digestion.

Panjeeri (Small Half Bowl)

200

10

Proportion to make Panjeeri: Wheat and Nut ratio should be equivalent i.e. 1:1 ratio for better digestion and to avoid constipation.

8:30 AM

Soaked Almonds (10)

100

8

Rich in Protein

Breakfast: 09:00 AM

Porridge/Upma/Stuffed roti (without oil)/Oats with milk/Cheese Sandwich/Bread Omlette

300*

10-15

*The mentioned intake of protein & cal should be there in breakfast as this much amount is required by Breastfeeding mothers.

11:00 AM

Non- Citrus Fruits such as Apple, Pomegranate

40

Provides Roughage for healthy bowel

Lunch: 1:00-2:00 PM

Chapatti (2)/Rice with Green veggies (1 Bowl) & Lentil (1 bowl)

450

16

Green veggies help in better digestion & lentil increases the protein content and breast milk. If you consume paneer in diet then lentil should be avoided as simultaneously two variants of protein will increase calorie intake which is not advisable.

4:00 PM

Herbal Tea/Milk with 2 Atta Buiscuits

100

2

6:00 PM

Clear vegetable soups (green veggies/spinach/ tomato)

100

2

Contains iron and folic acid to recover the blood loss while delivery and increases milk production.

 Dinner: 8:00-9:00 PM

Chapatti/Rice with Green veggies (1 Bowl) & Lentil (1 bowl)

450

15

Take jaggery after dinner to increase iron absorption.

10:00 PM

1 glass of milk

100

2

Increases milk production during night time and good for sound sleep.
Important Tips:
Continue with Folic acid (500 mcg) daily.

Take Ajwain water after half an hour of meals for healthier digestion.

Walk for at least 10-15 minutes daily at home only after lunch and dinner.
Note: Indian Diet plan for breastfeeding mothers is framed to just give you an idea about the food items that you can include. You can make changes in timings and according to your acceptability for that food item.
Stage 2. Diet Plan for Breastfeeding Mothers after 40 days till baby is 6 months old:
Once baby turns 5 months old:
You can have all kinds of beans, potatoes, citric fruits, idli/dosa made up of well fermented batter, onion, even moderate black pepper. Such introduction of foods in the diet will enable baby's digestive system ready for direct solids as you can start feeding solids once baby turns 6 months old.

All the extra breakfast or snacks can be skipped slowly now.
*At this stage don't just rush in for weight loss as it may affect breast milk production and your health too. Remember Moms…. Exclusive Breastfeeding helps in natural weight loss….!!
Stage 3. Diet Plan for Breastfeeding Mothers after 7 months till baby is 2 years old:
From now onwards, there is no restriction on the diet but it should be healthy one. You can now skip those extra snacks in between your meals. Now your baby is on solids too, so breast milk will be consumed less by him.
Small Tips:
It is important to walk for 20-30 minutes every day to keep you fit and for proper digestion. You can do walk at home only.

Burping your baby is as important as feeding your baby. Try Burping your baby before switching breasts. Two common positions you can follow for burping: over your shoulder or sitting on your lap.

Take a sleep of at least 8 hours every day. It is difficult to complete the sleep with baby but try to sleep in afternoon or any time when your baby is also asleep.

If in case of any digestion issues in mothers or baby is too much cranky (cries a lot), then do consult your gynecologist or pediatrician.
[icon type="icon-lamp"] Join our Facebook closed group called
"Parenting Mom Style"
only for Moms and To-be Moms to share experiences and queries.
Happy Parenting!