Mommies….!! As your baby has turned 7 months old, so now he/she is all ready to step forward from vegetable/ fruit purees to more varieties of food. So, in this post, I have shared the Indian Diet Plan for a 7 months old baby or baby diet chart for 7 months for your reference. Introduce the foods in your little one's diet in a very playful manner so that the mealtime becomes another pleasure time for him/her.
Some of the growth milestones of 7 months old baby:
At this stage, your baby tends to get his/her first tooth.

This is the time where babies may develop their "PINCER GRIP" where he wants to pick up the tiny things or small chunks of food by using his thumb and forefinger.

Your baby will develop a full-colour vision and Distance vision matures.

Your baby will tend to communicate vocally by making a lot of different sounds – laughter, blowing bubbles, and babbling in chains of consonants such as "da-da-da.."

Sits with, and then without, support of his/her hands.

By this stage, he/she will start responding to "no".
And Mommies don't forget to capture all the special moments.
Now, let us know important tips on how to feed a baby which are discussed below.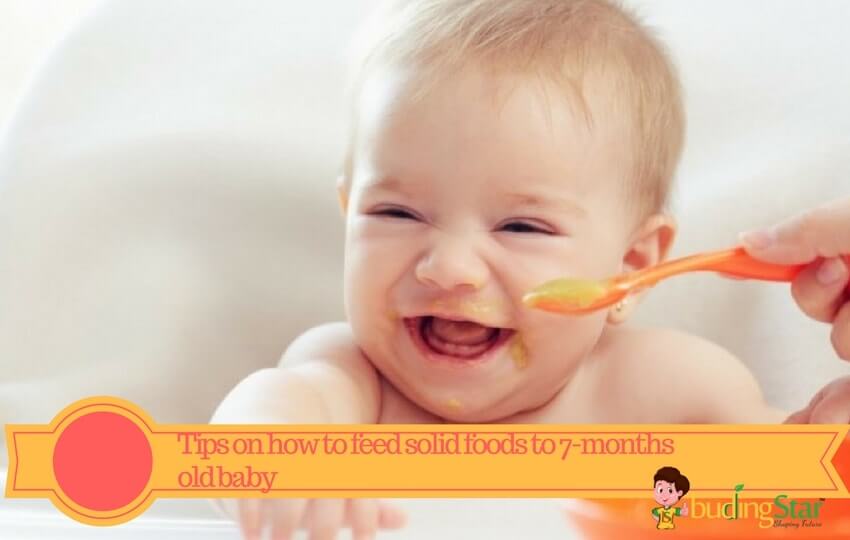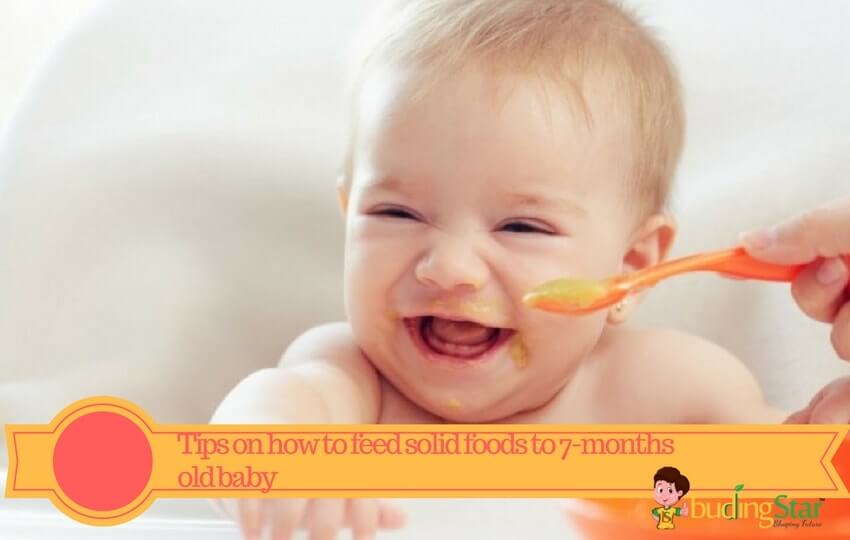 Important Tips on how to feed solid foods to 7 months old baby:
Always give properly fresh cooked, soft textured and easy to digest foods and not the hard ones as the baby's digestive system is still developing. Don't store the fruit and vegetable puree.

In 6th month, solid food is given twice a day but from 7th month you can give thrice a day as proper breakfast, lunch and early dinner to your little one. Don't feed anything forcefully to the baby.

Breast milk and formula milk should be continued.

Increase in the number of meals doesn't mean that we should stop Breastfeeding/ Formula milk.

As the number of meals increases the need for the milk decreases so you should not be worried. Don't feed anything forcefully.

Always remember to go by "3-days wait rule" before introducing any new food to babies. 

Never mix new foods together. Introduce them separately first to see whether the baby can digest the same or not.

If a baby develops any food allergy then stop feeding that food. Also, consult your paediatrician in such cases. (

Diarrhea

, vomiting, constipation, rashes and too-much crying due to stomach pain are the symptoms in the baby of any particular food allergy.)

Sterilize the baby utensils that are used for cooking and feeding. 

Avoid feeding Cow's milk, raw vegetables, nuts, too much salt and sugar before the age of one year.

Feed your baby when he is sitting in a proper sitting position. Make your babysit on the high chair while feeding.

Find the best high chair for your little one by clicking on the link mentioned below: Best Baby High Chair
Be careful while feeding your baby as an introduction of some solid foods can cause

constipation

or Diarrhea too.

Refrain your little one from watching TV, mobile phone, etc. while you are feeding anything to them. (If you will not follow this, then it will become their habit and they will not eat anything when TV is off)

Water intake is a must for a baby. Intake of water must be 2 to 4 ounce per day (i.e. 60 to 120 ml). For tracking, you can feed water to him/her from a sipper which has markings. 2 to 4 ounce in a day doesn't mean plain water alone. Foods like soups, dal paani, barley water, cucumber, etc. have water content. So, if you are feeding food to the baby that has water content then few sips are enough in a day.
Must-Haves for feeding the Baby
Must-haves that are required for feeding solids to the baby include chopping each vegetable or fruits you give to the baby so that minimum chewing is required, round or firm foods should be avoided to prevent any choking hazards, even if the baby has started having finger foods by himself make sure he eats it under your supervision, have your baby sit supported in your lap or in an upright position.
How much quantity should a 7-month-old baby eat per day?
Seven-month-old babies need nursing every three to four hours as the baby might have started eating some solid foods but breastmilk should still be the main source of nutrition. In a meal, a baby can have around 2 to 12 tablespoon of solid foods. (depends on the baby)
Before I write down Indian Diet Plan for 7 months old baby, let us first see the list of foods that you can include and those you should avoid in your baby's Diet Plan.
Foods to include in Indian Diet Plan for 7 months old baby:
At 7 months, you can introduce the below foods in addition to the 6 months food chart. So, here is the list of some foods to be included in Indian Diet chart for 7 months old baby:
Breastfeed or Formula milk:- You should continue to breastfeed or formula feed to your baby as and when required.
Introduce finger foods like:
Bread

Pasta

Cottage cheese cubes, tofu cubes

Boiled egg (chopped/ cut into pieces)

Well-cooked veggies (boiled potatoes, boiled carrots, zucchini)

Soft fruits like (Banana, ripe papaya, mangoes)
Finger foods are any bite-size, easy-to-eat pieces of food that your baby can pick up and eat by himself.
Some more foods that can be included are :
Avocado and banana baby food

–  this pairing will provide good fats, fibre, vitamin C and potassium to the baby significant for the baby's development and growth 

Blueberry and beets mash

– this blend of the gorgeous shade of magenta provides antioxidants, fibre and vitamins to the baby

Pumpkin thyme puree

– this elegant dish is filled with potassium, iron and beta carotene
Foods to avoid in Indian Diet Plan for 7 months old baby:
Some foods pose a choking hazard and a few aren't good for your baby's digestive system. Here is the list of some foods to be avoided in Indian Diet Plan for 7 months old baby.
NOTE : Your baby can't digest proteins in cow's milk and soy milk during the first year. They also contain minerals in amounts that can damage the kidneys. However, the products made with cow's milk such as yogurt, cheese, custard can be given. Stick to the breast- milk or formula milk until your child turns 1.
Uncooked Vegetables

Fruits like grapes, dates

Meat/ hard/ sticky foods

Nuts

There's a risk of food allergies, especially when there is a family history of allergies. Consult a paediatrician while introducing foods like eggs, meat, nuts.

Avoid fried foods.

Avoid sugary cereals.
You may be interested in reading – Foods unsafe for your baby (below the age of 1 year)
Now we know what food is to be included and what is to be avoided, I will now pen down Indian Diet Plan for 7 months old baby for your reference.
Indian Diet Plan for 7 months old baby:
First Week: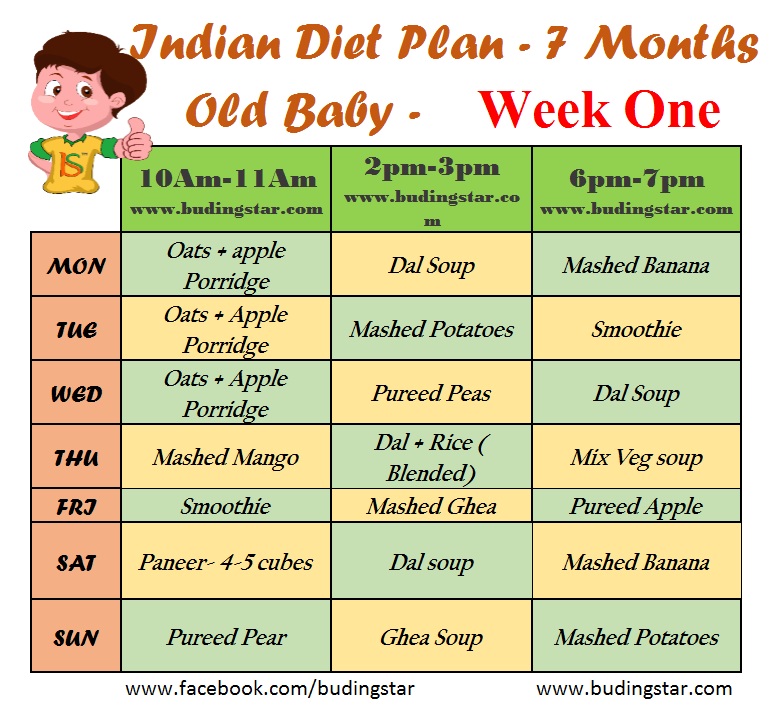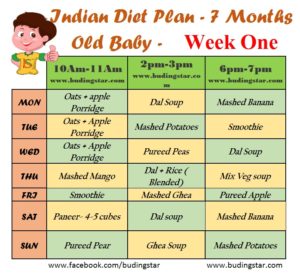 Second Week: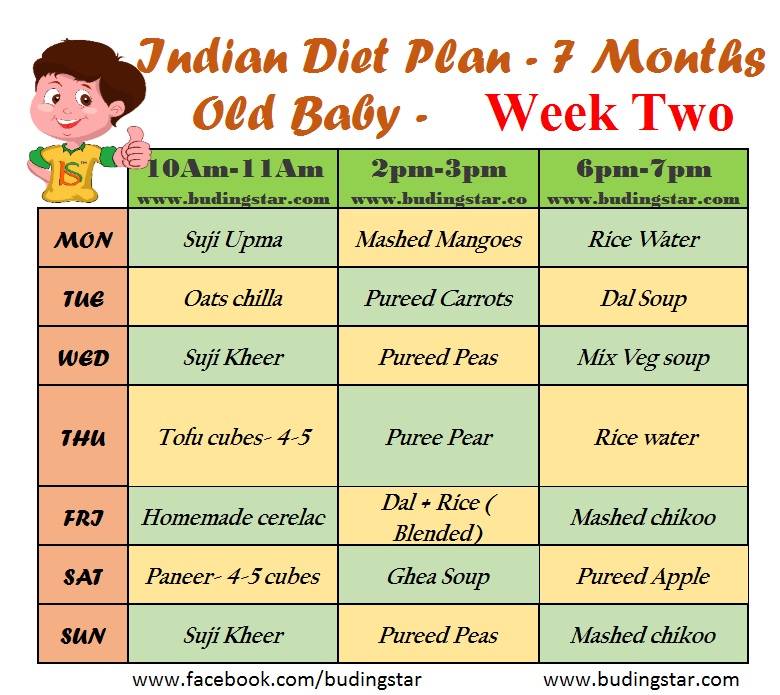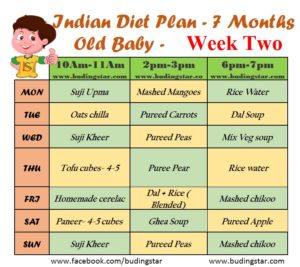 Third Week: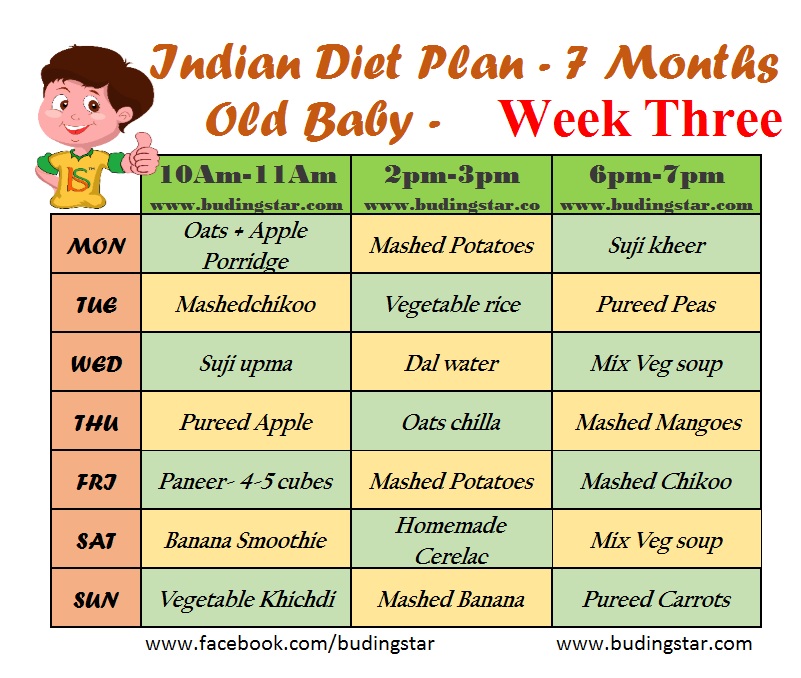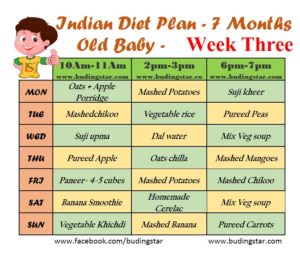 Fourth Week: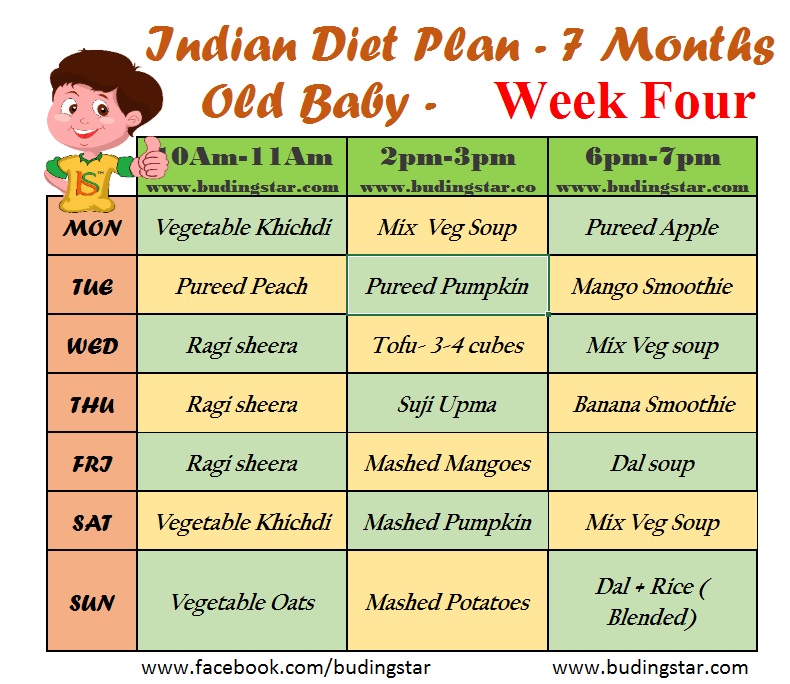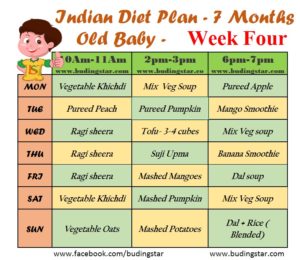 You can note down all the Food/ Meal recipes referred in the above four plans by clicking on the link mentioned below:
Indian Food Recipes for 7 Months Old Baby
Important Tip: You should continue with the Breast milk/ Formula milk in addition to the meals (as mentioned above) as and when required by the baby (when the baby feels hungry). But one thing should be kept in mind that if the baby eats a good portion of the meal then you should keep a gap of 2 hours in the next feed.
NOTE:- This Indian Diet Plan for 7 months old Baby or diet plan for 7-month baby is framed to just give you an idea about the food items that you can include. You can make changes in timings and according to the baby's taste and acceptability for that particular food item, also changes can be made on the basis of availability of the food item. Strict meal times are not mandatory. Feed him whenever he is hungry.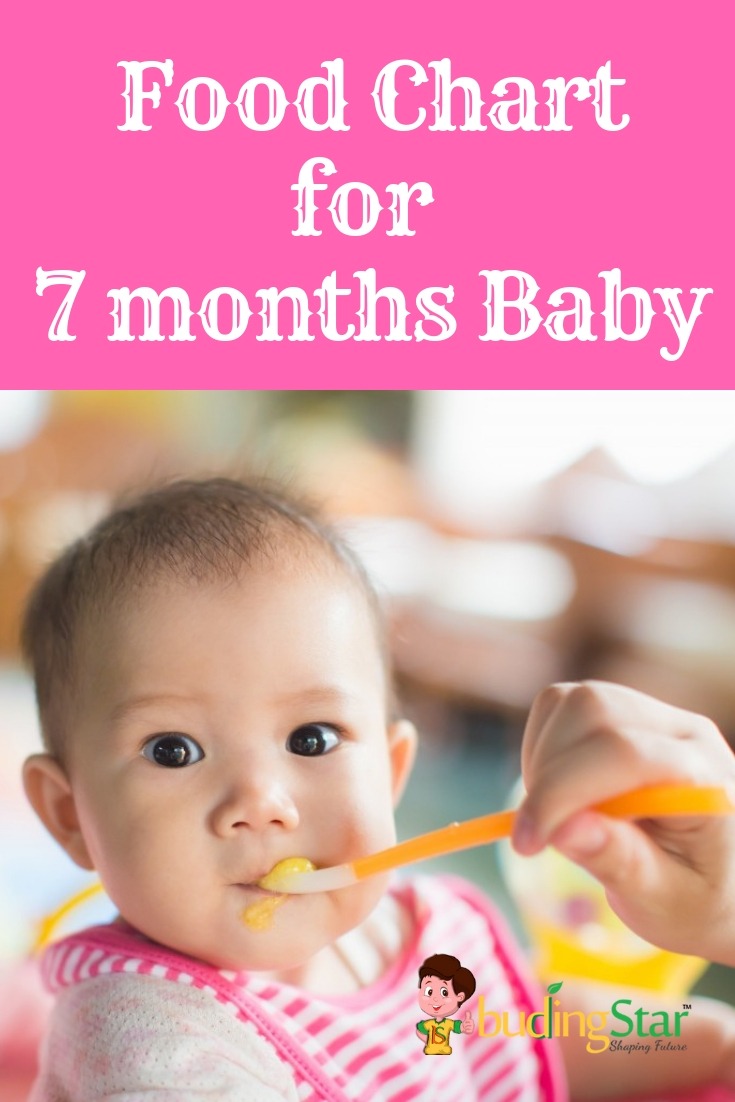 Do leave a comment if you have any query related to Indian Diet Plan for 7 months old Baby.
Happy Parenting! 
You may be interested in reading – Indian Diet Chart for 8 months baby
Diet plan to lose weight
A lot can be written on an ideal diet chart for weight loss. Our nutritional requirement varies on different factors. It could be gender, age, any medical history or depends on the factor that the person is vegetarian or non-vegetarian.
Indian Diet Plan for Weight Loss 
Here we are presenting you a diet chart for weight loss for females in India. Here are the tips that might be useful for you:
Always prefer freshly prepared meals to eat. Avoid eating stale food. 

Add all food groups to your diet plan.

Breakfasts are meant to be energetic and healthy. So you can add options like paratha, idlis, dosa, uttapam, bread, and eggs to your diet. 

Always take breakfast within thirty minutes after you wake up.

Lunch should always be light like you can have dal, sabzi, roti and curd or rice, rajma, chole, etc.

Always have a medium dinner such as paneer, mixed veg, dal chawal, or curd rice.

Try to have dinner at least two hours before sleeping.

You can also add mini-meals in between three meals but it should be light and easy to digest like fruits, nuts, salads, etc.

Avoid packaged and processed food. 

Drink at least 2-3 liters of water. 

Avoid a zero-carb diet or starvation to lose weight.
Healthy Snacks to Lose Weight 
It is better to have 5-6 meals in a day to consume calories easily than to have 3 huge meals. It is always advised to have snacks as mini-meals in between the three meals. You can add these healthy snack options to add in your Indian diet chart for weight loss:
Green tea or buttermilk.

Nuts with Shakes rich in protein.

Veg sandwich.

Fruits or Salads.

Walnuts and dates

Fresh fruit smoothies.

Multigrain flour khakras and papdas.
Homemade food in India provides one of the best weight-loss diets. A mixture of healthy and complex carbohydrates, fats, and proteins with less oil or ghee is always preferable. 
By following these points you can not only lose weight but also maintain a healthy lifestyle.