One of the most harrowing experiences in a mother's life is to deal with a gassy baby. A baby suffering from gas cries a lot especially after feeding. She is usually cranky and fussy. My son suffered from gas in the initial months of his life. He would inconsolably cry and it was very difficult to sooth him and make him sleep. But gradually I started researching about the cause and home remedies to treat gas in babies and toddlers.
After try, quite a few of them I found that they work! So, in this post I am going to share with the readers some simple home remedies for treating gas in babies and toddlers. But before that let us see what causes gas in babies and toddlers.
Causes
‌1. The main cause of gas in babies is their small and underdeveloped stomach which sometimes doesn't digest the feed properly thereby causing gas.
‌2. Another reason is that sometimes babies take in a lot of air during feeding. That in turn causes gas.
‌3. Toddlers have more varied reason for gas like, eating certain foods that cause gas, maintaining poor hygiene, not taking enough fluids etc.
But unless you can pinpoint gas to be the culprit behind your cranky child, you cannot use home remedies to treat gas in babies and toddlers. Next question is how do you know that your baby is suffering from gas. Let us examine some of the symptoms.
Symptoms
Hiccups and burps
It is common for newborn babies to have hiccups often. But if you notice your baby hiccups more than she usually does, it could be due to gas. Similarly, burps being normal in infants could be a symptom of gas if happens more than the normal way.  In my case my son used to have hiccups right after feeding. And soon those turned into crying and discomfort.
Spitting up
Again, it is normal for babies to spit up some feed. But I noticed that whenever my son was cranky and spit up right after feeding, his stomach felt hard to touch. I knew that the culprit must be the gas.
Bloating
If your child's stomach feels hard to touch, it is most likely due to gas. A swollen abdomen is also a sign that your baby is suffering from gas.
Fussiness and crying
Needless to say, fussiness and crying are the first signs of discomfort for anyone. But when I tried to evacuate the fussiness in my son and all the other mentioned symptoms I be sure that he is suffering from gas.
Now that you know that your baby has gas let me share some popular home remedies to treat gas in babies and toddlers.
Home Remedies to Treat Gas in Babies and Toddlers
Right position while feeding
Improper positioning your baby while nursing often makes the baby swallow air along with milk. 
Always feed baby in an inclined position.

If you are feeding your little one with a bottle, while feeding make sure there is no air in the nipple.
Note: Try to avoid nursing while lying on the bed.
You may be interested in reading-
POSITIONS AND TIPS FOR MAKING BREASTFEEDING EASY
Burping after every feed
Babies often swallow some air while feeding even if we take every precaution. So, it's important to burp them properly after every feed. This is one of the most effective Home Remedies to Treat Gas in Babies and Toddlers.
Gently place your baby on your shoulder and pat her back for five minutes. Doing this usually eliminates gas swallowed while feeding.

For babies who can sit on their own, allow them to sit down after feeding. Additionally, you can pay their back gentle to eliminate any residual air.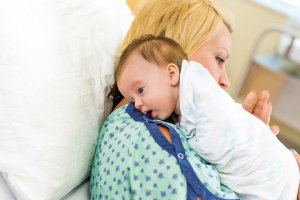 Massage
If you find your baby cranky or crying even after burping:
Try massaging her stomach gently in clockwise motion for some time.

You can also use a little mustard oil massaging. Mustard oil has surprisingly good effect in calming down a gassy baby.
You may be interested in reading-
New Moms Guide To Baby Massage
Bicycling
This is considered as a great exercise for babies and keeps baby active and playful as well.
Bicycling is done by gently moving your baby's legs just like cycling.

While moving make sure his thighs touch his stomach. 
Tummy time
I discovered the importance of tummy time when my son was two months old.  As I have already mentioned, my son as an infant, suffered from gas. I tried most of the above techniques to relieve his uneasiness. Most of the time I was successful but when I learnt about tummy time and started practicing with my son I observed that he rarely cried because of gas. It is best to give tummy time to your baby two or three times a day.
Place your little one on his tummy and let her stay in that position for one or two minutes depending on how long she can stay in that position.

Gradually increase the time as your baby gets comfortable.
Tummy time is not only good for relieving gas but also for strengthening your baby's neck and back.
Cumin seeds (Jeera)
Cumin seeds (Jeera) are best known for their digestive properties.
Heat approximately a glass of water with a tea spoon of cumin seeds.

Give this concoction to your baby every few hours.
Preferred Age:
For babies above six months of age.
Asafoetida (Hing)
For Infants: Make a paste by taking Asafoetida (a pinch of it) with warm water. For relieving the gas in babies apply the paste around his navel. This is considered one of the best home remedy to treat gas in infants.
For toddlers above one year of age: Add pinch of Asafoetida or hing in baby food (like khichdi, pongal).  This works well in preventing gas formation.
Ginger (Adrak)
Ginger in food helps stimulate saliva, bile and gastric juice production to assist in digestion. Add a pinch of ginger in your baby's food.
Preferred Age:
For babies above 8 months of age.
Carrom Seed Water (Ajwain ka Pani)
Heat approximately a glass of water with handful of carrom seeds.

Give this concoction to your baby at frequent intervals.
Preferred Age:
For babies of 6 months and above.
Warm Compress
Soak a cotton towel in warm water and squeeze out excess water.

Place it at baby's tummy. Do check that the towel is not so hot for a baby.

Repeat after frequent intervals.
A word of caution: Don't use hot water bottle on baby's tummy.
Identify and eliminate the triggers
Many food items such as high sugar fruits, legumes, aerated drinks triggers the formation of gas. Carefully observe your child's eating pattern and identify the food that cause gas. It is best to avoid such items that are known to cause gas in your child.
Lots of fluids
As a rule of thumb, one should take plenty of water to digest the food we eat. Children often forget to drink sufficient water.
Be vigilant and make your child drink plenty of water.

Along with that you can supplement it other fluids like coconut water, fresh lime juice, lassi etc.
Preferred Age:
For babies of 6 months and above.
Maintaining hygiene
Toddlers and preschoolers often spend a lot of time playing. And often unknown microbes enter your child's body through eating without washing hands. This can be a reason for gas and stomachache. Teach your child to wash hands thoroughly before eating and after using the rest room.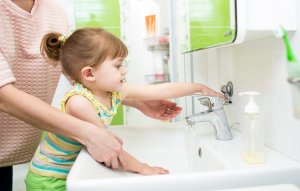 These home remedies to treat gas in babies and toddlers not only provide relief to the baby suffering but also does not have any other side effects.
Do you have any more tips or home remedies to treat gas in babies and toddlers ? Do share with us in the comments below.
Disclaimer: These home remedies to treat gas in babies and toddlers that I have mentioned in this article of mine are my own tested and tried on my son. In case of any unfortunate effect or side effect, and if the situation worsens, you may please consult your pediatrician.
Happy Positive Parenting with Budding Star !
You may be interested in reading-
Home Remedies For Dry Cough In Babies And Toddlers