We often find new mothers getting worried about the hair on the newborn's body. Then they start researching the reasons and home remedies to Get Rid of New Born Baby Body Hair. And yes mothers always rely on the age-old natural ways and home remedies to get rid of them. Baby hair removal techniques are diverse and you need to make sure you pick the right one because a baby's skin is pretty sensitive. We want to ensure we reap the benefits without causing any harm. So, in this post tried and tested home remedies are discussed to get rid of New Born Baby Body Hair along with the importance of choosing the right baby skincare range
New Born Baby's hair is mostly found on the shoulders and back of the new baby. The hair of a newborn baby is soft, thin, and fine. It is not dense and curly like the hair of an adult. The hair on a baby is called "lanugo". When a baby is born, the lanugo is the first thing that is visible.  Over time, the lanugo will diminish and disappear. In the meantime, newborns are often covered in a fine layer of lanugo hair. Seeing hair on a small baby's body might worry parents and they often search for how to remove newborn baby hair. The parent would simply type "how to remove baby hair" on google and try out the ideas that they see at first. However, one should always be careful before trying any technique of newborn baby hair removal since their skin is really sensitive so any harm caused would be dangerous.
Before writing down the Home Remedies to get rid of New Born Baby Body Hair, let us know some more details and advantages of newborn body hair. Even if it does not look so good, this initial body hair is advantageous to the little one.
What is Lanugo?
Lanugo is a term used for hair which covers the body of newborns, and lanugo hair is unpigmented and is the first type of hair which appears from the hair follicles. You might be confused about how to remove baby lanugo hair. It is fine and soft in texture and actually has so many protective benefits like keeping the baby warm. Lanugo covers a foetus inside the womb and is shed during the last couple of months of pregnancy. In rare cases, you find newborns, especially premature ones, covered in it. There is no specific location for its appearance, it could be anywhere.
Lanugo usually disappears on its own before birth, or after birth. Other times, it remains for a long(er) period of time. So, if your baby still has it a few weeks to a few months after his/her birth, there's no cause for concern. However, you can try out these home remedies to encourage shedding. Before that, here's a list of reasons why lanugo is actually good for your newborn.
Also, read Child development stages.
Functions of New Born Body Hair?
While the baby is in the womb, lanugo acts as a protection for the tender skin of your baby and

also regulates the temperature while keeping them warm

It prevents any damage from amniotic fluid

It holds together a greasy wax-like layer which plays the role of covering the skin of the baby so that it remains moisturized or warm

It also works to release hormones to alleviate stress and accelerate growth
Problems Related to New Born Body Hair?
Newborn body hair can be problematic in situations where it does not shed off properly and converts into prominent hair as it happens due to a lack of specific enzymes causing a lack of cortisol and higher secretion of androgen leading to hair growth excessively.
What if Body Hair does not Appear?
A doctor should be consulted if your baby has not shed its initial hair in the first 6-7 months or if he is developing darker hair as he is suffering from congenital adrenal hyperplasia or CAH which requires timely treatment.
It is very common that a baby to be born with fine visible hair on his or her body. It automatically gets shed in the first few weeks after birth. The remedies that I explained above are not very necessary to follow as naturally the hair shedding may take only a little longer. Howbeit, if your baby has not shed the initial hair within a maximum period of six months or is developing darker hair, then you must consult a doctor. This could be a sign of a serious condition and you should not delay it by using home remedies. 
Here are Some Advantages of Newborn Body Hair:
While the baby is still in the womb, Lanugo acts as a protection on her tender skin.

The damage which can be caused by the amniotic fluid inside, Lanugo avoids it.

It also holds together the vernix caseosa. A greasy wax-like layer that covers your baby's skin in the womb to keep it warm and moisturized.

It is helpful at the time of birth by facilitating easy passage through the bony cervix.
Now you know that your baby's body hair doesn't have any disadvantages. Though it'll go automatically, below are some Home Remedies to Get Rid of New Born Baby Body Hair that is easy to follow and actually work.
8 Home Remedies to Get Rid of Newborn Baby Body Hair :
We're sure now you want to know how to remove baby hair in the safest way possible. Don't worry, we have the perfect solution for you that will help in baby hair removal Since we all love the traditional methods passed down to us from generations for home remedies for child hair growth, we have listed down some of the best picks for you.
1. Massage with Olive Oil
Olive oil is a great baby body hair removal oil with various benefits. Massage with Olive oil is one of the best home remedies to get rid of New Born Baby Body Hair.
Apply olive oil to your baby's body.

Massage her body in a clockwise motion for some time.

Don't apply so much pressure on the baby's body.

You can do a massage twice a day.
Olive oil does not only work as a great agent of baby hair removal oil but a massage from this oil also allows gives you quality time to spend with your newborn. If your baby's body is not accepting olive oil, you can try other essential oil like coconut oil or any good baby care brand's massage oil. Almond oil and mustard oil are also recommended in case your baby is not suited to coconut oil. All of these oils can be used for lanugo hair removal in babies.
I belong to East UP and there, massage with mustard oil is very common for newborn babies. I found many doctors recommend avoiding mustard oil massage but my personal experience with mustard oil is good. Mustard oil keeps the baby's skin moist and soft. Its antibacterial and antifungal properties help in treating rashes/infections.
Preferred Age:
Wait till the umbilical cord of a baby sheds off naturally by itself. To keep it safe, introduce massage only after 40 days of the baby's birth. 
2. Dough of Wheat and Gram flour
These ingredients are easily found in our kitchens and also are very beneficial and light while working on your baby's skin. Wheat flour is not harsh on your baby's skin and also works in improving the complexion. Wheat flour is rich in Vitamin E which is an antioxidant needed by our body. Gram flour has been used for centuries to remove body hair and it is super effective.  Both of these ingredients are excellent baby hair remover agents and their mixture can do wonders for your baby's skin. 
Make a soft dough of wheat and gram flour.

Rub it all over the baby's body gently.

Roots of hair will be softened by it and hair will be removed gradually.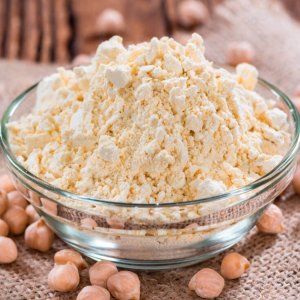 Now, there is another tradition that is being followed in the Eastern UP region. After massaging the baby, a dough made with wheat and gram flour is rolled over the body of the newborn. It is believed that this process helps to reduce body hair and also prevents body odour. Now, I am still to find the connection between this dough rubbing and body odour, however, this method is one of the really effective home remedies to get rid of New Born Baby Body Hair. 
If you are specifically looking for how to remove hair from a baby's face, then Gram flour is your secret ingredient. Make a paste with milk and turmeric till the consistency is smooth and gently massage in hairy areas.
Preferred Age:
Wait till the umbilical cord of a baby sheds off naturally by itself. To keep it safe, introduce this remedy only after 40 days of the baby's birth. 
3. Ubtan (made of lentils, almonds and milk)
In some families, an Ubtan made with lentils (urad dal), almonds and milk, is used as a remedy for newborn body hair. Ubtan for babies
4.7/5 - (11 votes)