Congratulations Mom, now your baby is 8 months old…! 8 months is a very fun and interactive stage. Well, worried about his food/diet? If this is so, this post is a must read for you. In this, Indian Diet Chart for 8 months old baby, his growth milestones and tips on how to feed him are discussed.
Some of the growth milestones of 8 months old baby:
Your baby may already have a few teeth by now. But even if there are none, their jaws are strong enough to tackle small chunks.

Babies gets to a sitting position without assistance. They crawl, some crawls at the back a little bit, pulls self up to stand on their knees, try to kind of walk (also walks holding on to furniture).

Your baby will tend to communicate vocally by making a lot of different sounds – laughter, blowing bubbles, and babbling in chains of consonants such as "da-da-da.." He might accidentally stumble on "mama" or "dada." Repeat the word and react with excitement to communicate the significance of what he's said.

He will start responding to "no". He may start using simple gestures. Teach him to wave "bye-bye" and clap when he is happy.

Babies start practicing PINCER movement on small objects.

May start finger-feeding himself as he is able to sit upright, has PINCER grasp and proper hand-eye coordination. 

Some babies may have chosen their favorite toy by now and use it for dribbling and dragging it around everywhere.

Separation anxiety is one common thing that can be seen in babies at this stage. They might get afraid or cries when someone picks them up.

Baby may be thrilled to discover new things as he has a good control over his hands and fingers, so he can drop the things down for you to pick up. Dropping and throwing the things can be a game for them as they enjoy doing that a lot.
Note: If your baby doesn't do any of the above-mentioned activities, please don't panic. Have Patience Moms..! And also, you need to be cautious as safety is a big issue at this stage. Try to be right behind them in case they start to wobble as your baby is now entering the land of bumps and falls. Keep the objects out of the reach of babies that might cause a choking hazard.
Now, let us know important tips on how to feed a baby which are discussed below.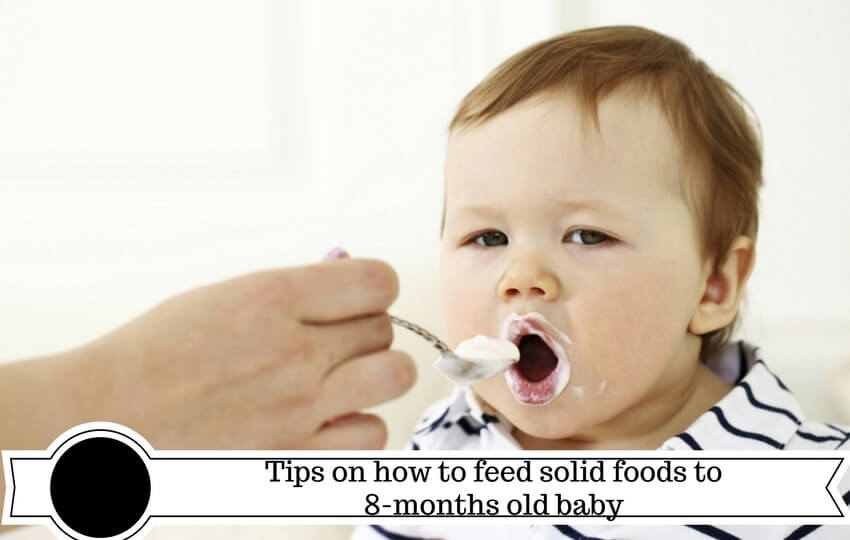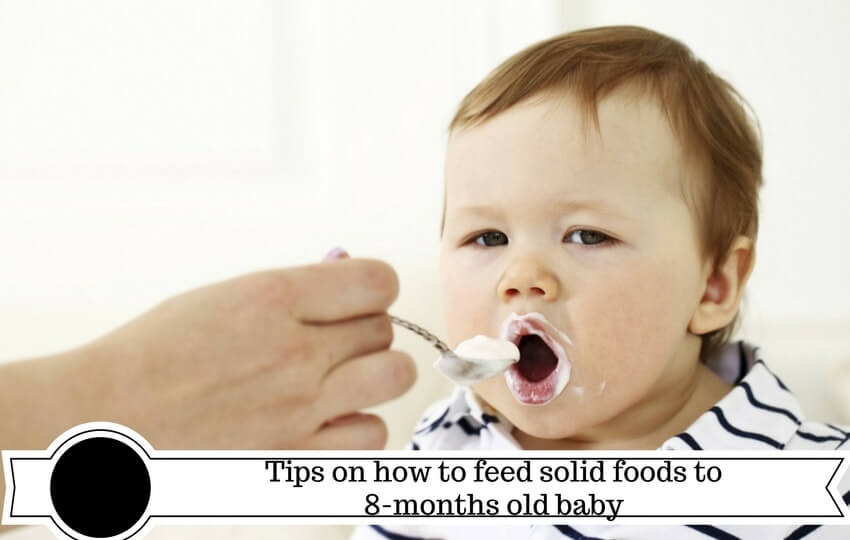 Important Tips on how to feed solid foods to 8 months old baby:
Always give properly fresh cooked, soft textured and easy to digest foods as the baby's digestive system is still developing. Don't store the fruit and vegetable puree.

Breast milk and formula milk should be continued.
Always remember to go by "3-days wait rule" before introducing any new food to babies. 

If a baby develops any food allergy then stop feeding that food. Also, consult your pediatrician in such case.

(Diarrhea

, vomiting, constipation, rashes and too-much crying due to stomach pain are the symptoms in baby of any particular food allergy.)

You can also introduce finger foods (easy-to-eat pieces of food that your baby can pick up and eat by himself) like breads, pasta, cottage cheese cubes, tofu cubes, etc.

Feed your baby when he is sitting in a proper sitting position. Make your baby sit on the high chair while feeding.
Find the best high chair for your little one by clicking on the link mentioned below:
Be patient Mommies..! Don't feed anything forcefully to baby. 

Also, never over-stuff his mouth with food.

Try the foods that he once rejected after few days. He may start liking it.

Sterilize the baby utensils that are used for cooking and feeding.

Be careful while feeding your baby as introduction of some solid foods can cause

 constipation 

or Diarrhea too.

Refrain your baby from watching TV, mobile phone, etc. while you are feeding anything. (If you will not follow this, then it becomes their habit and won't eat anything when TV is off)

Water intake is must for a baby. Intake of water must be 2 to 4 ounce per day (i.e. 60 to 120 ml). For tracking, you can feed water to him from a sipper which have markings. 2 to 4 ounce in a day doesn't mean plane water alone. Foods like soups, dal paani, barley water, cucumber, etc. have water content. So, if you are feeding such foods to baby then few sips are enough in a day.
Before I write down Indian Diet Chart for 8 months old baby, let us first see the list of foods that you can include and those you should avoid in your baby' Diet Chart.
Foods to include in Indian Diet Chart for 8 months old baby:
At 8 months, you can introduce the below foods in addition to 6 months food chart and 7 months food chart. So, here is the list of foods to be included in Indian Diet Chart for 8 months old baby: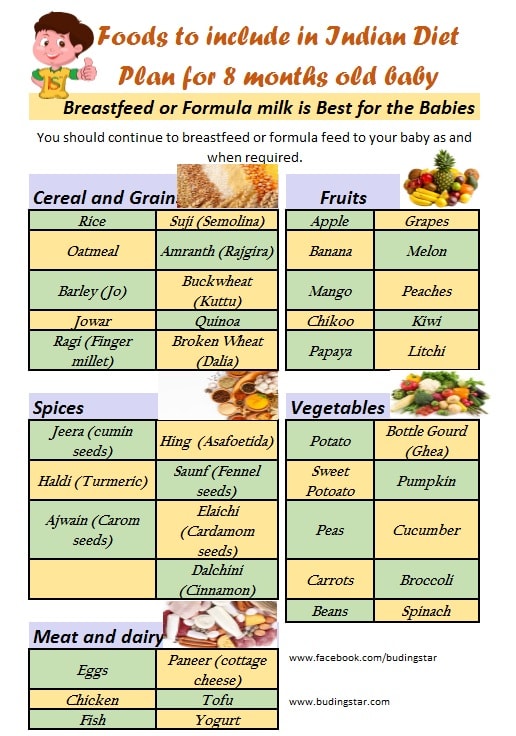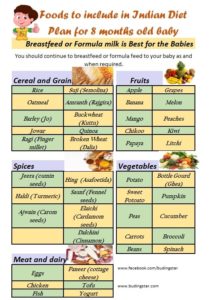 Important points to remember for feeding above mentioned foods:
Cut the whole grapes into small pieces as it can cause choking to baby. Remember this for other fruits also.

Vegetables should be properly cooked before feeding. Chicken and fish should be cooked properly and should not be left raw from any side. 

Avoid processed meats like sausages, ham, salami.  
Foods to avoid in Indian Diet Chart for 8 months old baby:
Some foods pose a choking hazard and a few aren't good for your baby's digestive system. Here is list of some foods to be avoided in Indian Diet Chart for 8 months old baby.
Cow'S  & Soy Milk

Uncooked Vegetables

Nuts
Know the complete list of foods that are unsafe for baby by clicking on the link mentioned below:
Foods unsafe for your baby (below age of 1 year)
Now, we know what food is to be included and to be avoided, I will now pen down Indian Diet Chart for 8 months old baby for your reference.
Indian Diet Chart for 8 months old baby:
FIRST WEEK: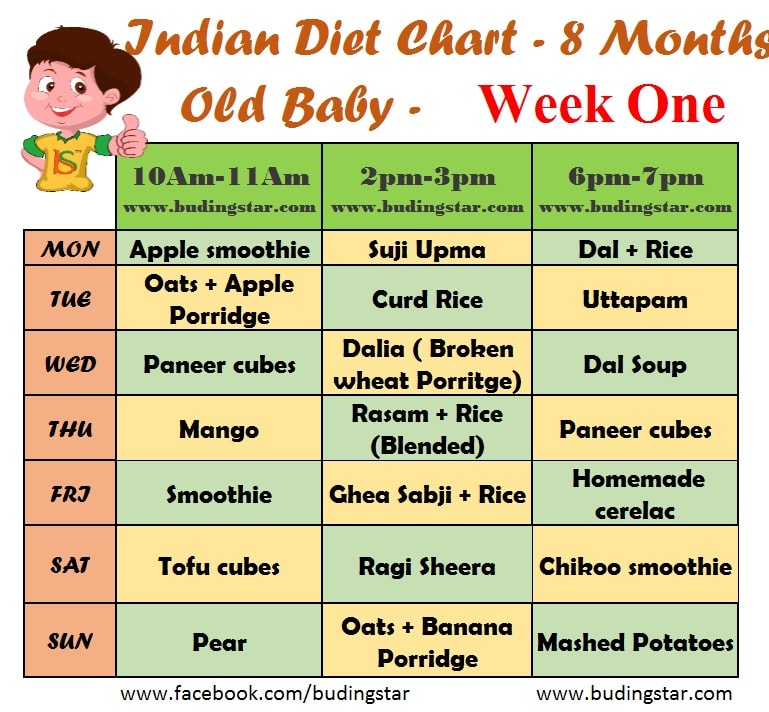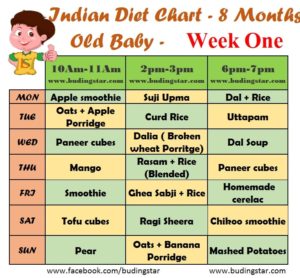 SECOND WEEK: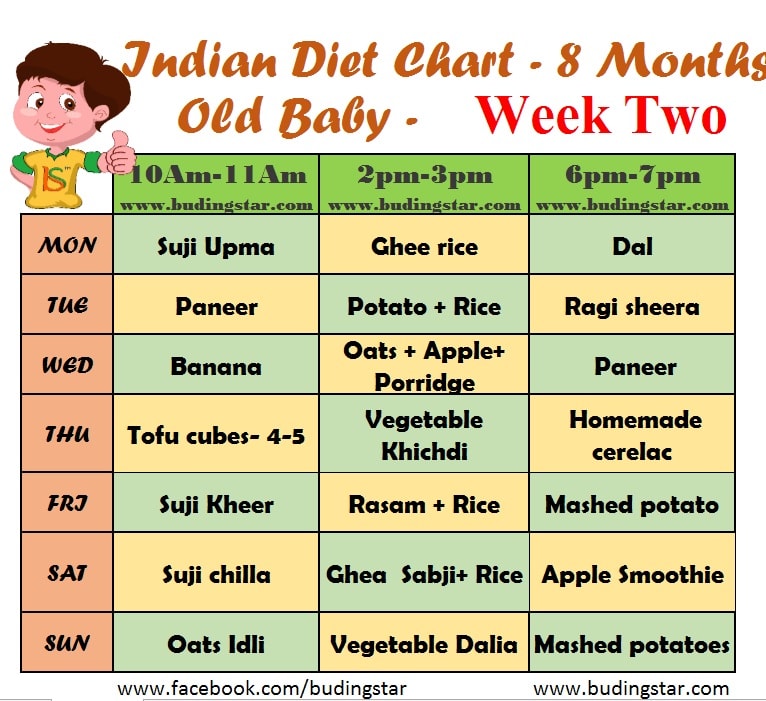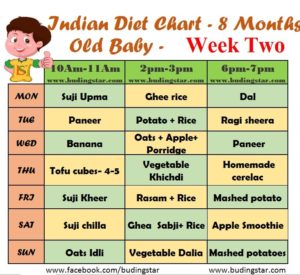 THIRD WEEK: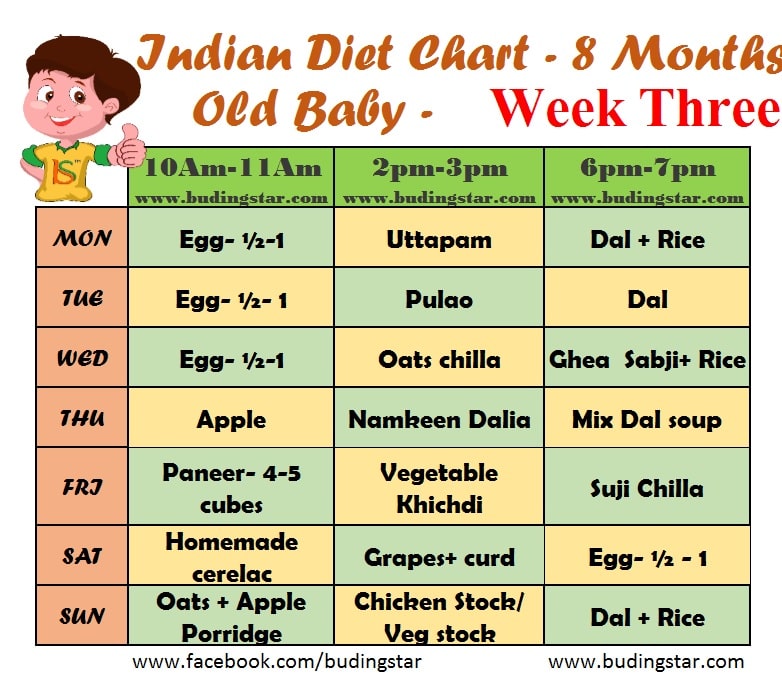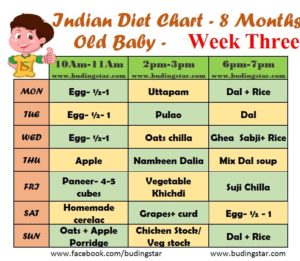 FOURTH  WEEK: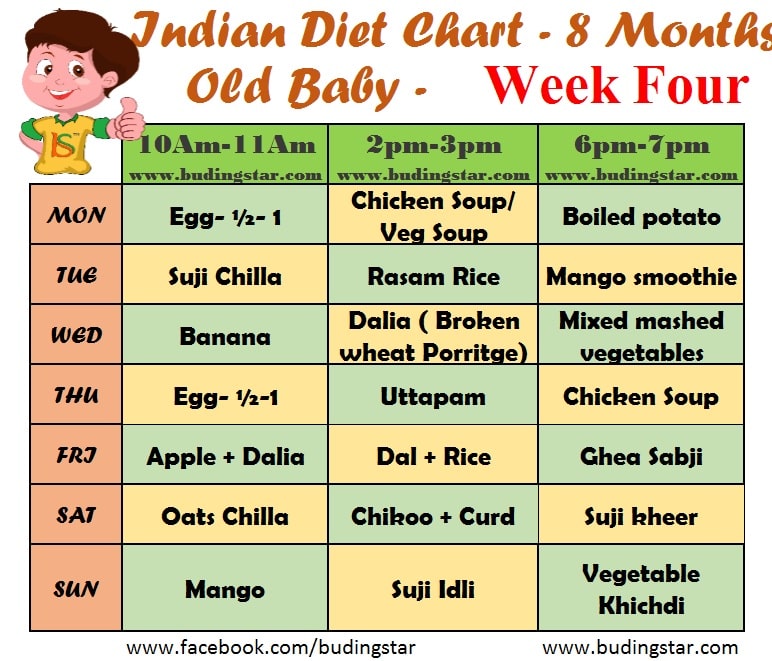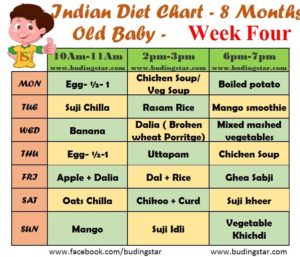 You can note down all the Food/ Meal recipes referred in the above four charts by clicking on the link mentioned below:
Indian Food Recipes for 8 months baby
Important Tip: In addition to above mentioned diet chart, you can give light foods (fruits/vegetables/ finger foods) in between as and when required by the baby (when baby feels hungry). Also, do continue Breastfeeding/ Formula milk to baby.
NOTE:- This Indian Diet Chart for 8 months old Baby is framed to just give you an idea about the food items that you can include. You can make changes in timings and according to the babies taste and acceptability for that particular food item, also changes can be made on the basis of availability of the food item. Strict meal times is not mandatory. Feed him whenever he is hungry.
Do leave a comment if you have any query related to Indian Diet Chart for 8 months old Baby.
Happy Parenting!