For every mother taking care of her newborn can be one of the most special and rewarding experiences of her life, however, for giving full attention to the baby care, it needs thorough research and proper knowledge. A mother has to undergo several problematic situations while taking care of her baby. One of the most common problems is of diaper rash. Therefore, to cater this worry, this post describes the effective home remedies for diaper rash. 
Diaper rash is a very common concern among the babies and children who are the users of the diaper. It is characterized by rashes in the diaper area, with an inflamed red skin and blisters which is usually visible in upper thighs, genital area and buttocks. Due to diaper rash, children suffer a lot, because they feel very irritable and itchy skin.
Hence, before understanding the home remedies for diaper rash, let us know the causes behind the diaper rash.
Causes of Diaper Rash:
There are several factors that leads to the occurrence of diaper rash.
The prolonged exposure to the wet diaper, as continuous chafing or rubbing leads to skin irritation.

Yeast infections

– These are the infections caused due to fungus. It is caused as the diaper area is warm and moist.

Low Brand Diapers/ brand's cheap replica

– the raw materials used in the production of these cheap diapers can be of low quality.

Not keeping the genitals of your baby clean.

Sensitivity to the diaper –

In some situations, you may find your baby's skin too sensitive for the use of any diapers.

When they get older i.e 9 to 12 months old

Sleeping in poopy diapers

When they start eating solid foods

If they are on antibiotics

Introduction to new foods

Rubbing on the infected areas due to diapers

Leaving a wet diaper for too long time

Due to bacterial infection

Allergic to some soap, scented diapers and scented wipes
Symptoms of Diaper Rash:
Evident change in disposition of the baby or baby being more uncomfortable while changing diapers

R

ed skin in the diaper region or around thighs, buttocks or genitals

Small blisters

Tiny pimples on diaper region
Besides using diaper rash cream and following up with our pediatrician for diaper rash treatment there are few but effective home remedies are there to tackle diaper rashes.
Home Remedies for Diaper Rash:
1. Mother's milk/ simply breast milk
Mother's milk is one of the safest and the simplest option to treat diaper rashes or is one of the best home remedies for baby diaper rash. It is known to provide your baby with nutrients it needs to combat various infections in the body, however, at the same time it is also good for alleviating diaper rash.
Method:
Simply apply a few drops of breast milk on the affected area of your baby's skin.

Massage it gently and allow to dry.

This remedy will heal your baby's rashes quickly and also aid in soothing the skin.
2. Shea butter
You can apply an organic Shea butter on the baby's skin. It has anti-inflammatory properties due to which it helps in combating the yeast diaper rash making it one of the best natural remedies for diaper rash. It is a natural moisturizer and analgesic which helps to relieve pain as well. This remedy will also prevent its future occurrence. Follow the simple method described as under for applying this preferred home remedies to diaper rash.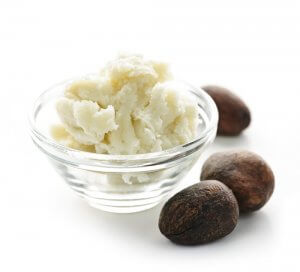 Method:
Clean the affected area with lukewarm water.

Now, dry the affected area with the help of a soft towel.

Then apply shea butter on the irritated skin to soothe the itch and pain.

Let the shea butter set on you baby's skin.
3. Corn starch
If rashes on your baby's skin has appeared due to lack of moisture, so this is one of the best effective home remedies for diaper rash. Remember, if the diaper rash is due to the yeast infection, then avoid using Corn Starch as it can worsen the condition.
Method:
Firstly gently clean the affected skin of your baby.

Let your baby's skin get dry completely.

Now take a pinch of cornstarch and sprinkle it on the baby's affected skin.
4. Coconut Oil
This is one of the best and natural home remedies for diaper rash. Coconut oil will aid in soothing the affected skin, reducing the redness and also itchiness caused by diapers as it is an anti-inflammatory, anti-fungal in nature.
Method:
Wipe your baby's affected skin gently and let it dry completely.

Apply coconut oil with cotton swab over the area which has been affected by rashes.
5. Vinegar
As urine being alkaline in nature so it can burn baby's skin like an acid. Therefore, for balancing pH value, vinegar is the best option when it comes to diaper rash treatment at home or home remedies for nappy rash to combat rash and irritation caused by diaper rash.
Method:
Take white vinegar (1 Tbsp) and water (one cup). Mix white vinegar in water. This will form a very weak vinegar solution. 

Wipe your baby's bottom with this solution every time while you change diapers. This will in turn make your baby's bottom resistant to yeast. Further rashes will settle down very quickly.
If you use reusable/ cloth diapers for your baby:
Method:
Take vinegar (half-cup) and water (half-bucket). Mix vinegar in water.

Rinse your baby's diapers.

This will prevent soap building in diapers and also combats well with urine smell.
6. Petroleum Jelly and Cornstarch
Petroleum Jelly is best for healing diaper rash as it assists in protecting the diaper area from the irritating effects of urine and faeces. Moreover, it prevents further infection. Therefore, this method is also one of the easy home remedies to diaper rash.
Method:
Take two table spoons of petroleum jelly and a pinch of cornstarch.

Add cornstarch in petroleum jelly. 

Mix it well so that it becomes a thick cream.

Then apply this thick cream to the areas which has been affected by diaper rashes.

Let it settle down for 10- 15 minutes. And then wipe out the cream with lukewarm water.

Let the area dry.
7. Olive Oil
Olive oil has anti-inflammatory properties hence it is considered best as a home remedies to diaper rash. Make sure an olive oil should be organic in nature.
Method:
Firstly wipe your baby's affected skin with clean water.

Make sure your baby's skin is completely dry before you apply olive oil.

Take Olive Oil (1-2 tbsp) and water (1 tbsp). Mix olive oil and water so well that it becomes white milky emulsion.

Apply this mixture to the baby's skin which has been affected by rashes.
 8. Bath with warm water
For healing the diaper rash, bathe your baby with warm water. Make sure the water should not be so warm. This is one of the most effective home remedies for diaper rash for babies.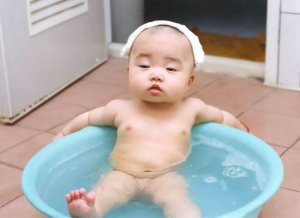 Method:
Fill the baby's bath tub with lukewarm water.

Make your baby sit in that lukewarm water tub for 10-15 minutes.

Takeout your baby from the water. Use a very soft towel and wipe it very gently.
9. Cranberry juice
As one of the major causes of skin rash is long exposure to urine causing irritation, cranberry juice will help in balancing the alkaline content, with anti-inflammatory properties helping in providing relief to inflamed skin around the diaper region making it one of the best home remedy for baby rashes.
Method:
Give 2-3 tablespoon of cranberry juice, once daily
10. Oatmeal bath
Oatmeal contains saponins, protein and anti-inflammatory properties helping in soothing diaper rashes.
Method:
Add around 1 tablespoon of oatmeal in your baby's bath

Allow the baby in the water for around 15 minutes

Pat dry
11. Breast Milk
Breast milk is also an effective remedy for your baby's diaper rashes. 
Method:
You have to take a few drops of breast milk  and rub it on the rashes affected areas and leave it to dry or you can put the breast milk directly on the fresh diaper for the best result.
12. Yoghurt
Plain yoghurt can also treat diaper rashes and its inflammation. 
Method:
You have to put a thick yoghurt on the affected areas of your baby and soon the rashes will disappear in a few days. Always use the yoghurt at room-temperature in the affected area for the best results.
13. Aloe Vera
If your baby is suffering from severe inflammation, then you can also use aloe vera gel. You can use fresh gel or the bottle, both will give the good result.
Method:
Apply the layer of aloe vera gel on the affected areas of your baby. It will soothe the rashes quickly.
14. Baking Soda
Baking soda removes the bacterial and fungal infection from the body and helps in balancing the pH levels of the body. 
Method: 
Take two tablespoons of baking soda and mix it in warm water and wash the rashes with this warm water. Pat dry and let the rashes dry in the air.
So, these were the best home remedies for diaper rash. Hope, you will find it useful.
Preventive measures:
Change diapers of your baby often or before they get too wet or dirty

Pat the skin dry with a clean towel

Baby's bottom should be rinsed with warm water with each diaper change

Wash your hands well after changing the diaper to prevent transmission of any bacteria or virus
When to see a doctor?
If even after the home treatments, there is no improvement in the baby's skin or it is severe, bleeds, is accompanied by fever etc seek medical assistance immediately. 
Note: 
Do not use the diapers until the rashes get cured completely as continuous use can aggravate the condition.

Give your baby a daily bath

. Always keep the genitals of your baby clean with the help of a fresh water.

Keep the diaper area moisturized and nourished with the help of a good baby lotion.

Do not apply any chemical-based oil, unless it is been prescribed by the doctor.

Always wipe your baby with soft towel and that too very gently.
Disclaimer: Please remember, the above mentioned home remedies for diaper rash is for general solution. If the rashes seem to be worsened, please consult the doctor immediately. Diaper rashes when left untreated can lead to many other consequences.
Recommended Baby Diapers on Amazon
If you are aware of any home remedies for diaper rash, please do let us know in the comments below.
You may be interested in reading
Happy Parenting!