If you want your kids to have an active lifestyle, it's best to set the tone from a young age. However, there is a lot to take into account when you're buying toys that will encourage your child to be physically active.
The ideal scenario is to find something that is educational, fun, and engaging and assists in skill development. Toys that encourage activity can help in developing fine motor skills, strengthening bones and muscles, and improving focus and confidence. At the same time, you want to stay clear of items that could end up being dangerous or destructive.
So, if you're struggling for ideas in that realm, don't worry, because we've got your back with this list of toys that will get your child up and moving while also keeping them entertained and engaged throughout.  If you spot something here that you think would be perfect for your little one, don't hesitate to add it to your basket! Here are 5 awesome toys that will keep your child active & on the move.
Getting around has never been more fun than with this sleek kick scooter from Little Olive which your child will love zooming around on. Featuring a robust frame, it has a non-slip handle grip and wide brakes to ensure your child's comfort and safety. The list of convenient features doesn't end there either – it can also be folded up for easy storage!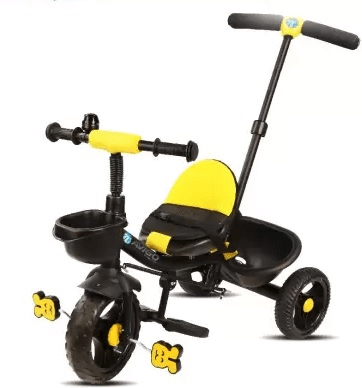 With a cushioned seat, anti-skid wheels, and a tough steel body, this eye-catching tricycle from Toys R Us will ensure that your child rides around in the utmost comfort and safety. A bottle holder and front and rear baskets allow them to load it up with their important possessions when they're on the move. Furthermore, it also comes with a detachable parent handle at the rear, allowing you to guide the tricycle when you're out and about on a nice walk with your child. When they're old enough to ride off on their own, simply remove the handle and watch them go!
An amazing swing-and-slide combo set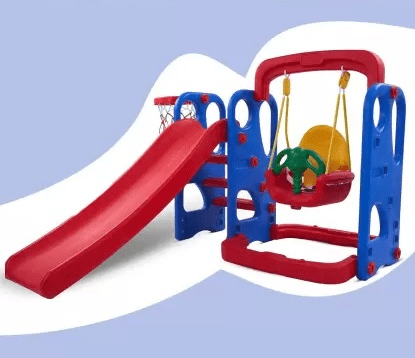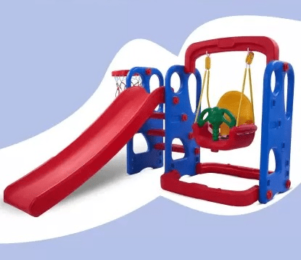 Bring the playground home to your child with this superb swing and slide combo set that contains all the necessary equipment to make playtime fun. Your child will have hours of enjoyment with this item, be it zooming down the slide, having fun on the swing, or honing their basketball skills on the attacked hoop! Easy to assemble, the set is made from a durable and non-toxic HDPE material and features anti-skid steps that will ensure that your child is kept safe as they play on it for years to come.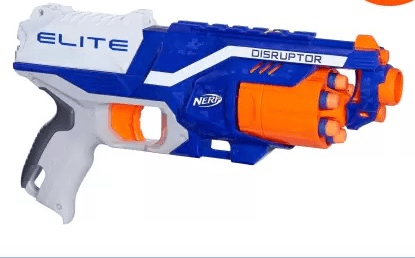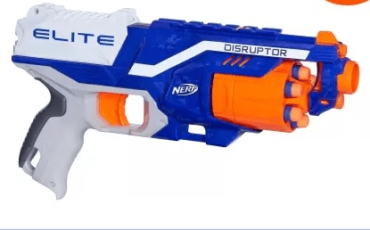 Whether it's a game of good old chor-police or a twist on hide and seek, this Nerf gun fits right into playtime for imaginative kids with boundless energy. Armed with this toy, they will be running around for hours on end, creating elaborate 'battle' scenes that will provide lots of entertainment for everyone involved.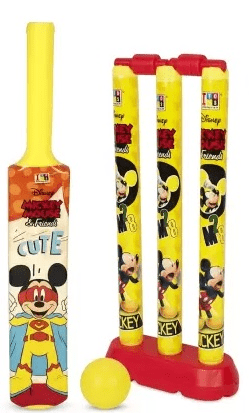 If you fancy your child to be the next big thing in the world of cricket, why not get them started early with this Mickey Mouse-themed Disney cricket set? Complete with a bat, ball, and stumps, it's perfect to get them interested in the game from a young age and to help develop their skills with an eye on the future.