Breast pump is a mechanical device which is used for extracting milk from a lactating mother. These pumps have become very common as this device helps a lactating mother to a great extent.
When do you need a Breast Pump?
Breast pumps can be used for several reasons. Many lactating mothers use it as this helps to express their milk which can be bottle-fed to their babies, when they are away from their home. So, the breast pump is actually a life saver for working mothers. Through the use of breast pumps, supplement feedings with infant formula can be avoided.
In addition, breast pumps are used to improve the lactation for women with low milk supply. Furthermore, there are several challenges associated with breastfeeding like latching, engorgement, cracked nipples, etc. Here, breast pumps are taken a helper to ease out the breastfeeding challenges.
How to use Breast Pump?
Read out the below listed breast pumping instructions for a better understanding. Else, you can also consult your lactation consultant.
A breast pump comes with a breast shield which is like a shape of a funnel. This breast shield surrounds your nipple. Hence, select the correct breast shield size.

Gently massage your breasts before and occasionally while pumping. It will improve the milk flow and you will not feel any pain. In case, you experience any pain or discomfort during pumping, then stop it immediately and seek an expert advice from your lactation consultant.

Always try to pump at the same time every day.

Hold the breast shield with the help of your thumb and index finger, and give support to your breast with other fingers.

Increase the vacuum level according to your tolerance level. Make sure it should not give you any sort of discomfort.
For hygiene purpose, wash your hands before and after the use of breast pumps. And follow the manufacturer's instructions carefully for the correct usage and its sterilization process.
Types of Breast Pump available in the market:
The types of breast pumps depend upon the frequency of using a breast pump. On the basis of that, it can be categorized as under:
Manual Breast Pumps.
Electric Breast Pumps.
Double Electric Breast Pumps.
Let us now understand the above categories of the breast pumps in detail.
Manual Breast Pumps
This pump is helpful for those mothers who wants to use breast pump occasionally and usually feed their baby by own and they are stay at home mothers (once in a while when they go outside leaving their baby in someone else hand). Manual breast pumps propels milk from the breast by natural pressure. It will not give you any discomfort whereas electric pump may injured your nipples by strong suction. It doesn't make any sound while pumping.  Moreover, while using you don't need to burden about running out of the batteries. So, it is prefect choice when you are traveling.
However, manual breast pump takes more time than the other categories and sometimes it is bit tiring for your hands too. While this may be a good option to choose if you are not going to choose breast pumps more often.
There are several brands in the market who offer manual breast pumps and they are easily available in the nearest drug store. At the same time, you can also find the best breast pump online.
Some of the best Manual Breast Pumps are listed below for your reference:
1. Philips Avent Manual Breast Pump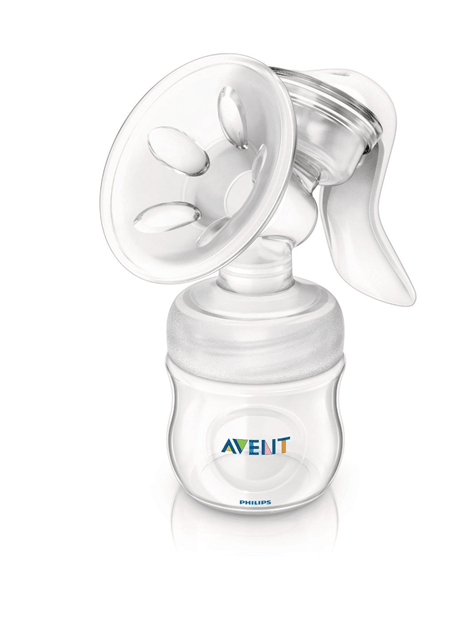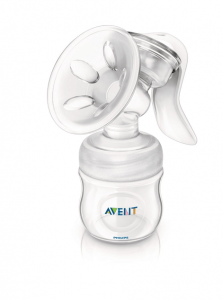 This is one of the most trusted brands in the baby feeding and nursing section. Philips Avent Manual Breast Pump gives more comfortable position while pumping due to its unique design which includes its soft suction cup that gives warm feeling to the skin. While pumping there is no need of leaning forward for making sure your breast milk will fall into the bottle. You can even sit straight as per your ease. It is compact and lightweight so can be easily carried anywhere. You can express, store and feed with this bottle as it comes with feeding bottle (collection container) and natural nipple for latching. So, express the milk with pump as per your convenience, store it in collection container and feed your baby as and when required using pump's natural nipple. It is easy to clean and assemble. And last but not the least, this product is also compatible with other Philips Avent products.
Buy Now on Huge Discounted Price on Amazon
Amazon Customer Ratings – 3.8 out of 5 stars (based on 453 customer reviews)
2. Luvlap Manual Breastfeeding Pump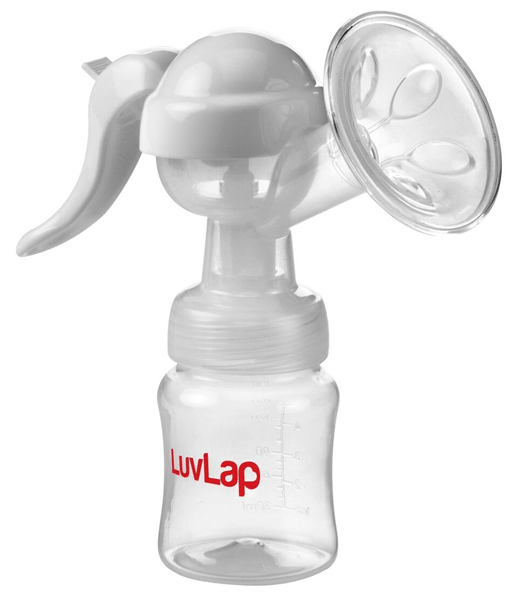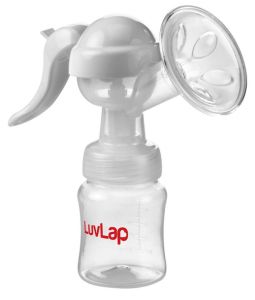 Luvlap is a very well-known and trusted brand for baby feeding products. Luvlap Manual breastfeeding pump is comfortable and comes up with easy and one-hand operation. Its soft silicon cushion helps in expressing milk very comfortably and smoothly. This pump can be sterilized completely. All the parts of the pump are BPA free. It comes up with an extra container for pumping and storing milk. Isn't this pump a life saver for working moms? Before going to the office, you can express the milk with the pump, store it and can be bottle-fed to your baby by anyone and anytime.
Check the latest Price on Amazon
Amazon Customer Ratings – 4.1 out of 5 stars (based on 466 customer reviews)
3. R for Rabbit First Feed Manual Breast Pump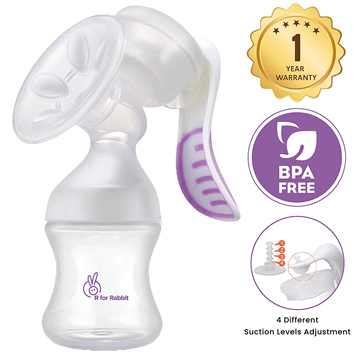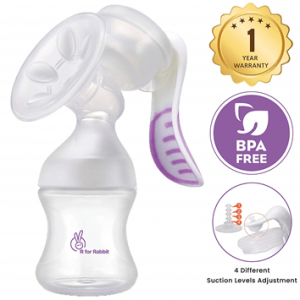 R for Rabbit is considered to be a very good brand in baby feeding and nursing section. This brand looks for the safety first. This particular product is BPA Free and made up of material which is absolutely safe for the use. It is easy to use, comfortable to hold as it is very light weight and very elegant in its look. This manual pump helps in preventing the back flow which imitates the baby's natural feeding style. It comes with 4 Suction level adjustment.
Amazon Customer Ratings – 4.3 out of 5 stars (based on 18 customer reviews)
This product is good to provide a personal fit as its breast shield is of 24 mm. Breast milk can easily be pumped as it offers the most smooth and comfortable pumping solution. It comes with 2-Phase expression technology that imitates the baby's natural sucking regularity to express more milk efficiently in a smaller amount of time. It comes with multi lid and a bottle stand. It is simple to clean and assemble. In addition, this manual Medela breast pump weighs only 222 grams. And if you are looking for electric pump then go for Medela electric breast pump.
Get on Discounted Price on Amazon
Amazon Customer Ratings – 3.3 out of 5 stars (based on 362 customer reviews)
5. Trumom PPSU Gold Manual Breast Feeding Pump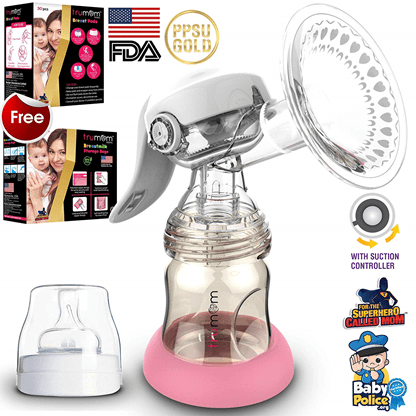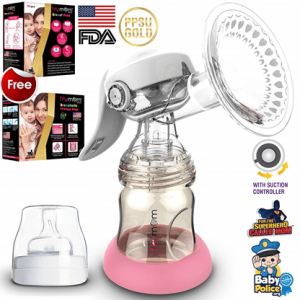 This manual pump comes up with adjustable suction controller that mimics baby's first initial sucking motion to initiate lactation. It will not cause you any discomfort while pumping unlike electric pumps as it comes with silicon soft cushion pad which enables milk extraction smoothly and a painless procedure. It comes with a bottle of 180 ml which is BPA free, that ensure highest safety and heat resistant up to 197 degrees. It is portable and leak-proof. The best part of this product– it comes with 30 breast pads and 30 breast milk bags. It is USA made product.
Check the Discounted Price on Amazon
Amazon Customer Ratings – 3.9 out of 5 stars (based on 1540 customer reviews)
Electric Breast Pumps
An electric breast pump uses batteries or a cord plugged in to an electric socket that is connected to small motorized pump to create suction from the breasts of a lactating mother. The pump has a small dial or a switch to control the suction level. The only drawback which is associated with this type of breast pump is dependency on the electricity. If there is no power supply either from the batteries or from the power socket, you cannot use electric breast pump.
The best electric breast pumps which are available online are listed as under:
6. R for Rabbit Delight Electric Breast Pumps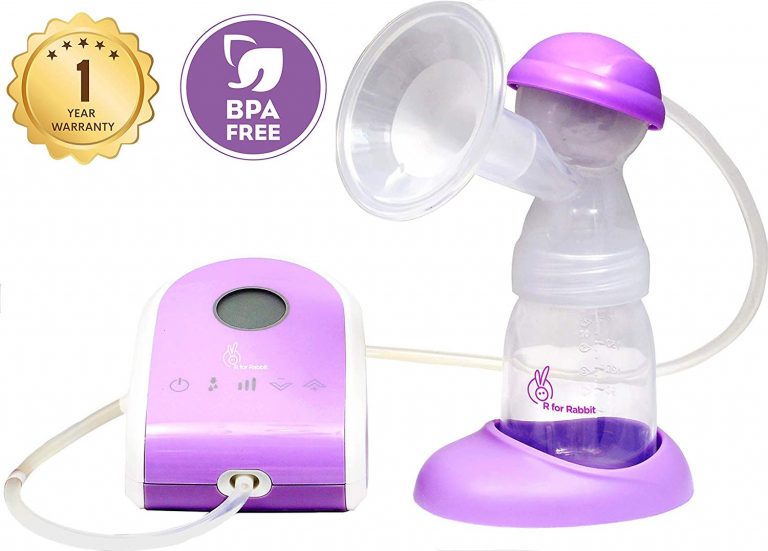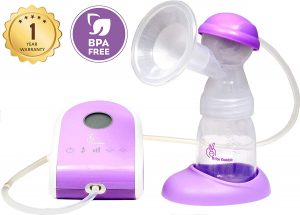 This product has been designed to meet the highest safety standards to make the process smooth and easy. The material used in the product is BPA Free. It comes with a dual mode – Massage mode and Suction Mode. It is comfortable and easy to use as there is no need to lean forward while pumping milk. You can even sit straight or in comfortable sitting position as per your convenience. It comes with an intelligent touch control system with LCD panel for operating and selecting different suction power and modes. It is compact in design so can be taken along anywhere. With one year warranty, this breast pump is quite affordable as compared to other electric pump brands available in the market/online.
Get the latest Discounted Price on Amazon
Amazon Customer Ratings – 4.3 out of 5 stars (based on 10 customer reviews)
7. Spectra Electric Breast Pump S-2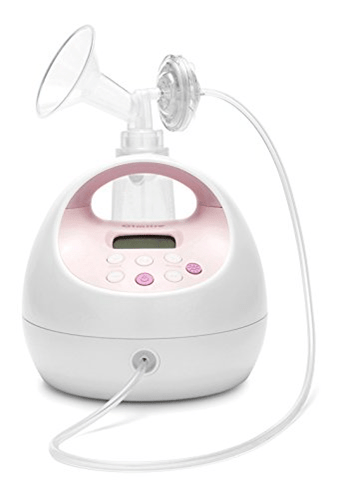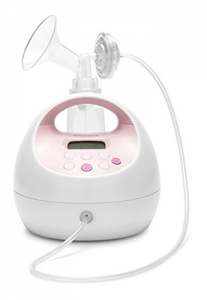 The most distinguishing feature about this product is that it is ultra-quiet while using. So, there would be no disturbance in your baby's sleep when you are pumping milk. It has got night light for a comfortable use during night and has a massage mode for comfortable use. It comes up with 12 suction level and dual pumping. It has more lifespan as compared to its competitive products. The only disadvantage is that it is little bulky.
Check the Discounted Price on Amazon
Amazon Customer Ratings – 5 out of 5 stars (based on 16 customer reviews)
8. Morisons Baby Dreams Comfort Feed Electric Breast Pump
This electric pump is best for working moms. It has fully automated operation and its display is easy to read. It has 9 levels of suction to meet different flow needs. The pack of this product comes up with one electric breast pump and one feeding bottle. It has wide mouth manual breast pump with a capacity of 150 ml.
Amazon Customer Ratings – 3.1 out of 5 stars (based on 3 customer reviews)
9. MEE-MEE Micro Computer Electric Breast Pump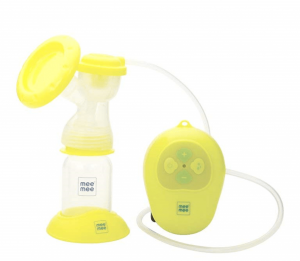 All materials of this products are 100% BPA Free. This complete product is compact enough to get fit in a handbag. It can have repeated suction as it comes with unique double valve design. It does not create any noise while using, easy to use and sterilize.
Amazon Customer Ratings – 2.9 out of 5 stars (based on 155 customer reviews)
Double Electric Breast Pumps
The only difference between double electric breasts pumps and the electric breast pumps is the former empties both the breasts efficiently at the same time. Like the electric breast pumps, it comes with an option to use the battery or the electric socket to use.
Here are some of the good brands under the category of Double electric breast pumps:
10. Lansinoh Double Electric Breast Pump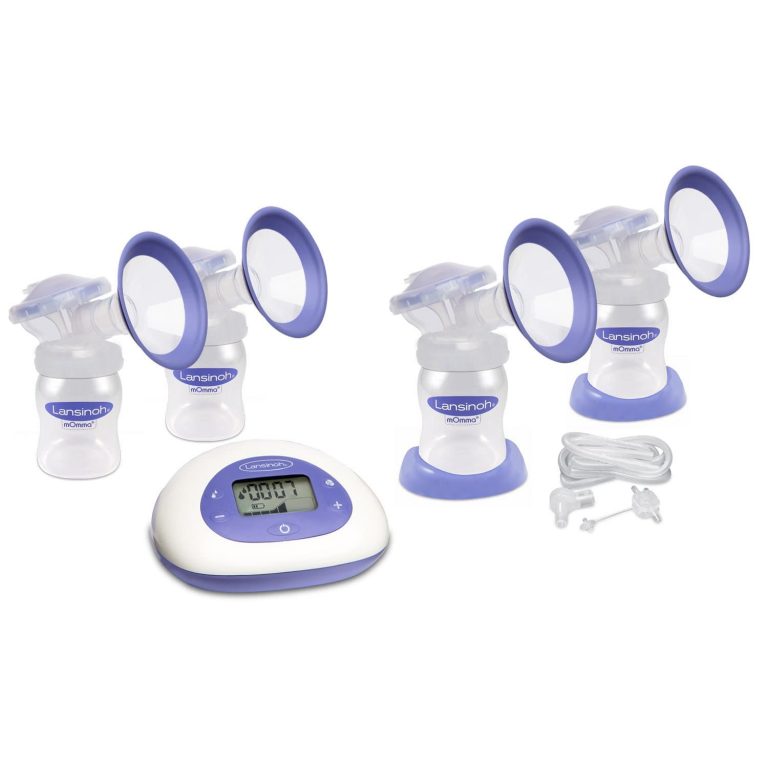 It is one of the trusted brands for more than 30 years. This pump is best for those moms who need to pump regularly. It has 3 pumping styles and 8 suction levels for lactating moms. This product is absolutely convenient and hygienic as this allows you to pump directly into the Lansinoh milk bags. It ensures no drops of breast milk gets stuck into tube or motor as it may lead to bacteria formation. You can even customize as per your preference as single or double breast pump. In addition, you will also get instruction booklet. It is relatively expensive than other existing brands but it's actually worth it.
Check the Discounted Price on Amazon
Amazon Customer Ratings – 4.4 out of 5 stars (based on 4 customer reviews)
11. Arkmiido Usb Double Electric Breast Pump
This double electric breast pump allows for a powerful pump pressure along with a breast massage cushion for a comfortable setting. In its prolactin mode, massaging of breasts can also be done and then 9 suction is provided for sucking the milk which is similar to just like a baby sucking your milk. It is 100% safe, much comfortable and easy to use. It is little noisy so it may startle your baby's sleep.
Amazon Customer Ratings – 3.1 out of 5 stars (based on 12 customer reviews)
12. Medela Swing Maxi Breast Pump
This pump is perfect for those moms who pump regularly. It comes with a comfortable range of vacuum levels and settings. It has a battery capability of up to 1 hour. It can be carried anywhere. Although it is quite expensive but its amazing features that fully satisfies a mother's needs make it totally worth.
Buy Now on Discounted Price on Amazon
Amazon Customer Ratings – 3.3 out of 5 stars (based on 364 customer reviews)
Our Suggestion
The best way to determine which pump is best for you is to think how much and how you are going to use it. Expensive models are usually more powerful and better for moms who pump multiple times a day. However, if you are going to use it occasionally to make a bottle for your baby while traveling, you can try something less expensive.
If you are using it occasionally we recommend Philips Manual Breast Pumps- under the Manual Breast Pumps category, because it is convenient, cost-effective, efficient, and doesn't make any noise. Another advantage is its one-of-a-kind design, which promotes good posture and ease when pumping.
If you have a regular pumping schedule, the Medela or Trumom Electric Single/Double Breast Pump is the ideal choice. It features several phase expressions to ensure more efficacy, and it is also easy on your budget.
Once you finalize a model, take your time on learning about it and becoming comfortable with it. When you are completely sure, your breastfeeding sessions can be a lot easy.
Note: Don't entirely depend on pump (whether it is manual or electric or double electric) for feeding your baby. If you will not give direct feed to your baby, it may weaken your milk supply after 2-3 weeks. So, always feed your baby directly whenever it is possible.