[heading tag="h2″ align="center" color="#000″ style="lines" color2="#000″]In this Article[/heading]
Fetal Development in Pregnancy week 26
Moods and Symptoms in Pregnancy week 26
Do's and Don'ts in Pregnancy week 26
For Your Reference- Pregnancy Week 26
[divider height="30″ style="default" line="default" themecolor="1″]
A Complete Information Guide on Pregnancy Week 26
By Pregnancy week 26, your uterus is 2.5 inches above your belly button.
Congratulations! You are five months and about three weeks pregnant. You're going to complete your second trimester of pregnancy soon. From this week on wards, you can notice a rapid change in your abdominal size. You may start feeling more discomfort while sleeping due to the growing uterus.
Probably, you must have started a planning for a welcome party. But before that, check out what you can expect in your 26th week of pregnancy.
[icon type="icon-lamp"] Read the mini booklet named
"Pregnancy ride made smooth"
for To-Be Moms and get to know what all exercises are beneficial in second and third trimester. Join our Facebook closed group called Parenting Mom Style to get support from Moms & To-be Moms anytime. 
Fetal Development in Pregnancy Week 26: 
In Pregnancy week 26:
Size of baby – 14 inches (35.56 cm)- from crown to heel.
Weight of baby – 1.68 pound (760 grams)
Baby is about the size of Red Cabbage.
Now your baby is preparing himself for coming out of your womb.
Your little one can hear the voice now as his/her ears are developed. If you haven't started talking to him/her yet, just start with your Mumma-baby talks.

Infact, your baby is more matured now to respond to the sounds as the nerves on ears are developing fast. So, now your baby will not just only hear the voices or noises but will respond them back too by moving or with an increase in the pulse rate.

Your baby can now stretch himself inside your womb, which may give you a pain near to your ribs. The frequency of the Braxton Hicks Contractions has increased.

The brain continues to mature with full development. The eyes are getting ready to be opened.
The baby is gaining weight rapidly by piling up fat underneath his skin. And the spine is also becoming stronger.

Initially your baby's heart rate was 180 beats per minute but this week it has lowered down to 140 to 150 beats per minute. So, ask your doctor in your antenatal appointment to make you listen your little munckin's heart beat on a cardiotocography (CTG) machine.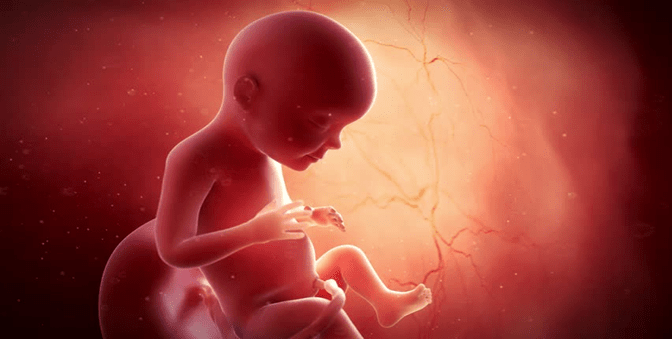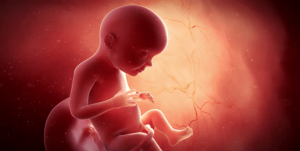 [icon type="icon-lamp"] S

tay more connected to your baby and start doing meditation. There are

amazing benefits of doing meditation in pregnancy

which are as follows:
helps in overcoming anxiety

Meditation produces endorphins which are highly pain relieving.

Offers you strength, peace, and more energy.

It even prepares you for labor pains.

Makes you and your infant deeply connected.
Moods & Symptoms in Pregnancy Week 26:
You can expect the following body changes, moods and symptoms while being 26 weeks pregnant.
Fatigue – You may notice that you are getting tired early. It is advised to take as much rest as you can. But it doesn't mean that you are on bed 24 hours. Stay active. Take small nap in afternoon so that body can take rest.
Backache – This happens due to the pressure of growing uterus on your lower backbone. You may use a pillow to ease yourself.
Difficulty in sleeping – Due to your growing belly, you might get difficulty in sleeping as you are not finding a good position to sleep in. Avoid sleeping on your tummy. Always sleep on your left side as it improves the circulation to your heart and provides better blood flow to your baby. For your more comfort, keep pillows in between your legs.
Braxton Hicks Contractions – You may feel sometimes the tightening of your belly. This is Braxton Hicks Contractions. These irregular and painless contractions can be felt for 15 seconds to 1 minute. But if in case, you feel that the duration is getting longer and painful or you are contracting regularly, leaking fluid or bleeding then please contact your doctor as these can be the signs of Pre- term labor. Please don't get panic at all. Stay calm in every situation.
High BP – You may experience a slight increase in your blood pressure which is called Pregnancy hypertension. But if the situation worsens (BP increases at higher rate) it can lead to Preeclampsia. Preeclampsia is a condition that develops in pregnant lady (normally diagnosed after week 20) when she has a combination of high blood pressure and the appearance of protein in her urine. It can happen in 5-10 % of pregnancies. Common symptoms can be excessive swelling on hands, feet and face, vision changes, intense upper right abdomen pain, severe headache or sudden weight gain (in second or third trimester). Hence it is advised to immediately refer your doctor if you have high BP or any of the above-mentioned symptoms.
Edema – Edema is a swelling on your hands and feet during the pregnancy. It is a normal part of the pregnancy. But severe swelling is not considered normal. If you have severe swelling or you are swollen with sudden onset, then it is advised to consult your doctor immediately as it can a be a sign of Preeclampsia.
Headaches – It can happen due to lack of sleep, low blood sugar, cold/ congestion, stress, dehydration and triggers like loud noises, strong odors, excessive heat/cold, glaring lights, artificial sweeteners, etc. Stay hydrated and follow healthy eating routine to get rid of headaches. Even high BP can cause you headaches. It's a matter of concern when BP is high in pregnancy as it can also lead to Preeclampsia. Consult your doctor immediately.
Do's and Don'ts in Pregnancy Week 26:
Do's

Don'ts

Keep in mind 'Rest is best for health'. So, do take proper rest and care because the more you take rest, the better you will be able to take care of your family.

Don't take stress and exert yourself while doing any activity. Take the help of others.

Eat healthily

and stay active

as much as you can.

Skip none meals. Avoid consuming spicy, oily and fried food. Do not follow any unhealthy routine.

Keep following the prescribed medicines which are essential during pregnancy.

Don't take Over- the Counter (OTC) medicines except Paracetamol. Some medications in pregnancy are safe and some are not. Consult your doctor before taking any medicine.

Continue with your

 Folic Acid every day.

Avoid lifting heavy weights. Don't carry your elder baby (if you have).
Share your feelings and experiences of the day and your work with your partner. Let him play an active role to make the pregnancy a journey to remember.
For your reference- Pregnancy Week 26: