When your life revolves around your toddler, its like a new day everyday and when they start speaking..I think you want to record everything and freeze those cute moments.
If somebody would asks me..What is the most satisfying feelings you experience in the day..I would say my morning tea made by my better half and too see my kid eating nutritious food. Though , the latter is more satisfying 🙂
Since we stay as a couple and don't have too much help around, I normally take my kid with me mostly wherever I go..be it groceries, running errands, shopping, my workshop (clothing), or brunches, meeting friends,etc. Earlier I used to feel bit irritating at times since they want our attention all the time meaning they stick to you like glue..but gradually they understand what is work, or leisure or shopping.
Believe me, my 2.5 yrs old girl knows my entire process of work, from cutting the fabric at home, making notes of colours, the colour charts, how to use measuring tape, what is embroidery, giving to dyer, giving for tailoring and embroidery, trims, laces, buttons, couriers and what not.
I think including her in my everyday work tasks makes her feel really happy and she is always learning about new things and that's how she understands how her mommy works and how not to mess around with work related things. She often scribbles in my notebook but never where I have made notes or accounts.
When I take her for grocery.. she tells me the vegetables she likes.. the name, their colours, she likes to put them in the trolley and take rounds in every section of the super market asking me to buy stuff for her..or for her dad and grandparents. She wants me to buy tea biscuits for her dad and bhua, her favourite fruits, cheese, milk, curd, dosa batter and what not. 
Earlier I used to be afraid she would asks for chocolates and candies since they are placed just around the billing counters to attract, but now she knows that we are not going to buy any of those. Once in a while, any parent would like the kid to relish her favorite candy, so I let her do so.
When I take her to a mall, she tells me " mamma , aap eyebrows karwa lo.. dekho aapki eyes kaisi dirty ho rhi hai", and I just look at her face in awe 🙂
And she 's happy to try out clothes for herself..saying "chalo mamma try karte hai isse..I like it" and "chalo coffee peete hain", and I don't see anything more enjoyable than spending time with my little one anywhere..be it at home or outside.
We sing songs, dance in the funniest way and laugh like crazy at home. Though everyday is not same, I try to live in the moment and be happy in whatever I have than fretting about what I cannot have.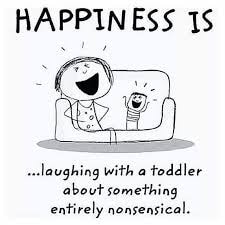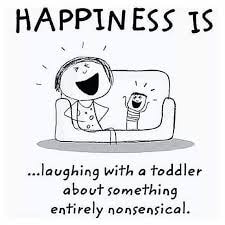 Some days I would like my house to be neat and tidy like before, but time flies and she would grow sooner than we can believe, have her own schedule, the home would be clean, but we would miss her childhood like anything.