[heading tag="h2″ align="center" color="#000″ style="lines" color2="#000″]In this Article[/heading]
Fetal Development in Pregnancy week 31
Moods and Symptoms in Pregnancy week 31
Do's and Don'ts in Pregnancy week 31
For Your Reference- Pregnancy Week 31
[divider height="30″ style="default" line="default" themecolor="1″]
A Complete Information Guide on Pregnancy Week 31
By Pregnancy week 31, your baby is wriggling, stretching and kicking so much that you may even see your bump moving. 
You are six months and three weeks pregnant. That means you and your 31-week baby will complete seven months at the end of this week. It is a right time to prepare yourself for upcoming labour and delivery. Start buying basic essentials for your newborn and start converting your room into a baby-friendly room. Remember, do not perform any activity all alone, ask your husband or any of your family to help you majorly.
[icon type="icon-lamp"] Is it your first baby? Don't know about the basic New Born essentials care?
Read 5 Important New Born Essentials Care to learn about how to take care of your baby's skin, diapering, clothing, etc. Get ready for your new journey of Parenting! 
Check out the following information on your fetal development this week and the changes in your moods and symptoms with some advice on do's and don'ts.

Fetal Development in Pregnancy Week 31: 
In Pregnancy week 31:
Size of baby – 16.18 inches (41.1 cm) – from crown to heel.
Weight of baby – around 3.3 pounds (1.49 kg)
Baby is as big as Pineapple.
Your fetus is a complete baby now, can turn his head from side to side and thus moving a lot.
The baby's skin is more mature now than before and it is capable to handle the environment outside the womb.

Except for lungs, all other organs have been fully developed and functional. The lungs will take some more time to be fully developed and matured enough. The last 10 weeks of pregnancy are vital for the lung's development.

The baby's immune system is becoming stronger. However, from this week onwards the physical growth of the baby will be slowed down and the baby will only continue to gain weight until the last 2 weeks prior to the labour.

Your baby's brain is more active and responsive due to the production of millions of nerve cells.

The baby can now recognize the multiple sounds but he will be more responsive to your sound. Talk to your baby as much as you can by gently keeping the hand on your bump. Remember, it is good to avoid loud voices as it can upset the baby.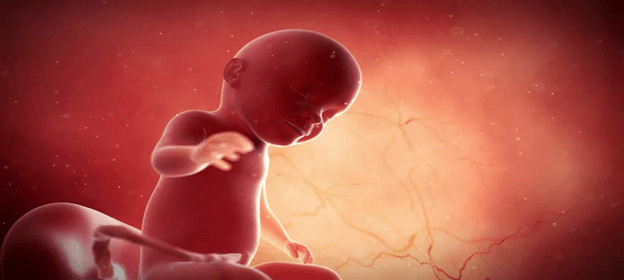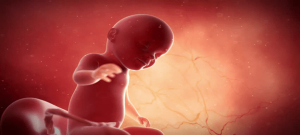 Moods & Symptoms in Pregnancy Week 31:
You may experience following body changes and symptoms at this stage:
Mixed feelings – At 31st week, you must be waiting eagerly for your baby to arrive. So, therefore, at this stage, it is completely normal to have mixed feelings, especially if you're a first-time mommy. The thought of being a parent or delivery will may make you feel very low, anxious, irritated, etc. In case if you feel that you are moving more towards your emotions then it is a correct time to speak to your doctor and share your feelings.
Shortness of breath – You may have gained approximately 9-12 kilos of weight around this time. Due to the growing uterus, you may feel the shortness of breath. Practice deep breathing exercise which can help you to tackle this situation.
Leakage from your Nipple – The liquid which is coming out of your nipple is a colostrum. Normally, colostrum is thick and yellowish in color, but at this stage, it will be like white and watery in consistency. Do not get panic as your breasts are making themselves prepared for the supply of milk.
Difficulty in sleep – Your growing uterus doesn't allow you to sleep comfortably. But do not be annoyed, it is a matter of few more days. Once you will carry your baby in your arms, all these difficulties which you're facing now will fade away. 
Backache – It happens due to the growing pressure of your uterus. Use pillow at your back while sitting to prevent a back pain. 
Tiredness – As the growing uterus is stretching towards your ribs, due to which you will find difficult to take a deep breath as well, thus making you tired soon even after the smallest task. Do not exert yourself so much in doing everyday household chores. Take the help of your partner and other family members in doing any work. Take rest as much as you can and

small nap in afternoon so that your body can take rest.

Frequent Urination – As your uterus is expanding so you will pass the urine more frequently. But it doesn't mean that you stop having water. Drink plenty of water as it can ease you from many symptoms occurring this week and can also prevent from pre-term labor.

Light headedness or

 Headaches 

– 

It can happen due to lack of sleep, low blood sugar, cold/ congestion, stress, dehydration and triggers like loud noises, strong odors, excessive heat/cold, glaring lights, artificial sweeteners, etc. Stay hydrated and follow healthy eating routine to get rid of headaches. 
Braxton Hicks Contractions – When this happens, the muscles of the uterus tighten. These irregular and uncomfortable painless contractions which may getting stronger or more frequent (as your body is preparing for delivery) can be felt for 15 seconds to 1 minute.
Carpal Tunnel Syndrome – You may experience numbness or needles in your thumb or first two fingers, which is known as Carpal Tunnel Syndrome.
The several other symptoms which you may be still experiencing from a long time back are tightening of muscles, edema, blurred vision and heaviness in lower abdomen.
Note: Talk to your doctor immediately if you notice any unusual symptom or condition like vaginal bleeding, abdominal pain, mucus-like discharge, duration of Braxton Hicks Contractions getting longer and painful or you are contracting regularly, etc. as these can be the signs of Preterm labor.
Do's and Don'ts in Pregnancy Week 31:
Every pregnancy is different from another so, therefore; labor can also be different. If this is your first pregnancy, then plenty of people will come to advise you. Do accept it gracefully but apply only those which are been approved by your obstetrician. Follow proper medication prescribed by your doctor.

If you're planning to save your baby's umbilical cord or placenta, then it is a time to speak with your gynaecologist for the process.

Your doctor may ask you to go for the prenatal tests like urine test, blood test, and liver functioning test to know about the proper health of yours.

Take proper rest and care by taking proper

healthy and nutritious diet.

Continue with

prenatal vitamins

as prescribed.

Stay active as much as possible.

Listen to the music, read your favorite book or go for the walk.
[icon type="icon-lamp"]

Start making a list of all the things to be taken in hospital. Infact now you should start packing your hospital bag. You never know when your baby will arrive! Happiness is on the way 🙂 
Don't be afraid from labor pains. Have faith in yourself. If all other women on this earth can do this, why can't you?  Pregnancy is a beautiful journey of pains and gains. So, make yourself ready.
For your reference- Pregnancy Week 31: