[heading tag="h2″ align="center" color="#000″ style="lines" color2="#000″]In this Article[/heading]
Fetal Development in Pregnancy Week 36
Moods & Symptoms in Pregnancy Week 36
Do's and Don'ts in Pregnancy Week 36
For your reference- Pregnancy Week 36
[divider height="30″ style="default" line="default" themecolor="1″]
A Complete Information Guide on Pregnancy Week 36
By Pregnancy week 36, your baby must have attained head down position i.e. birthing position.
You are eight months pregnant. This is your first week of month 9. You are coming closer to your D-day week by week. Your uterus is now bigger and higher. The fundal height may be in between 32 to 36 cm which is a normal range. During this period, avoid travelling alone and going outstation. If you're planning to travel outstation which is unavoidable, it is better to consult with your doctor first and then plan your travel accordingly.
[icon type="icon-lamp"]

Haven't thought of your little munchkin's name yet? It's high time now, you should finalize it by this week. 

Get the list of unique names of boys and girls (with meaning) according to their Zodiac sign and Rashi. Here's the link-

 Indian Baby Modern Names
Find out in details what you can expect during 36th week of pregnancy.

Fetal Development in Pregnancy Week 36: 
In Pregnancy week 36:
Size of baby – 18.7 inches (47.4 cm)- from crown to heel.
Weight of baby – around 5.8 pounds (2.6 kg)
Baby is as big as Honeydew.
Your baby is gaining weight rapidly but he is not that active as before due to the less space available now. Apart from the growth perspective, the other changes in your baby are as follows.
The skull bones of baby are still soft as compared to the other bones of the body. A soft skull allows the baby to push through the pelvic area and moves towards the birth canal.

The coating of vernix caseosa which is protecting baby's skin and lanugo is shedding off.

The baby's body is producing meconium, which is dark green colored motion which stays in his tummy until the birth. In some cases, the baby passes meconium while being in the womb, as a result, the color of the amniotic fluid may also change. This is a danger sign as aspiration of meconium by baby can turn fatal for him.

Your baby must have turned down his head by now i.e. attained head down position. If still he is in reverse position (breech position) then the doctor may apply a gentle pressure to rotate his position. But this can be risky at times so it's not practiced very commonly. So, the doctor may discuss with you various ways to get your baby into head down position and birthing options. In such situation, he may refer you Caesarean-section.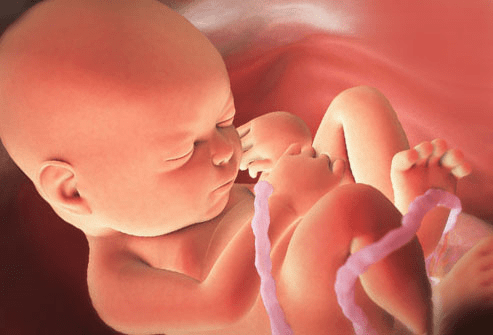 Moods & Symptoms in Pregnancy Week 36:
Here are few symptoms that you can expect during your 36th week of pregnancy:
Mixed emotions – During this time, you may be quite anxious, tired and even sometimes confused about your pregnancy. This can be like a roller coaster of your emotions.
Braxton Hicks contractions – You may also experience Braxton Hicks contraction more often and they may be painful to you. They can be mistakenly taken as a labor pain. To crosscheck, change your position. If the pain is stopped then it is a contraction, otherwise contact your doctor immediately.
Relief from short-breath – As the baby is in a head-down position, you will feel less pressurized on your stomach and will be relieved from short-breath.
Pelvic pain – Around pelvic region, now you may feel more pressure due to your heavier uterus and the baby is in head down position. Do some pelvic exercises or take a warm bath if you experience this unpleasant pelvic pain.

Heartburn and

Constipation – The symptoms of the third trimester are majorly related to the growing uterus. Here, the uterus has started giving pressure to your stomach which relaxes the intestines. This results in heartburn and constipation. In fact, the iron supplements also contribute to this symptom. Avoid having spicy and greasy foods. Increase your water intake to up your regularity.
Swollen feet and ankle – This happens when your growing uterus starts giving pressure to your pelvic bone and veins which results in the restriction of a normal flow and circulation of blood. Minor swelling is common during this trimester which will disappear on its own once you deliver your baby. But if swelling is severe or you are swollen with sudden onset, kindly consult your doctor. Do not stand for prolonged hours at a stretch. Sit by keeping your feet elevated.
Frequent Urination – The urination intervals may increase. But it doesn't mean you should stop having water. Drink plenty of water.
Light headedness or Headaches – It may happen due to lack of sleep, low blood sugar, cold/congestion, stress, dehydration and triggers like loud noises, strong odors, excessive heat/cold, glaring lights, artificial sweeteners, etc. Follow healthy eating routine to get rid of headaches.
Changes in vaginal discharge – You may have increase in your vaginal discharge because you are getting close to your D-day. But if you notice any unusual symptom or condition like water discharge, blood or mucus plug (yellow discharge tinged with blood), please call your doctor immediately. Losing mucus plug can happen at a different time for every woman and is a sign that labor is very near. But still how much near you are to labor can't be defined as losing of mucus plug can happen weeks, days or hours before labor begins. 
Dry and itchy skin – You may have very dry and itchy skin as your belly is getting stretched so much. Ask your doctor for good creams to get rid of this. It is advisable to use creams having cocoa butter or Vitamin E for good results. 
Fatigue – You may feel exhausted soon. Take rest as much as you can and take small nap in afternoon. 
[icon type="icon-lamp"] Join our Facebook closed group called "Parenting Mom Style" only for Moms and To-be Moms to share experiences and queries.
Do's and Don'ts in Pregnancy Week 36:
The final few weeks can be tiring and endless. Sleepless nights, backache, numbness, etc. will make you feel disturbed. So, here are few important tips to follow at this stage of pregnancy:
Practice breathing exercises. These exercises are good during the childbirth. Take the help of childbirth expert for better guidance.

Go for a walk in the evening.

Keep yourself stress-free. Listen to the music, read your all-time favorite novel.

Share your feelings and thoughts with your family and husband. This is a stress-buster strategy.

If you are a second-time mommy, then you must be worried about your elder kid. Plan out the days when you will be managing both the kids. But remember, do not take much stress about this matter.

Keep your

diet healthy and balanced.

Stay away from negative experiences and don't watch the birthing process on YouTube. Every woman goes through a different experience of labor. Stay positive and stay cool.

Prepare the bag for your stay in the hospital beforehand. Carry the basic necessities and baby essential products in your bag. 
Don't stay alone at home now. If you are going for a walk, take some one along with you. Soon you will be entering new phase of life called Motherhood. And then your life will be full of happiness 🙂
For your reference- Pregnancy Week 36: