A Complete Information Guide on Pregnancy Week 22
By Pregnancy Week 22, you may feel your baby's kicks and movements as a response to the music and lullabies you sing.
You are four months and about four weeks pregnant. Now you are only a few weeks away from your third trimester. That day will be arriving soon when you can hold your baby in your arms. Excited? Hold your excitement To-be Moms! Enjoy every moment of this beautiful phase of life.
[icon type="icon-lamp"] 

Get to know when your baby will arrive by using

 Budding Star's Pregnancy Due Date Calculator 

by entering the first day of your last menstrual period. 

Pregnancy is measured from the first day of your last period.
Fetal Development in Pregnancy Week 22:  
In Pregnancy week 22:
Size of baby – 10.9 inches (27.6 cm) – from the crown of the head to the heel of the foot.
Weight of baby – 15.2 ounces (430 grams)
Baby is like a size of a Papaya.
Though the baby is smaller in size, in coming weeks your baby will develop and grow.
The baby's skin has a lot of wrinkles but once the baby will gain more weight, these wrinkles will fade away.

The baby is now learning to respond. You may feel your baby's kicks and movements as a response to the music and lullabies you sing.

By this week, the reproductive system of the baby will get mature. If it is a boy, then the testes will come down to its place from the abdomen, and if it is a girl, then her vagina will be more mature with ovaries and uterus will start functioning well.

There will be a prominent development in your baby's eyelids and eyebrows and lips will get their distinct shape and looks.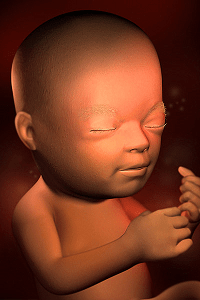 Image Courtesy: Parentsmagazine.com
[icon type="icon-lamp"]

This is the best time to prepare yourself for Motherhood. Start reading about

Baby care.
Moods & Symptoms in Pregnancy Week 22:
The moods and symptoms during this week will remain more or less same as of previous weeks. Here is the glance of your body changes, the mood and symptoms which you can expect during the 22nd week of pregnancy.
Vaginal discharge – There may be a white colored discharge from your vagina which is important for your pregnancy as it protects your vagina from any sort of infection like yeast infection which is quite common during pregnancy.
Edema – Edema is a swelling on your hands and feet during the pregnancy. It is a normal part of the pregnancy. But severe swelling is not considered normal. If you have severe swelling or you are swollen with sudden onset, then it is advised to consult your doctor immediately as it can a be a sign of Preeclampsia (serious complication in pregnancy).
Backaches – This happens due to increasing weight of your uterus, which puts pressure on your pelvic. You may use a pillow to ease yourself.
Increased sex drive – You may feel sexually aroused during this week.
Breathlessness – Sometimes you may find trouble in catching your breath as your baby continues to crowd your lungs. It is advised that not to involve in exercises that requires heavy work out.
Stretch marks – They are normal during pregnancy. They will look to be purple to pink during their start but will change in fine white lines. You cannot get rid of these stretch marks but post-delivery 

if you apply good moisturizers or body creams to make them lighter in appearance.

Constipation

– 

The pregnancy makes bowel movement less active which gives you uncomfortable feeling. To handle constipation easily, start taking fiber-rich diet like oats, root vegetables (carrots, and potatoes), etc. and drink plenty of water.

Thicker and shinier hair – The pleasant symptom is that during pregnancy, higher levels of estrogen prolongs the hair growth resulting in less shedding of hair making them thicker and shinier. So, it's a time to flaunt your beautiful hair!
Hair growth – The unpleasant symptom is that due to higher levels of estrogen prolonging the hair growth, you may have hair growth on your face (can be on your chin, upper lip, cheeks and jaw), stomach, arms, back and legs. 
Food cravings – Do your best to find healthy foods that appeal to you and prefer to eat frequently but in small quantity.
[icon type="icon-lamp"] 

Wish to have a Normal Delivery? Although there is no fixed formula to ensure that one can have a normal delivery, there are certain steps that when taken during a pregnancy, increase the chances of having a natural, normal childbirth. Read "

effective tips for normal delivery" 

for more information.
Do's and Don'ts in Pregnancy Week 22:
Are you a first-time parent? It is important to take care of yourself and your baby. Here are few important tips to follow during this stage of pregnancy.
At this stage, go for a foot massage. This will relieve you from edema.

Eat

healthy and nutritionally balanced diet

and do not skip any meal.

Walk slowly and climb the stairs very carefully.

If you are planning to clean your room and the upper shelves using a ladder, then please drop the plan. As the centre of gravity is changed due to the growing uterus, so this job has been tagged as a risky one.

Wear comfortable clothing.

Practice yoga or do the exercise which is good while being pregnant.

Share your thoughts and feeling with your partner to remain calm and relaxed.

Read good books and listen to the soft music.

Continue with your Folic Acid 

every day

.
[icon type="icon-lamp"] 

Join our Facebook closed group called

 "Parenting Mom Style" 

only for Moms and To-be Moms to share experiences and queries. Let's walk hand in hand in this beautiful journey.
To-Be Mom's journey is a bumpy road and you have to travel all alone. Supporters stand at the starting and ending point of your journey, but they cannot share these nine months period's discomfort, stress and pain. You (body and mind) supplement and complement each other throughout this period.
Stay blessed! Happy Pregnancy!
For your reference- Pregnancy Week 22: