[heading tag="h2″ align="center" color="#000″ style="lines" color2="#000″]In this Article[/heading]
Fetal Development in Pregnancy week 25
Moods and Symptoms in Pregnancy week 25
Do's and Don'ts in Pregnancy week 25
For Your Reference- Pregnancy Week 25
[divider height="30″ style="default" line="default" themecolor="1″]
A Complete Information Guide on Pregnancy Week 25
By Pregnancy week 25, start planning for your maternity shoot. You are near to the third trimester of your pregnancy.
You are five months and about two weeks pregnant. This feeling is filled with excitement but somewhere you're afraid too. Your fear is natural. Everyone is afraid of suffering during childbirth. But don't worry at all. When your baby arrives in your lap, you will forget all the pain.
Find out more about your fetal development, your body changes and changing moods and symptoms along with some advice on do's and don'ts.
[icon type="icon-lamp"] Haven't thought of your little munchkin's name yet? Let us help you in this. 
Get the list of unique names of boys and girls (with meaning) according to their Zodiac sign and Rashi. Here's the link- Indian Baby Modern Names
Fetal Development in Pregnancy Week 25: 
In Pregnancy week 25:
Size of baby – 13.6 inches (34.6 cm)- from crown to heel.
Weight of baby – 1.5 pound (680 grams)
Baby is about the size of Cauliflower.
The fundal height may be the halfway of the belly button and the lower end of your sternum.
Your baby's fat is developing and filling up his wrinkled skin. The hairs too have started growing.
This week also indicates the working of nose and nostrils, which allows your baby to breathe.
Your little one can now grasp the things in his hands and even can play with it. As of now, only umbilical cord is a playing instrument for your baby.
The respiratory systems of the baby by this week will become stronger.

The baby can now rotate himself to make his head towards the birth canal.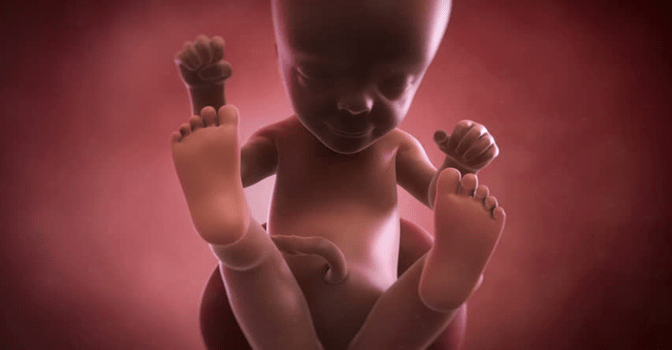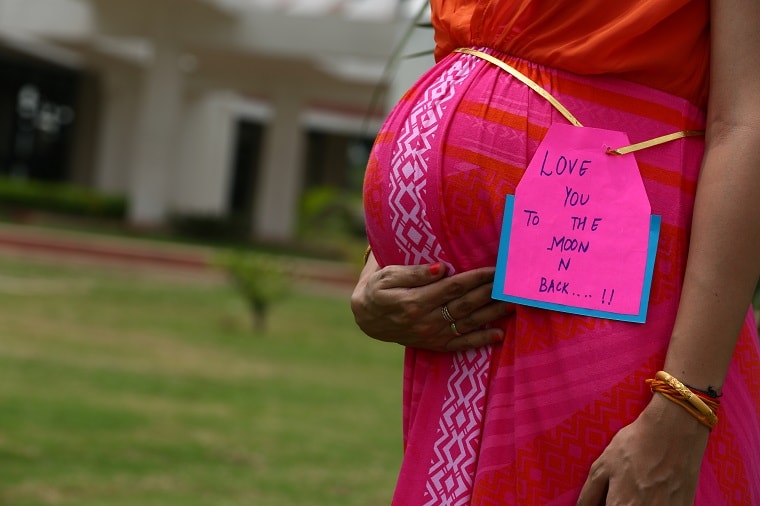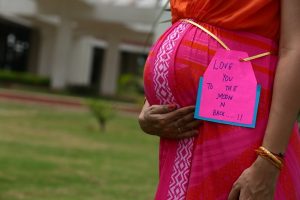 [icon type="icon-lamp"]

Have you planned for your maternity shoot?

Not yet? Start planning for this.

It would really be a fun. Book the photographer now and start making lovely props for the shoot.

Trust us, you will be feeling like a celebrity on the shoot day. Hurry up To-Be Moms.
Moods & Symptoms in Pregnancy Week 25:
You can expect the following body changes, moods and symptoms while being 25 weeks pregnant.
Snoring – It is common during pregnancy if you have started snoring. This happens due to an increased blood flow to the mucous membrane. Do bring this symptom to the notice of your doctor. And to deal with this annoying symptom, you can use an extra pillow to elevate your head.
Heartburn – You may feel heartburn which is often felt at the bottom of your breastbone if this is your first pregnancy. Stay away from oily and spicy foods and consult with your doctor to get prescribed antacids.
Numbness in legs or back – The numbness and sometimes tingling in the lower back is caused by the growth of uterus which gives pressure on your back and on your pelvic bone. In medical terms, this condition is known as a Sciatica. To overcome this symptom, do not sit in the same position for a longer time. You should avoid bending to most extent.
Difficulty in sleeping – Due to your growing belly, you might get difficulty in sleeping as you are not finding a good position to sleep in. It is advised to sleep on your sides. Avoid sleeping on your tummy.
Vivid Dreams – Many pregnant women also report having vivid dreams during their pregnancy. This is due to an increased production of hormones. During pregnancy, hormones impact on the emotions and the anxiety of a woman, as result this impact the way of brain processing information and emotions. Therefore, more possibly it results in vivid dreams during pregnancy.
Constipation– The pregnancy makes bowel movement less active which gives you uncomfortable feeling. To handle constipation easily, start taking fiber-rich diet like oats, root vegetables (carrots, and potatoes), etc. and drink plenty of water (at least 3 litres in a day).  
Thicker and shinier hair – The pleasant symptom is that during pregnancy, higher levels of estrogen prolongs the hair growth resulting in less shedding of hair making them thicker and shinier. So, it's a time to flaunt your beautiful hair!
Backache – This happens due to the pressure of growing uterus on your lower backbone. You may use a pillow to ease yourself.
Edema –Edema is a swelling on your hands and feet during the pregnancy. Do not stand and sit for too long and keep your feet up whenever you want to relax.
Stretch marks – They are normal during pregnancy. They will look to be purple to pink during their start but will change in fine white lines. You cannot get rid of these stretch marks but post-delivery 

if you apply good moisturizers or body creams to make them lighter in appearance.

Ligament Pain – The pain in ligament and cramp occur due to the growing weight of your fetus. The ligament is a fibrous tissue which connects two bones. If in case, you feel unbearable pain or cramps then speak to your doctor.
Fatigue – You may start noticing that fatigue is coming back. Sweating may increase.
[icon type="icon-lamp"] 

This is the best time to prepare yourself for Motherhood. Start reading about 

Baby care.
Do's and Don'ts in Pregnancy Week 25:
Do's

Don'ts

It is very important to get a regular medical check-up during pregnancy to know about the healthy development of your baby.

Avoid bending. Do not sit for longer hours.

Regular workout, or yoga along with a

well-planned diet

is a key to a healthy full-term pregnancy. Stay active and well hydrated.

Skip none meals. Avoid consuming spicy, oily and fried food. Do not follow any unhealthy routine.

Try to sleep on your sides by keeping pillows in between your legs. Sleeping on your left side is a most preferred option.

Avoid sleeping on your tummy.

Take small nap in afternoon so that body can take rest.

Don't exert so much for work. Don't take any kind of stress.

Continue with your

 Folic Acid 

every day.

Always be very careful about your activities to avoid any complications. Avoid lifting heavy weights.
Make yourself feel happy all the time throughout your pregnancy, and the key lies with you. Do things you like. Read, write, watch videos movies, chat with your friends, do everything that makes you feel good. Nobody would mind now if you put yourself first, if they do let it be. Don't worry! It is you who is pregnant, not them.
For your reference- Pregnancy Week 25: