When it comes to taking care of children, having the right products can make all the difference. From Clothing, and toys to car seats and strollers, there are countless childcare essentials that parents need to consider. However, with so many options available on the market, finding the right products for your child can be a daunting task. That is where Jollee comes in!
A House to all the Brands that care for and value your children's health and well-being, Jollee is a One-Stop Shopping Experience that solves all Parenting Woes with Consciously Curated Products that are tested and recommended by Experts
Here are Jollee's Top Expert Recommendations for all your childcare needs.
Clothing
Whether you're shopping for a baby, a toddler or a young child, finding the right clothes can be a challenge. Children's skin is delicate, and they need clothing that is soft, breathable, and non-restrictive. Parents need to consider both the comfort and the functionality o
1. Organic Clothing
Made with GOTS (Global Organic Textile Standard) Certified Pure Organic Cotton, Jollee's range of Organic clothing for children is a great option for parents who want to provide their kids with a healthier and more sustainable option.
Organic clothing is made from natural, chemical-free materials that are gentle on your child's sensitive skin. It helps reduce the risk of skin irritation, rashes, and other skin problems.
Enjoy The Lowest Prices On Organic Clothing on Jollee
2. Onesies & Rompers
Onesies and Rompers are two of the most popular clothing options when it comes to dressing up babies. They are cute, comfortable, and easy to put on and take off, which makes them a popular choice for parents.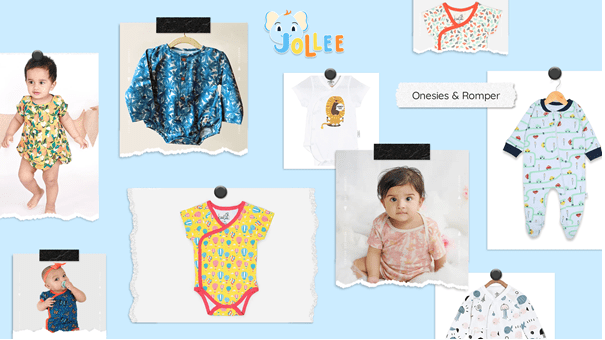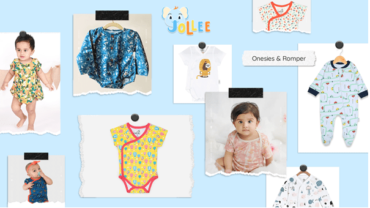 The main difference between the two is the length of the legs. Onesies have short legs and are more like a t-shirt that snaps at the crotch, while rompers have longer legs and look more like a jumpsuit.
Jollee's Soft and Skin-Friendly Collection of Onesies & Rompers are specially designed to provide maximum comfort and allow easy nappy changes.
3. Frocks & Dresses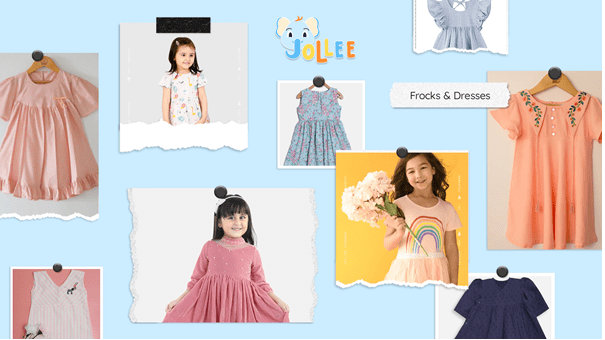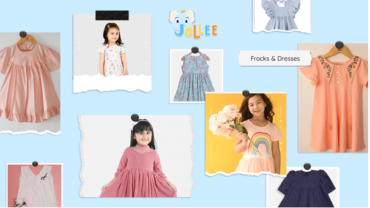 Dressing your little girl in cute and stylish frocks and dresses is one of the joys of parenting. Seeing your child twirl around in a beautiful dress is a heartwarming sight. However, frocks and dresses for girls are certainly an investment in your child's wardrobe. Therefore, they must be durable, comfortable, stylish, and offer value for money.
Toys
Toys are an essential part of childhood development, as they provide children with the opportunity to explore, learn and have fun. Toys are not only a source of entertainment but also aid in developing various skills such as cognitive, motor, emotional, and social skills.
1. First Toys for Babies
First Toys are specifically designed to enhance babies' growth and development and help them build essential skills. From developing Audio-Visual Senses to hand mobility Jollee's handpicked range of First Toys such as Rattles, Shakers, Teethers and more are Handcrafted, Non-Toxic and completely child safe.
2. Pretend Play Toys
Pretend play is an essential aspect of childhood development. It allows children to use their imaginations, creativity, and social skills. Pretend-to-play toys are an excellent way to encourage children to engage in imaginative play and develop various real-life skills.
3. Soft Toys & Dolls
Soft Toys and Dolls can provide comfort, companionship, and opportunities for imaginative play. They can also help children develop emotional intelligence, motor skills, and social skills while simultaneously helping them learn about cultural diversity.
Baby Gear
From car seats to strollers to high chairs, there's a never-ending list of things that parents need to purchase before their little one arrives. By investing in quality baby gear, you can help ensure that your little one is safe, comfortable, and happy.
1. Bottles & Feeders
Choosing the right bottles and feeders for your baby can make feeding time easier and more comfortable for both you and your little one. Jollee has consciously curated Bottles & Feeders that are Non-Toxic, Made from High-Quality Food grade materials and Soft on Baby's gums.
2. Baby Strollers & Prams
Strollers and Prams are a must-have for parents on the go. Look for one that is durable, easy to manoeuvre, certified for safety and has plenty of storage space. choosing the right stroller or pram for your baby can make life as a new parent much easier and more enjoyable.
3. High Chairs
As your baby begins to eat solid foods, a high chair is a necessary item. Look for one that is adjustable and easy to clean. These High Chairs are meticulously designed to give total safety while your kiddo enjoys the family meal time on the dining table.
4. Bikes & Tricycles
Bikes and tricycles help kids develop their gross motor skills, including balance, coordination, and strength. Additionally, It also offers a fun and positive outlet for their energy, which can help reduce stress and anxiety.
Baby Care
Baby care products are necessary to help keep your baby clean, healthy, and comfortable, while also supporting their growth and development. The right baby care products protect your little ones from allergies and infections.
1. Skincare Essentials
Still, searching for Non-Toxic Skincare products for your children? Treat your children's sensitive skin to the softest touch with Jollee's Handpicked Skincare Essentials. Using gentle and hypoallergenic skincare products can help keep your child's skin soft, smooth, and healthy.
2. Hair Care Essentials
Whether it's babies or toddlers, it's extremely important to keep their delicate scalps clean and healthy. Babies don't need to wash their hair every day, but when they do, it's important to use a gentle baby shampoo that is free from harsh chemicals and fragrances for a tear-free bathing experience.
Books
You may be wondering when you should start reading to your child and what books are appropriate for their age.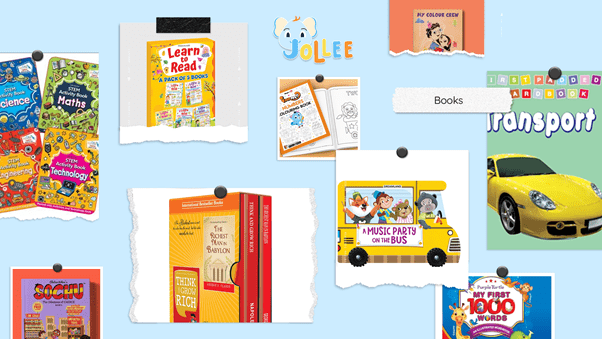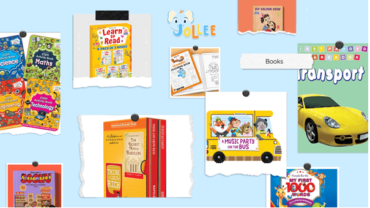 Reading to your children from a young age can help stimulate brain development, improve their language skills, and create a special bond between you and your little one.
1. Story Books
Storybooks with simple, easy-to-follow plots can be a great way to introduce your kids to the world of storytelling. If you're looking for story books for babies, get books with simple stories that are appropriate for your baby's age and attention span.
2. Board Books
Board books are perfect for babies because they are durable and can withstand rough handling. Look for books with bright colours and simple, repetitive text that your baby can easily follow along with.
3. Sensory Books
Sensory books are a great way to engage your baby's senses and keep them entertained. Look for books with touch-and-feel textures, flaps to lift, or buttons to push.
Things To Consider
It's natural to want the best for your children but with innumerable options available in the market, it can be quite difficult to know what is an absolute necessity and what is an added luxury. However, with some research Parents can find and choose the right product for their little ones.
Aiming to build a community of Informed parents who are conscious about what their children use, Jollee helps parents find the most appropriate and quality-tested products for their children without any hassle.