Keeping my 5-year-old son Ahaan occupied during the pandemic has been quite the challenge! In the initial few weeks, I used to put a lot of effort into planning activities, games and treasure hunts for him. But I noticed that with time, he started getting a bit bored. This could be for a variety of reasons – maybe he didn't want to see Mamma being his teacher and playmate all in one, every time. Or maybe it would have been more fun to explore and learn new skills with other kids of his age group. That's when I started searching online for a suitable hobby platform for him. And Bingo! I came across ZILLSKILL and we've never had a dull day at home since then.
The ZILLSKILL team is exploring numerous ways to accomplish an ultimate mission: high-quality, engaging programs taught by experts who help kids discover a variety of hobbies and hidden talents. 
ZILLSKILL is passionate about empowering young participants to optimise their own path, whether it's dabbling with a new hobby every month or picking up a special skill to practise for a long period. Read on to know all the things I love about this platform crafted with love for kids! 
FIND YOUR SUPERPOWER – ZILLSKILL ASSESSMENT PROGRAM: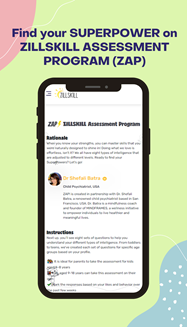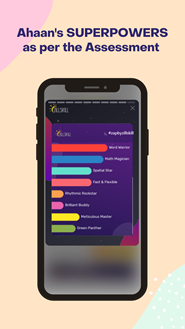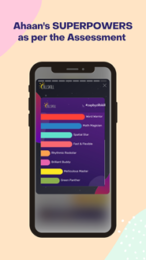 ZAP (ZILLSKILL Assessment Program) is the perfect stepping stone in your journey to discover the activities platform. The child or parent (depending on age) goes through a set of questions that are based on Gardner's Multiple Intelligences. Overall, it was a very engaging experience and I was so happy to see Ahaan's colourful results. It was a moment of pride that my son is a Word Warrior. Of course, he enjoys picking up new words and learning their meaning!
The ZAP Assessment is created in collaboration with Dr Shefali Batra, a renowned child psychiatrist based in San Francisco, USA! Dr Batra is a mindfulness coach and the founder of MINDFRAMES, a holistic project that aims to help people live happier healthier lives. 
Each set of questions is built for distinct age groups, from toddlers to teens, based on your profile

It is recommended that parents take the evaluation for children aged 4 to 8 years

This assessment can be completed independently by children aged 9 to 18 years

There are no right or wrong responses! Simply answer the questions as truthfully as possible for a more accurate assessment
Once you're done with the quiz, you will be given a list of hobbies and skills that will suit your child's personality and interests. And voila! It's done!  
Try ZAP (ZILLSKILL Assessment Program) for your child!
FULL SUITE OF WORKSHOPS FOR EVERY INTEREST
ZILLSKILL recognizes that each child's learning journey is special. They offer exciting, engaging sessions and high-quality hobby lessons led by qualified experts to ensure that your children learn new things every day while having a wonderful time. 
The Workshops Zone on ZILLSKILL is a treasure trove of all types of activities and skills for kids! Your child will just be a click away from many hobbies like Mandala Art, Story Time, Doodling, Cooking, Vedic Maths, Warli Art, Dance, Yoga and so much more. There is a good mix of daily sessions (45min each) and longer workshops (with about 5 to 8 sessions) for more advanced learning.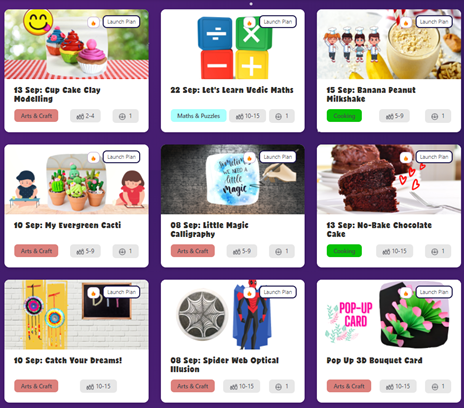 MEMBERSHIP PLANS
ZILLSKILL offers 4 types of membership plans  to choose from:
FREE Plan (full access to ZAP, free workshops and all content)
Silver Plan (FREE Plan plus live, interactive workshops)
Gold Plan (Silver Plan plus small-group sessions for higher engagement)
Platinum Plan (Gold Plan plus 1-on-1 workshops and specialized interest workshops)
Not just that, the learning platform also includes premium DIY content, full-suite workshops, fun assessment tests, daily challenges, kid-friendly news, and more.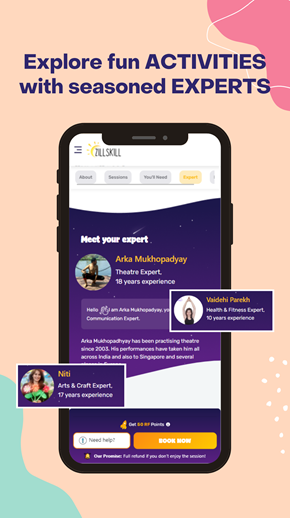 DAILY QUIZ:
The daily quiz segment is divided into three sections, each of which has a question on various topics. Questions from Geography, English, Science, General Knowledge, and a variety of other subjects can help your child become more informed and pick up some amazing facts about a specific topic in a matter of seconds.
READING CORNER (Kids-Friendly News & Blogs):
A Reading Corner is a place where children can learn about a variety of topics and events from across the world. This is the section that I enjoy as much (and sometimes even more) than Ahaan! It's filled with interesting facts, kids-friendly news and engaging blogs that are informative.
You'll find short and long blogs, an A-Z Encyclopedia of Hobbies, News Articles, Stories for Kids and much more here. Knowledge is power, and there is plenty of it in reading materials that you can find on ZILLSKILL. We enrich your child's intellect with all that will serve as a foundation for their future endeavours through the Reading Corner.
REFERRAL PLAN: Get Up to 1 Year FREE Access
The Referral Plan is a little bonus for all users! The more you refer ZILLSKILL to your friends and family, the more benefits you get.  With every user who signs up with your Referral Code on ZILLSKILL, you get 7 days free access to the Launch Plan. You can add friends and get a full year's access to exclusive membership plans.
So, what are you waiting for? Use my referral code "BUDDING" and get instant free access to the membership plans. Ahaan and I are having a great time exploring hobbies on ZILLSKILL. See you there soon!