My biggest challenge as a parent was not being able to keep my child happy and engaged with activities. The games he liked were not age-appropriate and often had tones of violence and aggression. While the ones I suggested, my kid found dull. Hence those games don't provide any educational value, social skills, or moral values and do not help reduce screen time.
I wanted something to encourage my kids to do something creative, engaging, and productive. Also, something that would help them balance screen time and spend more time playing with the family.
Then I came across the concept of fun learning games. I explored a few options and ultimately chose Luma World STEM games to solve these problems.
I bought two games from their website. Ahaan (my 7-year-old kid) got hooked on these fun learning games as soon as he first saw their visually appealing games.
What impact did the Luma World Games have on my child?
Ahaan's screen time decreased from 5.5 hours a day to 1.5 hours a day. A healthy balance that I wanted to create for my kid.

Ahaan had a blast learning and practising basic fractions and also delved into fascinating ocean concepts and their inhabitants.

I spent more quality time with Ahaan than I can remember. Luma World helped us create long-lasting memories.
Why should you choose the Luma World Games?
Luma World's indoor games provide an engaging, collaborative, and interactive experience.

These games encourage fun learning and active play, promoting a productive and screen-free environment.

These games enhance motor skills, coordination, and teamwork. It also fosters active brainstorming interactions with his friends, unlike other brain-numbing screen games.
It's undeniably one of the best recent investments I've made for Ahaan. I'm thrilled that he's no longer overly reliant on screens to kill boredom, all thanks to Luma World Games.
Here is why I love Luma World games the most for my kiddo:
Play & Learn:

Luma World games are fun and educational. Many games help boost creative, analytical, and critical thinking skills on various fun themes, from dinosaurs to galaxies to robots.

Healthy Lifestyle:

These games encourage family playtime and bonding. It is the most enjoyable alternative to engaging kids without screens.

Improves social interaction:

Luma World games improve interaction while also inculcating moral and life skills.
My favourite games from Luma World:
If your child enjoys strategy games like my son Ahaan, you might want to give Crafty Puggles a try. I bought this game to help enhance his critical thinking skills.
What's surprising is that it didn't just improve his thinking abilities; it also helped Ahaan enhance his decision-making skills while also teaching him about basic fractions. So, his knowledge can be applied in the real world and in the classroom. As a parent, I was glad that I could help in his all-around development using a single game!
Crafty Puggles is truly one of the best educational games available, promoting imagination and creativity.
Benefits of Crafty Puggles
a) Fractions Made Easy & Fun:
Your kids will learn to identify fractions visually. They will not only understand it but will also use the tile resources to build paths. This will help them improve their critical thinking skills.
b) Gaining Many Abilities: Besides learning in school, Crafty Puggles help children develop important life skills such as making choices, organising, paying attention, physical coordination, talking, and thinking creatively. They also learn good values like being patient, telling the truth, and understanding that sometimes luck and not succeeding are part of life.
Check out Crafty Puggles here: – https://bit.ly/3PwKUlM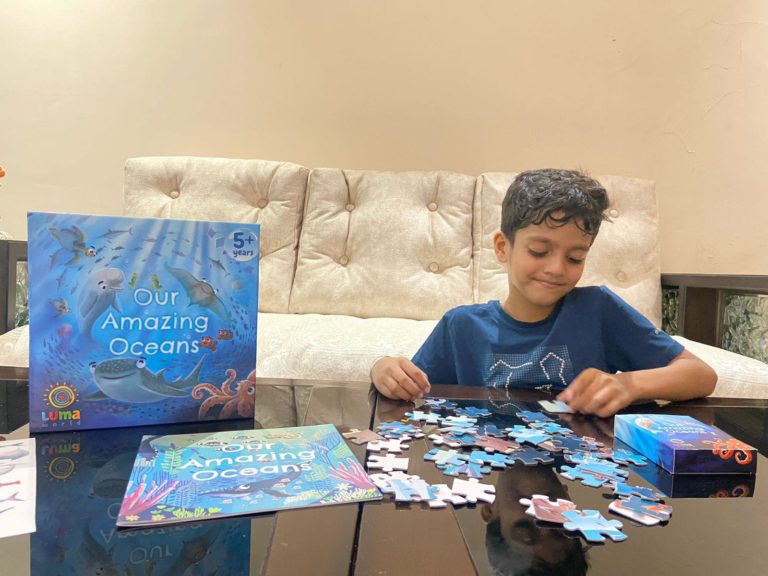 My child has a deep fascination with ocean scenes and pictures. Instead of simply viewing ocean images in videos, this game brings the ocean into their hands. It not only nurtures their curiosity about the ocean but also provides an accurate representation, making the learning experience truly exciting.

Your child can interact with aquatic friends and explore the mysteries of the deep blue water.
 Benefits of the Amazing Oceans
a) Illustrated Book: A straightforward ocean guide for kids with practical learning experiences incorporated into the activity kit.
b) Activity Puzzles: Improve association and comparison skills. These puzzles enhance mind-body coordination, goal-setting, and picture-based implementation.
c) Curiosity Cards: These cards provide fascinating information about ocean animals, challenging preconceived notions.
d) Magic Glass: Fun questions and puzzles add an element of magic and entertainment to problem-solving.
e) Sticker Sheet: Let your child become a seafood enthusiast with these trendy stickers.
Check out Our Amazing Oceans here – https://bit.ly/45zyY8h
Luma World games significantly contribute to a child's comprehensive growth and well-being. Both Crafty Puggles and Amazing Oceans Games offer engaging ways for children to learn, interact, and develop various skills, all while having fun. So, why wait? Try these games today and watch your child's curiosity and knowledge flourish!