All moms love off days because you don't need to wake up early, rush to prepare meals, or make the kid ready so that you don't miss the school bus a lot more. But, the biggest challenge about having a day off is having kids at home and keeping them busy with something productive.
There are so many easy crafts to do for you and your little one that will act as a great binding exercise between the two of you. Moreover, craft activities for 2 year olds can be a great stimulant for their creativity and imagination. Here are some easy-to-make crafts which will keep your little one busy and entertained. Here are some easy-to-make crafts which will keep your little one busy and entertained.
Benefits of Art & Crafts in Kids' Lives:
Helps in developing kids' motor skills.

Improves kid's physical and mental health.

Boosts creativity in kids' life

Develops patience

Improves communication
5 Best Art & Craft Ideas to Do with Kids on off days:
1. Salt Watercolor
Raised salt painting is an all-time favourite kids' art activity that is enjoyed by children of all ages, from toddlers to teenagers. This simple art activity, also known as salty watercolours, requires only glue, salt, and watercolours. Draw a design or a picture onto your cardstock with your glue. Sprinkle salt over the cardstock until the glue is completely covered. Allow excess salt to fall away. A baking dish or tray helps to keep the salt container. Dip your paintbrush in liquid watercolour paint and gently stroke the salt-covered glue lines. Watch the paint travel in both directions magically! You can add your watercolour paint with a dropper or pipette instead of a paintbrush if you prefer. It is one of the best art activities for 1-year-olds, your kid is going to love it.
2. Stamped Napkins
This is the perfect solution for all those hyperactive kids who can't sit still for more than a minute. If you're tired of chasing your child around the house, engage her in an appealing task that will keep her occupied for a while. This is one of the best rainy-day craft ideas too.  Many people believe that art can be used as therapy, so try it with your child and get her to show off her artistic side with a fun painting session. Request that she assist you in updating your napkins with this creative art. It's simple and a lot of fun, and they'll love it. Do you require new napkins? Allow your children to create them with this enjoyable art activity! Collect items to use as stamps, it can be anything like leaves, flowers etc. Cover the improvised stamps in fabric paint and press them onto your fabric. Allow the fabric to dry after removing the stamp. Follow the manufacturer's washing instructions.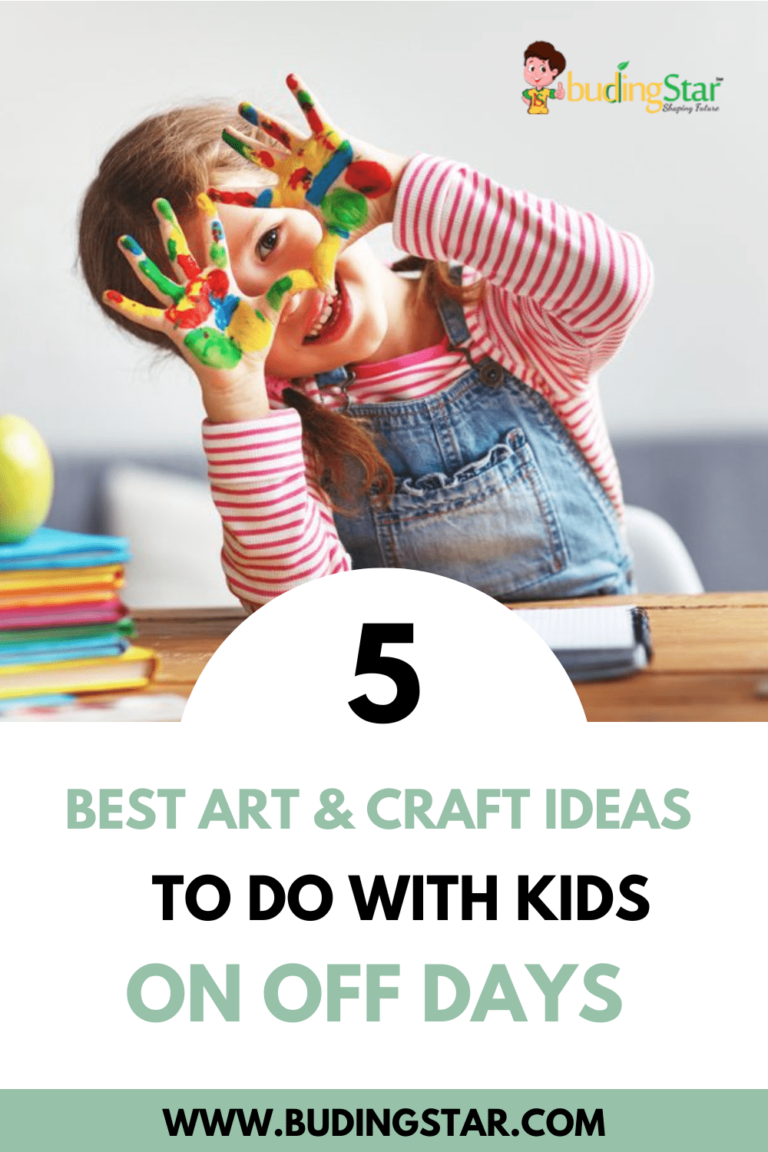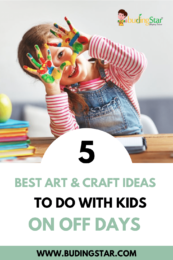 3. DIY Hungry Caterpillar
A caterpillar is a cute, fuzzy creature that develops into a lovely butterfly. Best of all, there are numerous ways to make them using household items, it is also easy crafts to do by kids. Caterpillar crafts are a great way to teach young children about them in a hands-on way. While the kids are making their caterpillars, read to them about caterpillars and then have a discussion. Using scissors or a serrated knife, cut an egg carton in half lengthwise. You'll have two long rows of egg cups at the end. Choose the one you want and set the other aside. Make sure to remove the lid and front flaps so that you only have the strip. Use acrylic, poster, or tempera paint to paint the outside of the carton. Green caterpillars are the most common. To make a "very hungry caterpillar," paint the first cup red, then the rest green. Make two antenna holes in the top of the first cup. The holes must be located right next to the narrow edge. Add a face by poking a pipe cleaner through the holes.
4. Pressed Flowers
If your children enjoy nature, they will enjoy pressing flowers for handmade cards or art. This is also an excellent way to reuse old flower bouquets. Did you know you could press flowers at home? A huge book, a large object, scissors, and a sheet are all you want. This is one of the best craft activities for 2-year-olds. Collect flowers with your child the next time you go for a walk. Pansies and violets, which have a relatively flat surface, are ideal for this art activity. Open your enormous book to an inside page at home and defend the pages with white paper. Trim the flower's stem, place it in the book, and carefully close it. Place your heavy objects on top of the book (such as bricks). Remove the delicate flowers after a week and use them however you like!
5. Collage Drawing
A collage is a simple craft that entails pasting items such as leaves or photographs onto paper. Making a collage assists your child in developing fine motor skills. It's also fun to help your child learn about colour and texture. It also helps your child's language development if you talk with them about their college. This is also easy to make crafts with kids. Drawing and collage-making are combined in this creative art project. Cut out images from magazines that your child will enjoy (we cut grass and half of a pear). Glue the items to sheets of paper, then finish with coloured pencils or markers to create your artwork. This art activity will stretch your child's imagination!
FAQs on Art & Craft for Kids:
1. What are the activities for kids' arts and crafts?
There is so much to explore when we talk about craft activities for 1-2-year-olds. For instance, you can engage them in tissue paper art. All you have to do is encourage the child to cut and paste pieces of coloured tissue paper in the form of shapes or figures. This is a really fun activity to do with your kid. You can also try out nature-inspired creative activities if you are looking for some amazing fun crafts to do with your little one. You can go on a nature walk and collect some twigs, leaves and flowers from the garden. All of this can be used for carrying g interesting craft pieces. 
2. What is an example of arts and crafts for children?
Anything that can be used by children to bring out their creativity, is an example of arts and crafts for children. It can include easy crafts to do such as tissue paper art, clay art, handprints and footprints art etc. You can also take punters from the list of art and craft ideas mentioned above. 
3. What are creative crafts?
Creative crafts are those crafts that do not follow a step-by-step instruction guide, but, instead, encourage the child to use his/her own power of creativity and imagination. In addition to creating visually appealing crafts, creative craft ideas also allow a child to explore their creative inclinations in a fun and unconventional manner.