Pune, the cultural capital of Maharashtra, was earlier known as Punya-Nagiri or the Queen of Deccan. At a distance of 161 km from Mumbai, Pune is considered as one of the most popular cities in India, situated at the junction of two rivers Mula and Mutha.
We will be surprised by many historical places to visit in Pune, various foods to eat and some adventurous activities to perform as well. From sight-seeing to beautiful road trips, Pune will engage your entire holiday time. There is an endless list of tourist attractions, out of which few of the most promising Pune places to visit are enlisted here.
Best Places to visit in Pune
1. AGA KHAN PALACE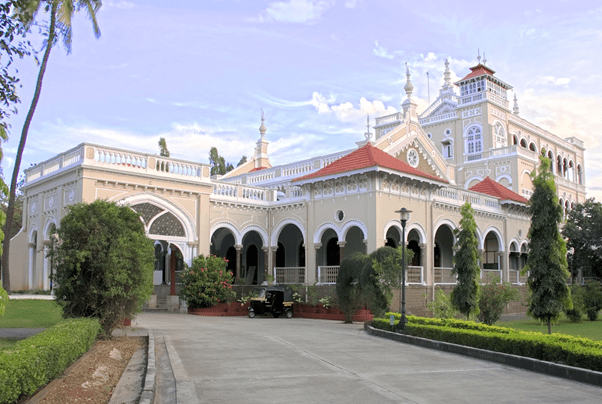 Photo: Wikimedia
Location: Pune Nagar Road, Kalyani Nagar
Timings: 9 am to 5.30 pm
Fee: INR 5 and INR 2 for children (Indians) INR 100 (Foreigners)
One of the famous historical creations in Pune is the Aga Khan Palace. This was built in 1892 by Sultan Muhammed Shah Aga Khan III. This mighty monument was an act of charity owing to the major reason for its establishment. That was to help the poor and the needy villagers during famine.
This majestic palace has a close link with the Indian freedom movement as Mahatma Gandhi and his wife, his secretary and Sarojini Naidu were prisoned during the Quit India movement. Gandhi's ashes were kept here as a memorial. The Gandhi Memorial society takes care of the museum and memorials present in the palace for the visitors to explore.
2. SINHAGAD FORT
Photo: Wikimedia
Location: Thoptewadi, Pune
Timings: 6 am- 6 pm
Fee: Free entry
Sinhagad Fort is located 25 km away from the city which is 2000 years old. The stunning view from Sahyadri Hills is a must-watch for visitors to feel the tranquillity of the beautiful lush greenery and captivating beauty of waterfalls.
This place has a lot of history surrounding Shivaji who took charge of the fort in 1647.  The younger son of Shivaji, Rajaram passed away here.
3. SHIVNERI FORT
Photo: Wikimedia
Location: Junnar, Pune
Timings: 6 am- 5 pm
Fee: INR 5 (Adults) INR 1 (Child)
This is the birthplace of the great Maratha king Chhatrapati Shivaji. Shivneri Fort was one of the most important historical places during the Maratha rule. The fort is well-guarded with seven gates situated on a 300-meter tall hill.
This beautiful tourist destination has a lake named Badami Talav inside the fort. If you are a trek-lover, then it will be a double delight to visit other forts in the Shivneri hills.
4. DAGDUSHETH HALWAI TEMPLE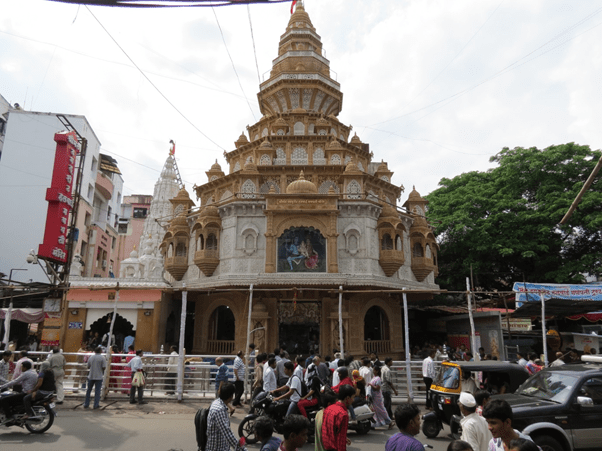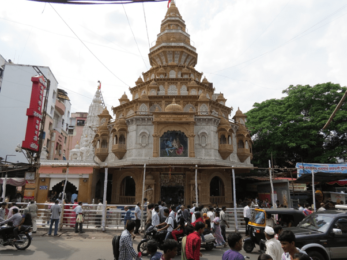 Photo: Wikimedia
Location: Budhvar Peth, Pune
Timings: 6 am – 11 pm
Fee: Free
Dagdusheth Halwai temple is one of the ancient temples with a 7.5 feet Ganesha idol where devotees from around the country gather on various occasions.
The 10-day long Ganpati festivals are celebrated in a grand way every year. Celebrities and politicians visit here during this time. By visiting this place you can add a religious touch to your holiday fun.
5. SHANIWAR WADA PALACE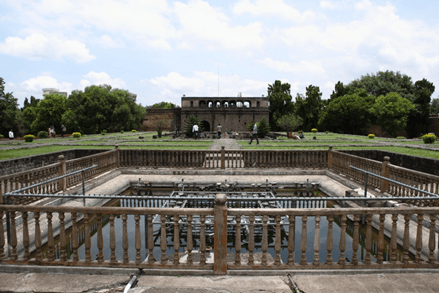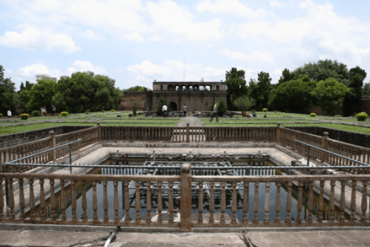 Photo: Wikimedia
Location: 3 km from Pune junction
Timings: 8 am – 5 pm
Fee: INR 5 (Indians) INR 125 (Foreigners) INR 25 (Light and Sound show)
Shaniwar Wada Fort is one of the top tourist visiting places in Pune, built-in 1732 by the Peshwa ruler Bajirao. The palace with five gateways showcases wonderful structures from the Maratha empires.
The walls were painted with stories from Ramayana and Mahabharata. A one hour light and sound show are organized for the visitors in Hindi and Marathi languages.
6. PARVATI HILLS
Photo: Wikimedia
Location: 6 km from Pune junction
Timings: 5 am- 8 pm (Temple)
Fee: Free
2100 feet above the ground, Parvati hills are one of the best scenic places in Pune. The Parvati hill temple is the oldest reminiscent of Peshwa. This heritage structure is dedicated to goddess Parvati built in 17th century by third Peshwa Shrimant Nana Saheb.
The soothing view of the hills, several temples, and its historical value in the Parvati museum all create an ideal place for visit.
7. PASHAN LAKE
Photo: Wikimedia
Location: 12 km away from the city centre of Pune
Timings: 8 am – 11.30 pm
Fee: Free
A picturesque artificial lake made during the British rule to meet the water requirement is a brilliant spot for thousands of visitors. There exist 300 meters long nature trail for the people to walk and enjoy the serene view of the suburbs of Pashan hills. A lot of migratory birds can be watched during winter.
8. OSHO ASHRAM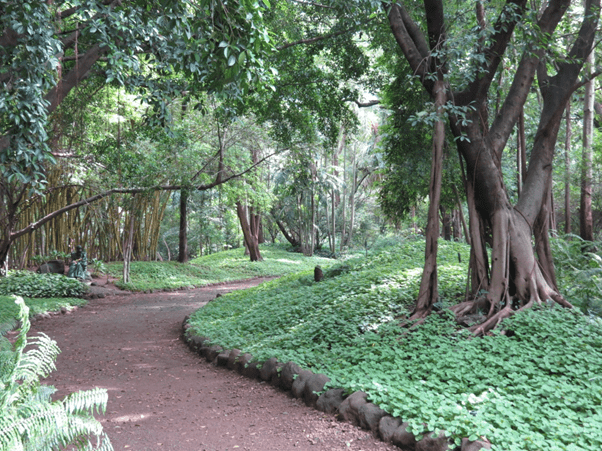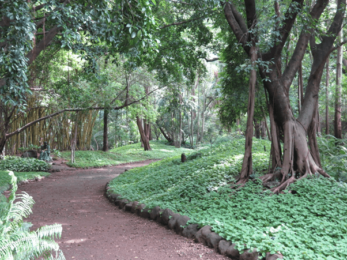 Photo: Wikimedia
Location: Koregaon Park, Pune
Timings: 6 am – 8 pm
Fee: INR 870 (Indian) INR 1790 (foreigner)
If you want to spend some quality time with your friends and family, Osho Ashram is the perfect retreat for all. The 32 acres of land is also known as Osho Commune International of Pune.
Those who want to be away from the hustle and bustle of the town into a paradise of serenity, peace and calm, then this is just the right destination. The spiritual connection through meditation and various other activities like beauty therapies, massages, sauna, and swimming are present for the guests.
9. SHINDE CHHATRI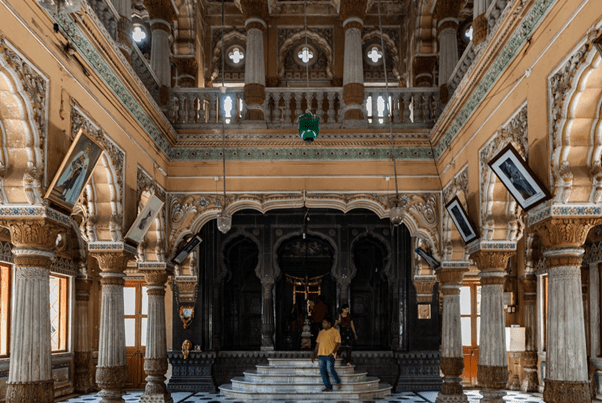 Photo: Wikimedia
Location: Wanawadi, Pune
Timings: 6 am – 9 pm
Fee: Free
18th century-old memorial of Maratha military leader Mahadji Shinde is a popular destination. The architectural designs representing Rajasthan along with Anglo style is the main attraction of the place.
There is a Shiva temple with brilliant carvings. The beautifully decorated paintings in the hall area give the historical identity.
10. LAL MAHAL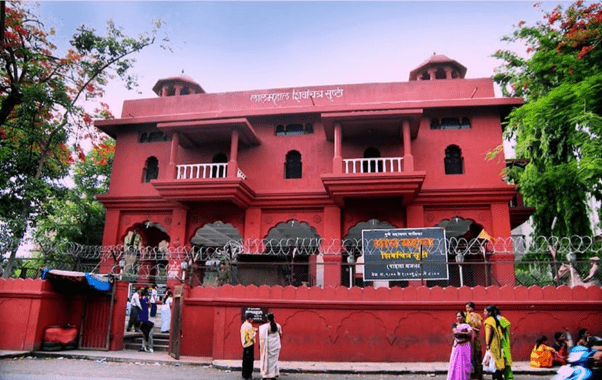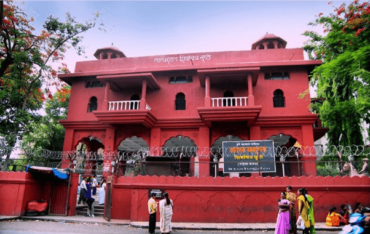 Photo: Instagram
Location: Ganesh Rd, Durvankur Society
Timings: 9 am – 1 pm and 4 pm – 8 pm
Fee: INR 3
Lal Mahal also known as Red Palace is a famous tourist spot built-in 1643 by emperor Shivaji's father Shahaji Bhosale. The wedding of Shivaji Maharaj with Maharani Saibai was held in this palace.
The current palace after a lot of modifications possesses a collection of beautiful oil paintings showing the life events of Shivaji. There is also a park called Jijamata garden for kids to have fun.
11. THE EMPRESS GARDEN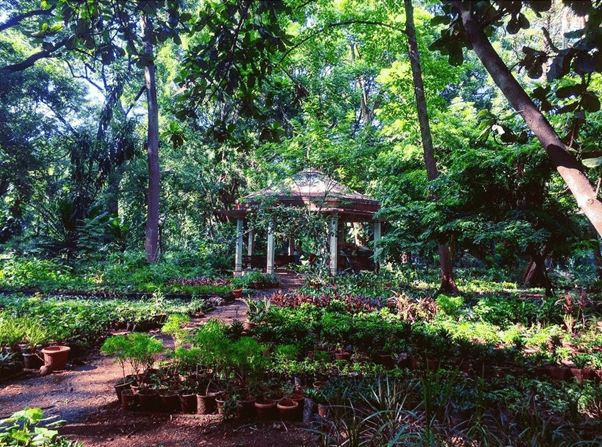 Photo: Instagram
Location: Kavade Mala, Ghorpadi
Timings: 09:30 AM – 06:30 PM
Fee: INR 15
The 39 acres of land was named after Queen Victoria when she was called 'Empress of India'. One of the picturesque places to see in Pune is the Empress garden due to its wide landscape with varieties of trees, plants, shrubs, and colorful blooms. This is the ideal place to stroll in the afternoon to refresh and rejuvenate.
12. RAJA DINKAR KELKAR MUSEUM
Photo: Wikimedia
Location: Natu Baug, Shukrawar Peth
Timings: 10 am – 5.30 pm
Fee: INR 10 children (below 12 years), INR 50 adults (above 12 years), INR 50 foreign children, INR 200 foreign tourists.
The three-storeyed intriguing museum is the 2nd largest museum in the country. Dr. D.G. Kelkar established this in 1962 on the memory of his son Raja who died at the age of seven.
The huge collection of different art materials, sculptures, carvings, weapons, vessels and valuables from ancient times are worth observing.
13. PESHWA UDYAN ZOO
Photo: Tripadvisor
Location: Sane Guruji Road, Municipal Colony
Timings: 10 am – 1 pm, 2 pm – 5 pm
Fee: INR 20 (Adults), INR 10 (Children)
Peshwa Udyan is one of the popular places in Pune for relaxing and spending some cozy time with family. The well-maintained lawns and beautifully decorated garden create a magical moment with nature.
The park also has a zoo with quite a lot of animals. Even the photography enthusiasts get inspiration. The weekends and evenings are filled with a lot of crowd in this place.
14. NATIONAL DEFENCE ACADEMY (NDA)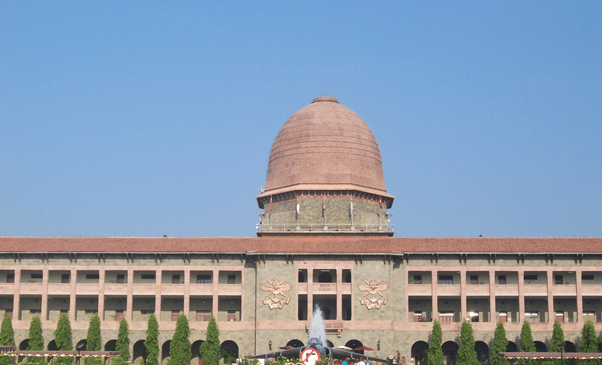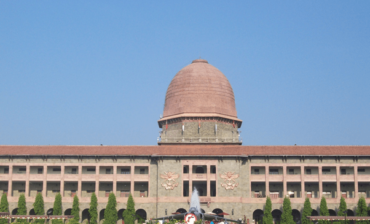 Photo: Wikimedia
Location: Khadakwasla, Pune
Timings: 10 am – 12.30 pm
Fee: Prior permission required
NDA is the prestigious training academy for Armed forces of Indian services (Army, Air force and Navy). The reputed place holds a lot of respect and pride in the hearts of many patriots. The stunning architectural designs and a vast library are the attractions for the visitors.
15. BUND GARDEN
Photo: Wikimedia
Location: Yerwada, Pune
Timings: 6 am – 9 pm
Fee: Free
Bund Garden is a well-known picnic spot that can be counted among Pune visiting places. The oasis of greenery and mesmerizing ambiance are delight to watch.
Boating and jogging are the few activities that the visitors can engage themselves after spending an ample amount of time in the natural environment away from daily routine.
These are 15 best places to visit in Pune, although the city will provide you a lot more memorable experiences. So, why spending time thinking, instead just plan a wonderful trip to Pune in the coming holiday season.