Bangalore or Bengaluru, as it is known today, can no longer be termed as just a tech city or IT capital of India, because bangaloreans
as well as the tourists are all set to make their travel plans to various leisure destinations in and around Bangalore. There are innumerable kid friendly places in Bangalore which can make them burst with priceless giggles and merriment. Take a look at these 15 best places in Bangalore that serve with fun-filled outings and learning experience for the kids.
15 best places in Bangalore for Kids to visit:
1. BANNERGHATTA BIOLOGICAL PARK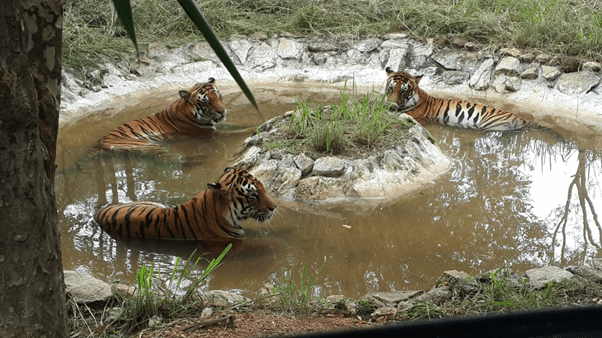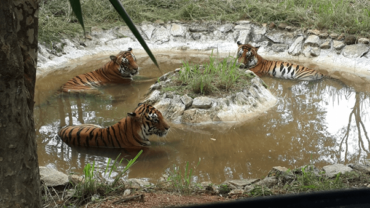 Photo: Jaseem Hamza
Location: Bannerghatta road
Timings: 9:30 am to 5 pm except Tuesday
Fee: INR 80 (adults) 40 (children), Butterfly Park 30 (adults) 20 (children), Grand Safari 260 (adults) 130 (children)
This well-maintained zoo along with the designated national park gets visitors from around the country for all the interesting activities including wildlife safari, butterfly park visit and spotting around 78 species of animals. Visitors can opt for battery operated vehicles to observe the animals closely. A museum that displays many photographs, animal trophies, fossils and skeletons is also worth visiting.
2. WONDERLA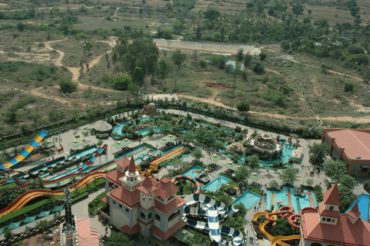 Photo: Swaminathan
Location: Mysore road
Timings: 11:00 am to 6:00 pm
Fee: INR 1000 – 1200
WonderLa is considered as the country's largest amusement park with variety of land and water rides for both adults and children. This exciting destination is the best kids' entertainment in Bangalore, which has the largest indoor musical fountain, laser shows and other games for kids. A hygienic water condition is maintained to keep everyone safe.
3. JAWAHAR BAL BHAVAN
Photo: Darshik Mehta
Location: Cubbon Park
Timings: 10:30 am to 6 pm except Monday
Fee: INR 10
Cubbon Park is a 12 acres play space specially designed for children maintained by the government of Karnataka. Bal Bhavan is a part where kids get the well planned amusement options like toy train ride, Mini Park having tree houses, swings and horse rides. The doll museum has an amazing collection of dolls and toys from all over the world. It has a place for boating as well with a cafeteria serving south Indian snacks.
4. GOVERNMENT AQUARIUM
Photo: Deepak2017ind
Location: Near to Cubbon Park
Timings: 10 am – 5:30 pm
Fee: INR 15 (above 12 years)
The old Government Aquarium is maintained by the Karnataka fisheries department, which is a two-storeyed building housing several aquariums of ornamental fishes. Kids will enjoy the sights of different colorful and exotic species.
5. LALBAGH BOTANICAL GARDENS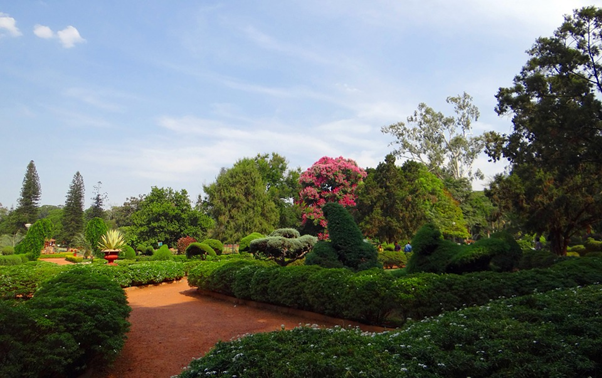 Photo: Bishnu Sarangi
Location: Mavalli
Timings: 6 am to 7 pm
Fee: INR 20 (above 12 years)
The 240 acres botanical garden is having thousands of plant species and some 100 years old trees, for which it is the urban green space of Bangalore city. Rock formation here is believed to be dating more than millions of years back. Every year, during Independence Day and Republic day, flower shows are conducted in the central Glass house, also Mango Mela during mango season.
6. HAL MUSEUM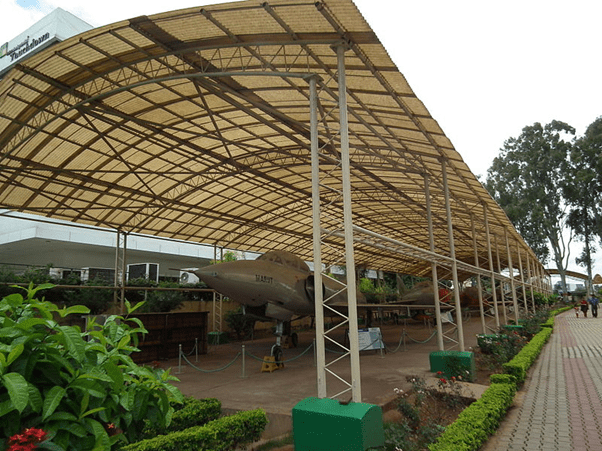 Photo: Rameshng
Location: HAL Old airport road
Timings: 9 am – 5 pm
Fee: INR 50 (free for children)
The museum is the treasure house of information and artifacts concerning Indian Aviation Industry with photographs and life-size models of old aircrafts, fighter planes and their engines. Kids will love to check out the chassis of many out-of-service fighter aircraft's. There is a flight simulator where one can enjoy a real-life experience of flying an aeroplane.
7. LUMBINI GARDENS
Photo: https: holidify.com
Location: Outer ring road, Hebbal
Timings: 11 am – 7 pm
Fee: INR 50 (all above 3 years) Wave pool INR 200
This is a public park situated on the banks of Nagawara Lake, an ecstatic lake surrounded by an amusement park with all amenities for a family outing. Eco-friendly boating, wave pool, rides like trampoline, break dance, bull rides etc. are available for conducting parties and get-togethers.
8. GERRY MARTIN FARM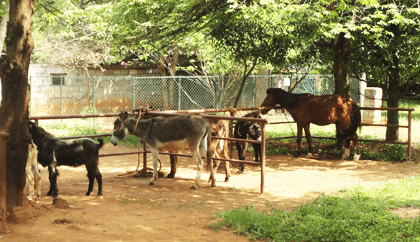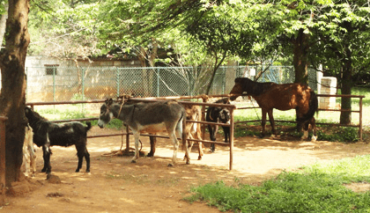 Photo: travel2karnataka.com
Location: Carmelaram, Sarjapur Road
Timings: 10 am – 6 pm except Monday
Fee: INR 100
An ideal place to visit with kids as Gerry Martin farm is surely exciting for the toddlers to connect with different farm animals like rabbits, guinea pigs, ducks, horses etc. One day outing can be planned to enjoy the interaction with animals surrounded by shady trees. Children would love to feed/pet them and can spend hours playing with them.
9. JAWAHARLAL NEHRU PLANETARIUM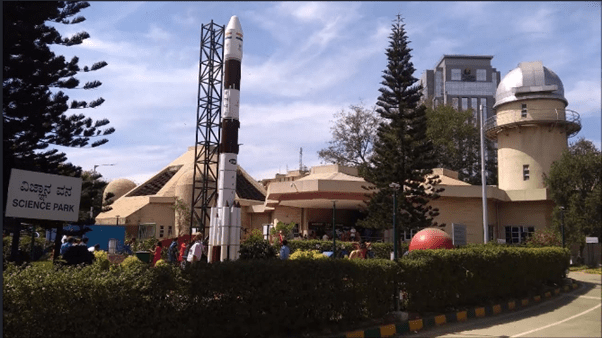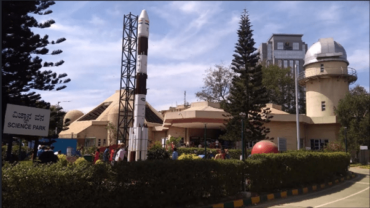 Photo: White2Tech
Location: High Grounds
Timings: 10 am – 5.30 pm
Fee: INR 50 (INR 30 for kids)
This is the place where young children can have ultimate fun activities in Bangalore. The planetarium provides interesting lessons which includes an observatory and a sky theatre. Children will cherish the experience of the fascinating shows.
10.VISVESVARAYA INDUSTRIAL & TECHNOLOGICAL MUSEUM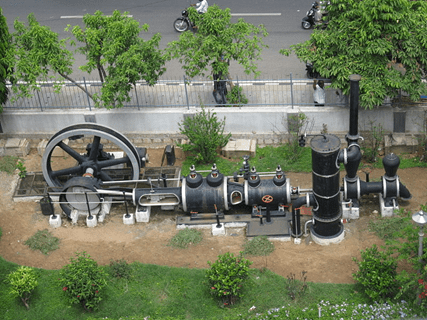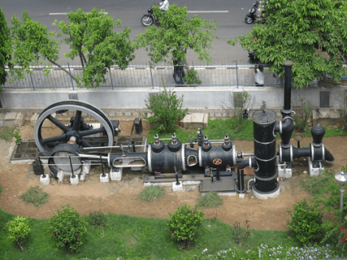 Photo: Amanjosan2008
Location: Kasturba Road
Timings: 10 am – 6 pm
Fee: INR 20 (free below 5 years)
The museum is the centre for knowledge for the curious ones who love to deal with science and technology, ideal for kids over ten years. This has a treasure of numerous specimens on learning related to scientific education on steam engine, airplane, motor power and many more. The main attraction is a mobile science exhibition on industrial development with human welfare.
11. INNOVATIVE FILM CITY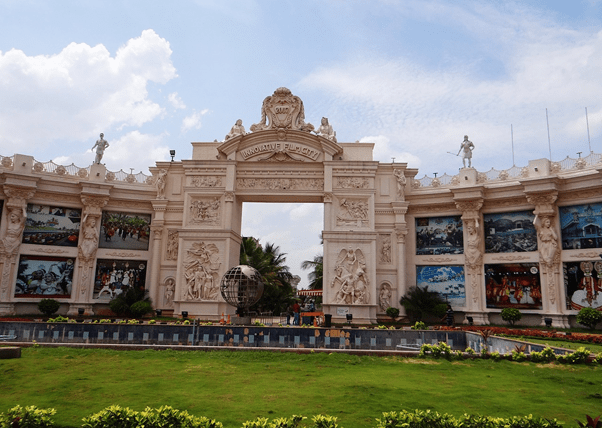 Photo: sarangib (pixabay.com)
Location: Bidari
Timings: 10 am – 6:30 pm
Fee: INR 599, INR 399 (after 3 pm)
One of the best places to see in Bangalore is Innovative film city where the entire family can experience a joyous day especially kids. The various fun activities accumulated in this 50 acres space are Dinosaur Park, Miniature City, Cartoon City, Louis Tussard's Wax Museum, Tribal Museum and Haunted Mansion etc. There are other electrifying adventure sports like Go Karting where kids can encounter the maximum thrills.
12. ATTA GALATTA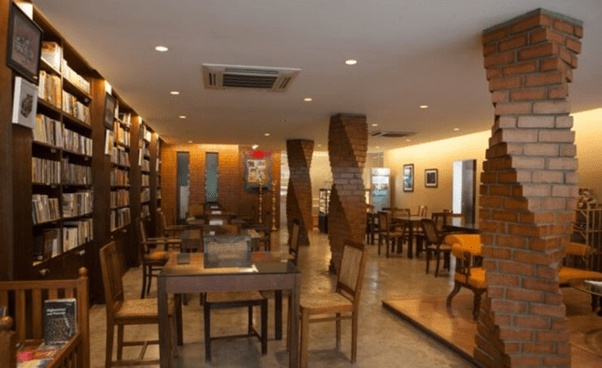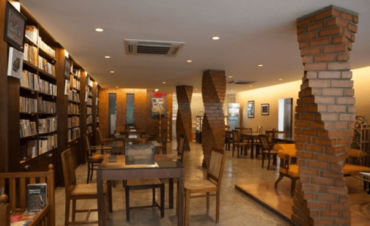 Photo: zomato.com
Location: Koramangala
Timings: 11 am – 8 pm
This cultural space with more than 10,000 books and fresh aroma of baked breads floating all over makes this ideal for bookworms. Many books are for sale with a section for reading along with eating delicious baked goodies. Events like poetry or book reading, story-telling, theatre or film screenings are occurring frequently here.
13. BANGALORE PALACE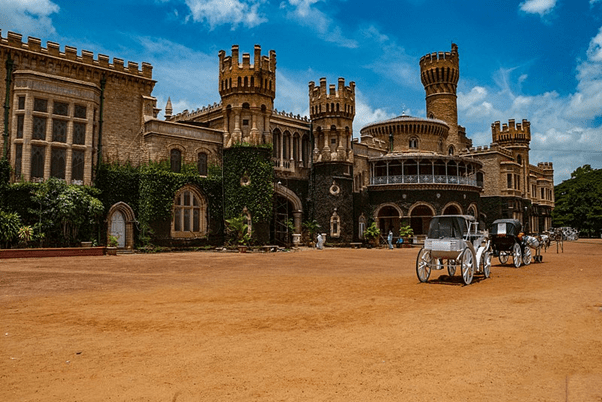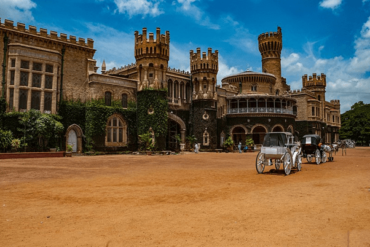 Photo: Bikashrd
Location: Vasanth Nagar
Timings: 10 am – 5:30 pm
Fee: INR 230 (Indian) 460 (foreigner)
The total area of the Majestic Bangalore Palace is 45,000 sq.ft. owned by King Chamarajendra Wadiyar in 1873 who was inspired by Windsor Castle of London. It is a major tourist destination to witness the elegant and lavish property with fairy-tale ballroom, vine-covered walls, Durbar hall and other possessions the dynasty.
14. SAPNA BOOK HOUSE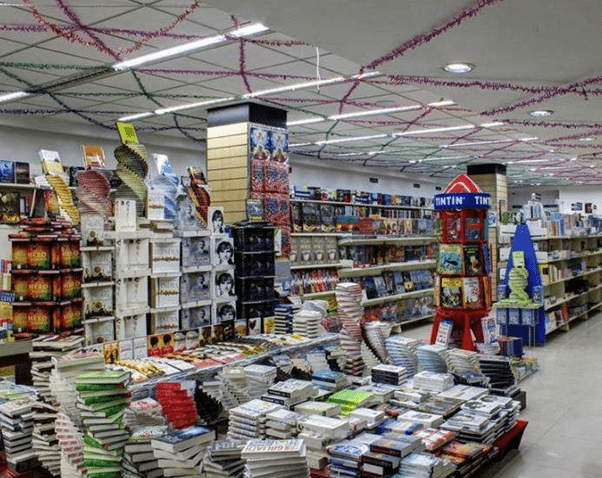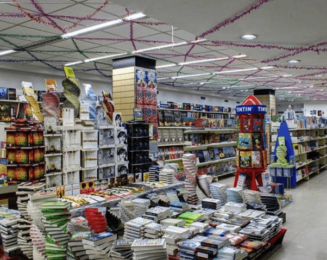 Photo: justdial.com
Location: Indiranagar, Bannerghatta road
Timings: 10:30 am – 8:15 pm
This is the largest book shop in India recognized by Limca book of Records for seven years in a row. Kids can enjoy shopping for books, stationary items, sports items, multimedia products etc.
15. SNOW CITY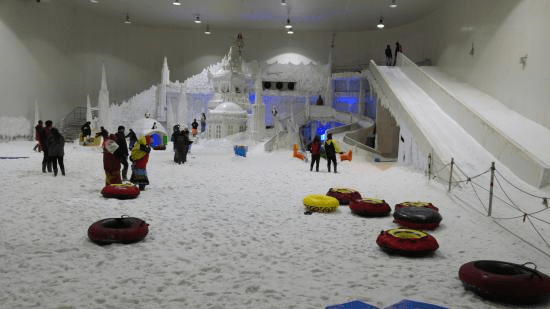 Photo: tripadvisor.in
Location: Jayamahal
Timings: 10 am – 8 pm
Fee: INR 500 (Weekdays), 600 (Weekends)
Snow sliding, snow mountain climbing, snowball competitions and other exciting and nerve tingling fun activities are present in Snow City. So, instead of planning a trip to Himalayas, children can still enjoy snow in this kids play area in Bangalore.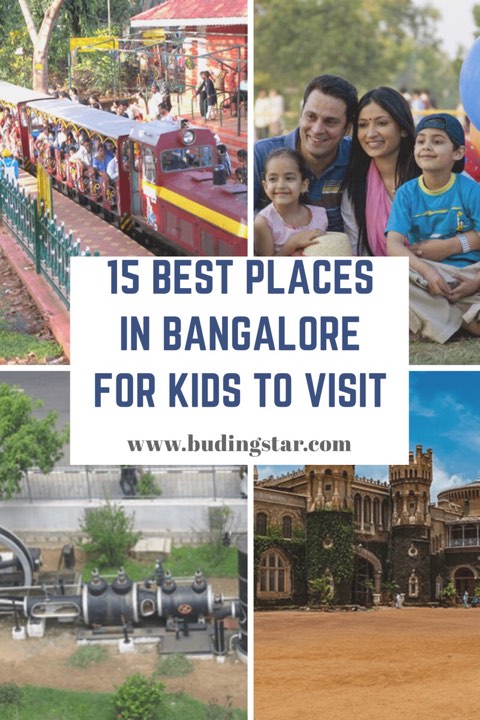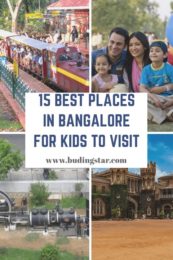 Apart from all the above, there are several other places to see in Bangalore. Plan a trip and gift the kids an ecstatic weekend.