The city of Nawabs, Hyderabad is one of the greenest cities in India. If you are planning for a trip to this tourist place, you will be overwhelmed to visit various historical monuments, gardens, museums, and parks. Hyderabad will surprise you with the best quality biriyani, beautiful pearls, and wondrous Charminar.
But when you think of family, kids, and fun, then the ample presence of parks in the city will make you wonder. These well-maintained man-made parks in Hyderabad are ideal to help you build a healthy lifestyle and also to have some amazing weekend getaways. The naturally green areas will refresh your mind and mood both. Let us have a look at the famous children's park in Hyderabad that will provide you plenty of active outdoor activities.
Best Parks in Hyderabad
1. Sanjeevaiah Park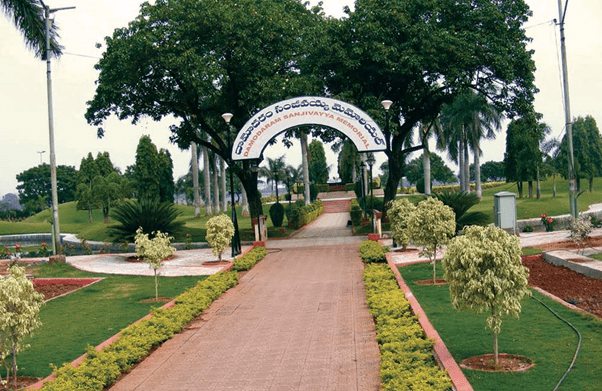 Photo: tripadvisor.in
Location: Hussain Sagar, Khairatabad, Hyderabad
Timings: 9 AM – 6 PM
Entry Fees: INR 2 (child), INR 5 (adult)
This is one of the best kid's parks in Hyderabad that is situated on a sprawling 92 acres of a huge green land. This is the ideal place for cyclists, joggers, and fitness freaks to be in the lap of nature away from the hustle and bustle of the town.
The major attraction point is the Rose garden where couples can spend hours sitting and talking. There is ample space for children to play in the swings and slides.
2. NTR Gardens
Photo: whatsuplife.in
Location: NTR Marg, Central Secretariat, Khairatabad, Hyderabad
Timings: 12:30 PM – 9 PM
Entry Fees: INR 15 (adult), INR 10 (child)
The capital of Telangana is blessed with a gorgeous and popular amusement park, called the NTR Gardens, made on the memorial of the famous leader of the state Sir N.T. Rama Rao. The 56 acres of the wider landscape has a peaceful and captivating ambiance. NTR Garden timings are perfect for the office goers who can visit with their families in the afternoon.
It has wonderful water fountains, ornamental lamp posts, and some great souvenir shops. There is a unique fruit restaurant for the whole family to try some amazing food and beverages. Japanese park, Roaring Cascade, toy train, car café, machan tree, free fall, and boat rides are some of the recreational options for all.
3. Lumbini Park
Photo: goibibo.com
Location: Opposite Secretariat New Gate, Khairatabad, Hyderabad
Timings: 9 AM – 9 PM
Entry Fees: INR 10 per Person
Anjaiah Lumbini Park was established in the year 1994 for the relaxation and entertainment purpose for the children, families, and tourists. It is a beautiful urban park built beside an artificial water tank called Hussain Sagar.
Boating facilities are present to visit the Lord Buddha statue in the middle of the tank. This amusement park possesses a huge clock at the entrance, musical fountains, and water cascades. A wide variety of seasonal plants, cacti, and flowers can be witnessed by visitors.
4. Indira Park
Photo: Wikimedia
Location: Lower Tank Bund Road, Domalguda, Kavadiguda, Hyderabad
Timings: 5 AM – 8 PM
Entry Fees: INR 5 per Person
The elegant park is dedicated to the legend Late Indira Gandhi. One of the well-maintained parks in the heart of the city was made to preserve sandalwood trees, mango trees, Keuvda plantations, and date palms.
The lush greenery attracts many tourists, morning walkers, and evening strollers. Boating can be a fun activity for children and botanists are also finding the place interesting for study.
5. Krishna Kanth Park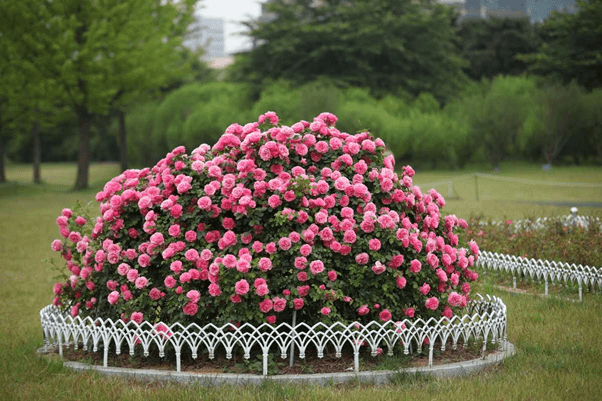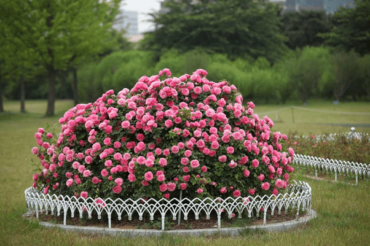 Photo: holidify.com
Location: Street Number 4, Jawahar Nagar, Hyderabad
Timings: 5 AM – 9 PM
Entry Fees: No entry fees required
The fuss-free park is perfect for the aged people where they can sit in a peaceful and silent ambiance of greenery. The well-maintained pathways give ample space for the morning walkers and couples to just walk around the large green area. This serene park is also a happening place for children as it has swings, slides, and kid's play area.
6. Ocean Park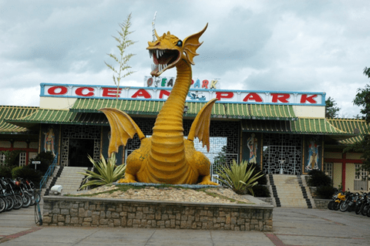 Photo: mouthshut.com
Location: Shankarpalli Road, Near CBIT College, Kokapet Village, Gandipet, Hyderabad
Timings: 11:00 AM to 7:30 PM
Entry Fees: INR 400 (adults) and INR 300 (kids)
Ocean Park is an amusement water park that has a number of rides, slides, a wave pool, and other recreational activities for the entire family. When you are planning for a weekend trip, try the upscale restaurant where all the kids can enjoy the global cuisines. You can relieve your childhood days and relax your mind from stressful work life.
7. Chacha Nehru Park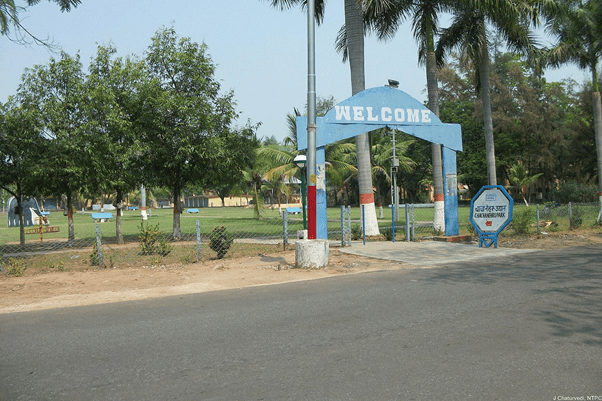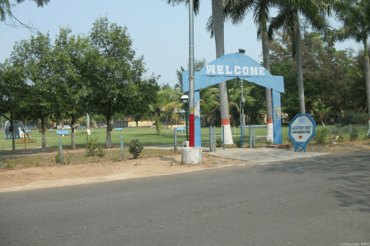 Photo: Wikimedia
Location: Near the Masab Tank Flyover, Hyderabad
Timings: 5 AM – 8:30 PM
Entry Fees: INR 1 (morning walk), INR 3 (rest of the day)
Chacha Nehru Park is made to give relief and break to the residents staying nearby from the day-to-day work. The children find this place ideal for them as it is filled with plenty of swings and slides. This is one of the best children's park in Hyderabad. Visitors can even plan to play sports like badminton and other games that don't affect the tranquillity of the lush green park.
8. Jalagam Vengal Rao Park
Photo: tripadvisor.in
Location: Green Valley, Banjara Hills
Timings: 7 AM – 8 PM
Entry Fees: INR 10 per person
JVR Park is named after the 5th Chief Minister of Andhra Pradesh where the residents of Banjara hills get a quiet getaway. The enchanting landscape of the park gifts a whole new experience for the visitors, children, morning walkers, and couples. The refreshing environment with huge greenery and fresh air is ideal for outdoor games.
9. Priyadarshini Park
Photo: tripadvisor.in
Location: Saroor Nagar Road, Malakpet, Saroor Nagar East, Habeeb Nagar
Timings: 9 AM – 12 PM, 4 PM – 8 PM
Entry Fees: INR 5 per person
Priyadarshini Park is located at the banks of the beautiful Saroornagar Lake. The nice shimmering water of the lake can give you eternal peace while sitting and relaxing in the park. Children can have the best of their time while playing on the rides. A lot of vendors will also bring toys and balloons for the kids to have fun. You can plan for a sunset walk or a picnic with family along with boating on the weekend here.
10. Public Gardens
Photo: Pinterest
Location: Red Hills, Lakdikapul, Hyderabad
Timings: 9 AM – 6 PM
Entry Fees: INR 20 (adult), INR 10 (child)
The oldest park of Hyderabad, built-in 1846, public gardens is a prominent tourist location. The beautiful garden, lush green landscapes, and lawns are the attractions of this park. It is also known as Bagh-e-Aam where various prestigious historical and political buildings are situated. Children can gain knowledge while visiting museums where numerous relics, artifacts, and Egyptian mummies are kept.
11. Kidwai Gardens
Photo: holidify.com
Location: Acharya Ng Ranga Agricultural University, Rajendranagar Mandal
Timings: 7:30 AM-8:30 PM
Entry Fees: INR 5 (child), INR 10 (adult)
Situated on the outskirts of the city, Kidwai garden was established in 1974. The vibrant and colorful flowers blooming all over the place makes it a perfect tourist spot for picnicking. The clean garden is frequently visited by people staying around. You can also take a short joyful toy ride with your kids.
12. Hyderabad Botanical Gardens
Photo: hyderabadtourism.travel
Location: Kothaguda Reserve Forest, Gachibowli Road, Kondapur
Timings: 6 AM – 7 PM
Entry Fees: INR 25 (adult), INR 10 (child)
The Botanical Garden is the eco-tourism spot situated 16 km from the city centre. The thick vegetation of medicinal plants, shrubs, trees, and flowering plants are the main attractions here. The Forest Department maintains the beauty of nature here.
You will be mesmerized to see eucalyptus, pine trees, bamboo trees, etc. scattered all over the 270 acres of land. People go for leisurely walks beside the meandering waterways and fountains.
You have to pack your bags now and plan an adventurous trip to this awesome city where you can unwind yourself amid nature. You will also get the finest cuisine that adds up the charm of the city. These are the 12 best kids park in Hyderabad and families in Hyderabad if you are new to the city and searching – children's park near me.