The city of Nawabs, Hyderabad is one of the greenest cities in India. If you are planning for a trip to this tourist place, you will be overwhelmed to visit various historical monuments, gardens, museums, and parks. Hyderabad will surprise you with the best quality biriyani, beautiful pearls, and wondrous Charminar.
So, you have planned a trip with your family, and you know that your kids might not be very eager to see historical monuments. Parks however, are a different story. They get to run around in the vast expanse of the lush greenery in the crisp air of the city. So adding parks to your 'places to visit' list would be ideal, right? Fish out your phone and type in the best parks in hyderabad and you have a huge list of parks to pick from.
But when you think of family, kids, and fun, then the ample presence of adventure parks in Hyderabad will make you wonder. Whether you are a visiting tourist or a city regular on one of your evening walks, these well-maintained man-made amusement parks in Hyderabad are ideal to help you build a healthy lifestyle and also to have some amazing weekend getaways. The naturally green areas will refresh your mind and mood. So let us have a look at the famous children's park if you are searching for a children's park near me or the best parks for families in Hyderabad that will provide you with plenty of vigorous outdoor activities.
Beauty Of Hyderabad – The City Of Nawabs
The beautiful city of Hyderabad is a joint capital of the states of Andhra Pradesh and the recently created Telangana. With a very rich culture and history, the city is currently developing into one of India's top IT hubs alongside Bengaluru and Pune. This wealthy metropolis offers its guests a wealth of options to make memories and provides them with numerous motivations to return. No matter who you are with—family, friends, coworkers, relatives, or anyone else—you may always have a great time.
Be it historical attractions like the Charminar, Golconda Fort, or Quli Qutub Shah's Tomb, whose architecture and attention to detail are mesmerising, or the Ramoji Film City, one of the biggest film studios in the world with its cutting-edge filming equipment and breathtaking tourist attractions that the whole family can enjoy.
Alternately, one might simply spend a leisurely evening with friends and family boating at Hussain Sagar or Lumbini Park or watching a movie at Prasadz and indulging in a snack at Eat Street.
Best Parks in Hyderabad
1. Sanjeevaiah Park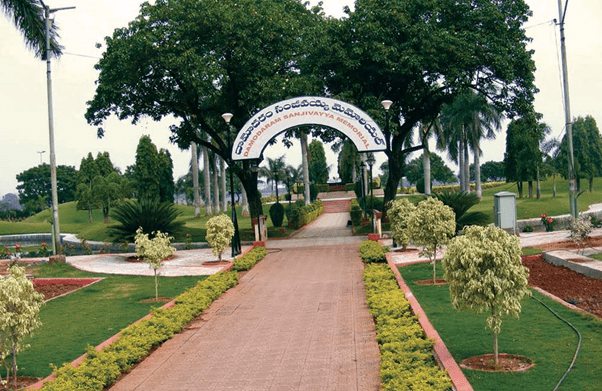 Photo: tripadvisor.in
Location: Hussain Sagar, Khairatabad, Hyderabad
Timings: 9 AM – 6 PM
Entry Fees: INR 2 (child), INR 5 (adult)
This is one of the best kid's parks in Hyderabad spreading over a massive 92 acres of huge green land. The park's name hails itself from Dr. Neelam Sanjeeva Reddy, who was the former president of India. If you love cycling or want to go out for a nice stroll with your friends (or alone) then this is the ideal place; in the midst of nature, away from the hustle and bustle of the town. Sanjeevaiah Park is also one of the best amusement parks in Hyderabad for families. Kids will love the lushness of the surroundings whether they sit and sprawl out over their colouring books or play a game of catch with you or their friends.
The central attraction point is the Rose garden, where couples can spend hours sitting and talking. In addition, there is ample space for children to play on the swings and slides. All this same much more make this one of the top parks in Hyderabad. 
2. NTR Gardens
Photo: whatsuplife.in
Location: NTR Marg, Central Secretariat, Khairatabad, Hyderabad
Timings: 12:30 PM – 9 PM
Entry Fees: INR 15 (adult), INR 10 (child)
Search for children parks near me and this is one of the options that will show itself in the spotlight. 
The capital of Telangana is blessed with a gorgeous and popular amusement park in Hyderabad, called the NTR Gardens, made on the memorial of the famous leader of the state Sir N.T. Rama Rao. The 56 acres of the broader landscape have a peaceful and captivating ambience. NTR Garden timings are perfect for office-goers who can visit their families in the afternoon. It is one of the famous parks in Hyderabad for families and nearby children's parks.
It has beautiful water fountains, ornamental lamp posts, and great souvenir shops. There is a unique fruit restaurant for the whole family to try some fantastic food and beverages. Japanese park, Roaring Cascade, toy train, car café, machan tree, free fall, and boat rides are recreational options for all. On the one hand, it has a car cafe where adults like to have conversations in a peaceful environment. On the other hand, the Machan tree is a fun spot for children, making it the best children's park hyderabad telangana region to visit with your family. 
3. Lumbini Park
Photo: goibibo.com
Location: Opposite Secretariat New Gate, Khairatabad, Hyderabad
Timings: 9 AM – 9 PM
Entry Fees: INR 10 per Person
Anjaiah Lumbini Park was established in the year 1994 for relaxation and entertainment purposes for children, families, and tourists. It is a beautiful urban park built beside an artificial water tank called Hussain Sagar.  It has 7.5 acres of land dedicated to its establishment and has been dedicated to Lord Buddha, being named after his birthplace. If you are looking for the best adventure park in Hyderabad, then this one will come up in the top most searched.
Boating facilities are present to visit the Lord Buddha statue in the middle of the tank  which is an attraction no one misses when they visit the city. This amusement park possesses a massive clock at the entrance, musical fountains, and water cascades. In addition, visitors can witness a wide variety of seasonal plants, cacti, and flowers. The famous fountain and laser show is to die for, so if you plan on staying in the evening do not miss it.
4. Indira Park
Photo: Wikimedia
Location: Lower Tank Bund Road, Domalguda, Kavadiguda, Hyderabad
Timings: 5 AM – 8 PM
Entry Fees: INR 5 per Person
If your preferences state for kid parks near me that have a tranquil atmosphere, then this one is a must-go. The elegant park is dedicated to the legendary Late Indira Gandhi and was inaugurated in 1975. Having 76 acres dedicated to its heritage, this park is extremely well-maintained, placed in the city's heart and was made to preserve sandalwood trees, mango trees, Kevda plantations, and date palms. The park boasts the interests of botanists and people who like being around nature. One of the best children's parks in Hyderabad with the lush greenery that attracts many tourists, morning walkers, and evening strollers. Boating can be a fun activity for children, and botanists find the place interesting for study.
5. Krishna Kanth Park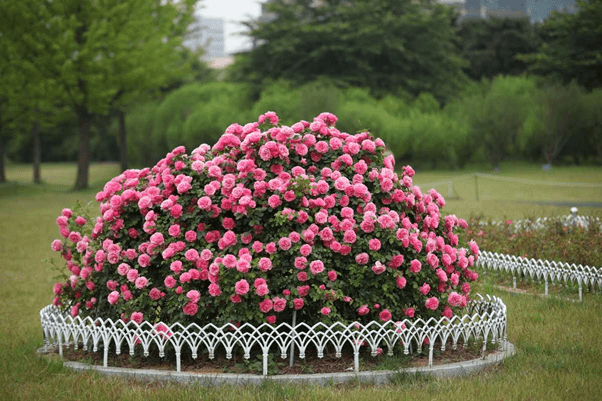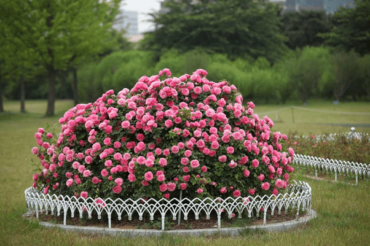 Photo: holidify.com
Location: Street Number 4, Jawahar Nagar, Hyderabad
Timings: 5 AM – 9 PM
Entry Fees: No entry fees are required
Krishna Kanth Park is different from the others, and this fuss-free Telangana park is perfect for the aged people where they can sit in a peaceful and silent ambience of greenery. The crisp air only serves to bring in rejuvenation to the tired mind, body and soul. The well-maintained pathways give ample space for the morning walkers and couples to just walk around the large green area. This serene park is also a place for children as it has a play area loaded with swings and slides. So if you are looking for a less crowded place to enjoy a peaceful time without much noise, it is Krishna Kanth Park.
6. Ocean Park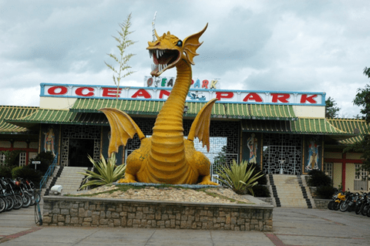 Photo: mouthshut.com
Location: Shankarpalli Road, Near CBIT College, Kokapet Village, Gandipet, Hyderabad
Timings: 11:00 AM to 7:30 PM
Entry Fees: INR 400 (adults) and INR 300 (kids)
A great search for a nearby children's park that has a lot of fun activities to do is Ocean Park. Unlike the others, this park is actually a water park. It has a lot of rides, water slides, a wave pool – almost anything a water park would potentially have. Besides, it has activities that you can do with your family too.  When planning for a weekend trip, try the upscale restaurant where all the kids can enjoy the global cuisines. You can relive your childhood days and relax your mind from stressful work-life at one of the best theme parks in the city. If you are looking for water parks in Hyderabad, this is a must-visit place.
7. Chacha Nehru Park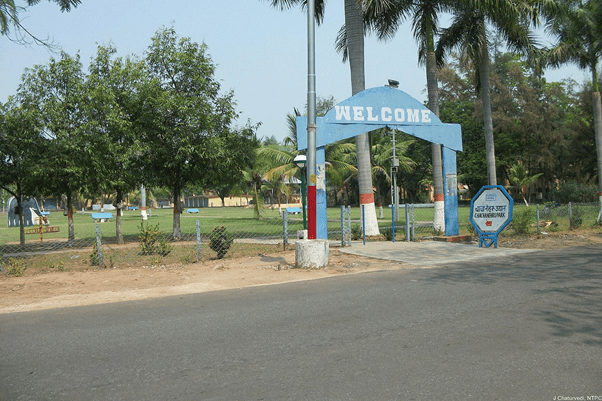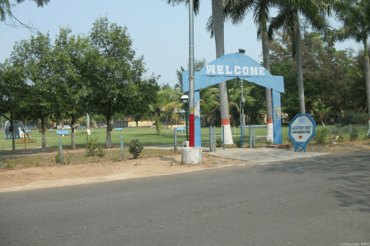 Photo: Wikimedia
Location: Near the Masab Tank Flyover, Hyderabad
Timings: 5 AM – 8:30 PM
Entry Fees: INR 1 (morning walk), INR 3 (rest of the day)
Chacha Nehru Park is made to give relief and a break to the residents staying nearby from day-to-day work. It is also a famous option that turns up when you search for a kid's garden near me because it has plenty of slides and swings for kids to enjoy.  This is one of the best children's parks in Hyderabad. Visitors can even plan to play sports like badminton and other games that don't affect the sereneness of the lush green park. It is located in the posh area of Jubilee Hills and is one of the most famous amusement parks in Hyderabad.
8. Jalagam Vengal Rao Park
Photo: tripadvisor.in
Location: Green Valley, Banjara Hills
Timings: 7 AM – 8 PM
Entry Fees: INR 10 per person
Another one of the well-known parks for kids, the JVR Park is named after the 5th Chief Minister of Andhra Pradesh, where the residents of Banjara hills get a quiet getaway. The enchanting landscape of the park with beautiful concrete pathways to walk on, gives a whole new experience for the visitors, children, morning walkers, and couples. The refreshing environment with immense greenery and fresh air is ideal for outdoor games. JVR is now maintained and developed by a private contractor.
9. Priyadarshini Park
Photo: tripadvisor.in
Location: Saroor Nagar Road, Malakpet, Saroor Nagar East, Habeeb Nagar
Timings: 9 AM – 12 PM, 4 PM – 8 PM
Entry Fees: INR 5 per person
Priyadarshini Park is located at the banks of the beautiful Saroornagar Lake. The sparkling and shimmering water of the lake can give you an ethereal experience as you relaxingly sit in the embrace of nature in the park. Children can have the best of their time while playing on the rides. A lot of vendors will also bring toys and balloons to purchase so the kids can have fun as they spend their time here. You can plan for a sunset walk or a picnic with family along with boating on the weekend here. Enjoy the beautiful landscape at this beautiful getaway amusement park in Hyderabad for families. This park has so many activities and it is an ideal spot for merriment for people of all age groups. 
10. Public Gardens
Photo: Pinterest
Location: Red Hills, Lakdikapul, Hyderabad
Timings: 9 AM – 6 PM
Entry Fees: INR 20 (adult), INR 10 (child)
The oldest park of Hyderabad, built-in 1846, public gardens is a prominent tourist location. The beautiful garden, lush green landscapes, and lawns are the attractions of this park. It is also known as Bagh-e-Aam where various prestigious historical and political buildings are situated. This is a famous school picnic spot because it garners knowledge for them. It is maintained by two museums and children can gain knowledge while visiting the museums where numerous relics, artefacts, and Egyptian mummies are kept. The park was forged during the reign of one of the Nizams and thus receives the name Bagh-e-aam.
11. Kidwai Gardens
Photo: holidify.com
Location: Acharya Ng Ranga Agricultural University, Rajendranagar Mandal
Timings: 7:30 AM-8:30 PM
Entry Fees: INR 5 (child), INR 10 (adult)
Situated on the city's outskirts, Kidwai garden was established in 1974. The vibrant and colourful flowers blooming all over the place make it one of the best Hyderabad parks that are perfect tourist spot for picnics. The immaculate garden is frequently visited by people staying around. You can also take a short joyful toy ride with your kids or watch the waves dance admiringly in the water wave dance located in this park. 
12. Hyderabad Botanical Gardens
Photo: hyderabadtourism.travel
Location: Kothaguda Reserve Forest, Gachibowli Road, Kondapur
Timings: 6 AM – 7 PM
Entry Fees: INR 25 (adult), INR 10 (child)
This park is great for botanists and nature enthusiasts. Moreover, if you're looking for a nearby children's park that will intrigue your nature loving kid's mind, then this park is your best bet. The Botanical Garden is the eco-tourism spot situated 16 km from the city center. The thick vegetation of medicinal plants, shrubs, trees, and flowering plants is the main attraction. Along with these, the eucalyptus, pine trees, bamboo trees that are scattered over the 270 acres of massiveness are appealing to a lot of tourists.  People go for leisurely walks beside the meandering waterways and fountains. The Forest Department maintains the beauty of nature here.
13. T. Anjaiah Lumbini Park
Location: Opposite Secretariat New Gate, Khairatabad
Timings: 10 AM to 9 PM
If summertime calls for looking up a kid's play park near me that will rejuvenate them from the sweltering heat, then this park is your saviour. Jalavihar Water Park covers an area of about 12.5 acres, and it came into existence in 2007. You can enjoy the waves in the pool of this water park, and the rain dance adds cherry to the cake. It's a perfect place for a day out with the family as the pools are very hygienic and very nicely managed. It is, therefore, the safest and cleanest water park and your dreams of visiting one will turn into reality. This is one of the best water parks in Hyderabad.
Want some more adventurous blogs to prepare your trips on? Check out boating in Bangalore. Baby's arrival coming close and still not decided on a name yet? This blog will help you out –  unique baby boy names Hindu.
FAQs for Best Parks in Hyderabad
1. Which park is better in Hyderabad?
This park, which spans 92 acres, is unquestionably among the greatest in Hyderabad. The Sanjeevaiah Park, which is also one of Hyderabad's most popular tourist destinations, offers well-maintained paths for both bikers and runners. Additionally, it includes gently sloping hills and areas of greenery, both of which are undoubtedly good for children. Adding educational toys will make them enjoy learning too.
The several swings and slides in the area were built keeping in mind kids' interests. Another significant draw of the park is a freshly built Rose Garden. The average person may easily spend a couple of hours going for their daily exercise or they can just relax and do some light meditation. The Hyderabad Metropolitan Development Authority oversees the one and only park on Necklace Road.
2. Which is the largest park in Hyderabad?
Are you searching for the largest kids' park near me in Hyderabad? Then the answer to your solution is the KBR National Park. Would you want to take a walk away from the smog and noise of the city in children's park Hyderabad? KBR Park is where it is. It will seem like a forest even though it is located in the middle of a very busy area. On top of that, you would be capable of seeing a variety of species, including peacocks, porcupines, and numerous birds. It is the largest and best children's park in Hyderabad.
3. What is the famous park in Hyderabad?
There are several famous children's parks near me in Hyderabad that will provide you with immense pleasure and happiness. There is not one particular famous park but several options available such as T. Anjaiah Lumbini Park, Indira park, Krishna Kanth park, Jalagam Vengal Rao Park, and many more. For more information, you can refer to the above list and their description in detail.
4.  Which is the new open park in Hyderabad?
The Gandipet Eco Park is one of the best Hyderabad parks that have recently opened up. It has an open-air theatre, various fun activities and an elaborate food court as well. 
5. Which park is best for kids in Hyderabad?
There are some of the best parks in Hyderabad that are perfect for children. Lumbini Park, NTR Gardens and Sanjeevaiah Park are some of the top spots for children's recreation activities in Hyderabad. 
Also, check other blogs: