WOW! It feels ecstatic that your child's first birthday is right here. A few months before, he was in your womb, and now you are planning for his 1st birthday bash. The memories of my son's first birthday are still so fresh in my mind that I can very well relate to your excitement and enthusiasm.
It is difficult to narrow down ideas to focus on best first birthday themes for boys. But this is your munchkin's most special day, so celebrating with lots of fun and colors is a must.
Whether you are planning to put up the party at home or in any particular venue, the best way is to sort out the theme and then shop accordingly.
Here is the list for Boy's first birthday themes:
1. Monsters Birthday Theme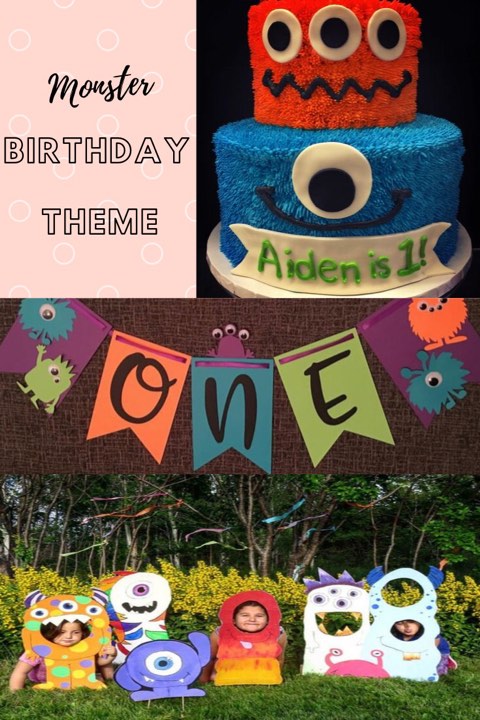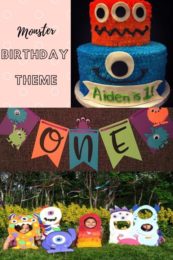 Monsters are not always scary creatures. They are funny, bright in colors and also come in various shapes and sizes. It can be customized into different creatures and birthday products that your baby would be amazed to see.
2. Carnival or Circus Birthday Theme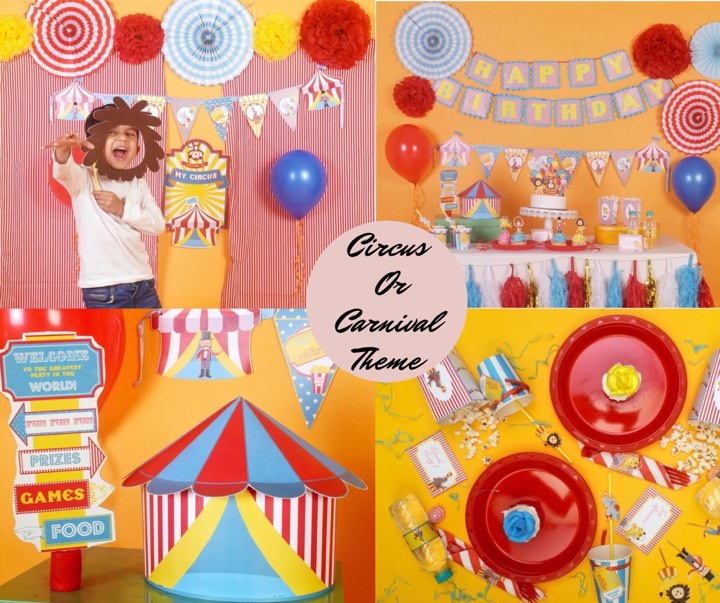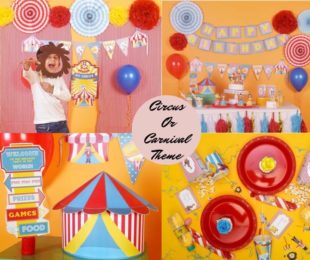 Carnival or Circus is like full of fun and bright colors. You can add things as much as you want to make it large. So, go for carnival or circus themed party to have a charm of its happiness.
3. Spacecraft Birthday Theme
Spacecraft cannot be the ideal theme for little ones, unless you want your little one to grow up to a space scientist. Also he will be very happy to look at that bright blue sky with planets and rockets.
4. Safari or Animal Kingdom Birthday Theme
Babies to young kids, all are fascinated with animals. So, safari or animal kingdom theme can be a happening party for them. All guests including grown-ups and small children will enjoy every bit of it. The cut-outs of animals and other props can be made or arranged to make the party an unforgettable one.
5. Jungle or Wild Birthday Theme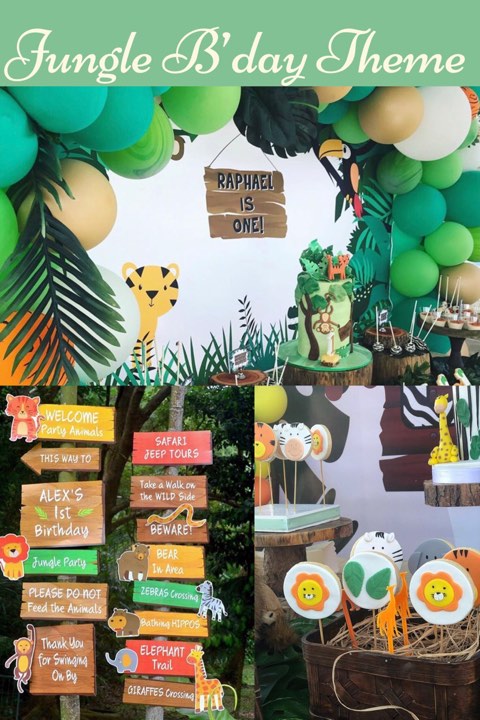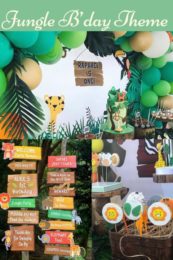 The great wild one or jungle theme is more or less similar as the above. The usage of color green will be more here. The leaves and balloons are kept green to give the jungle effect. The young and old all will feel welcomed in this natural environment.
Join our Facebook closed group called
"Parenting Mom Style"
only for Moms to share experiences and queries. Be a part of Mom's most trusted community across the globe.
 6. Blue Theme
The theme blue is very famous with boys as this being the most favorite color. You can decorate the ambiance with blue and even you can keep the dress code blue for all.
7. Airplane Birthday Theme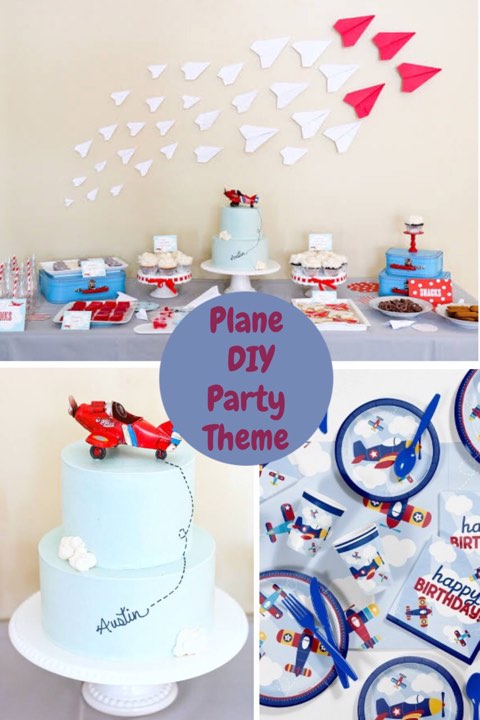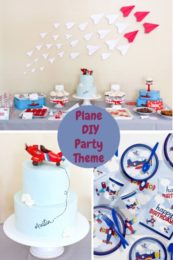 Have you ever thought that airplane can be a theme as well? Yes, it can be for the boys who want to grow up to be pilot. Surprise everybody by keeping cut-outs, balloons and toys of airplanes everywhere.
8. Lego City Birthday Theme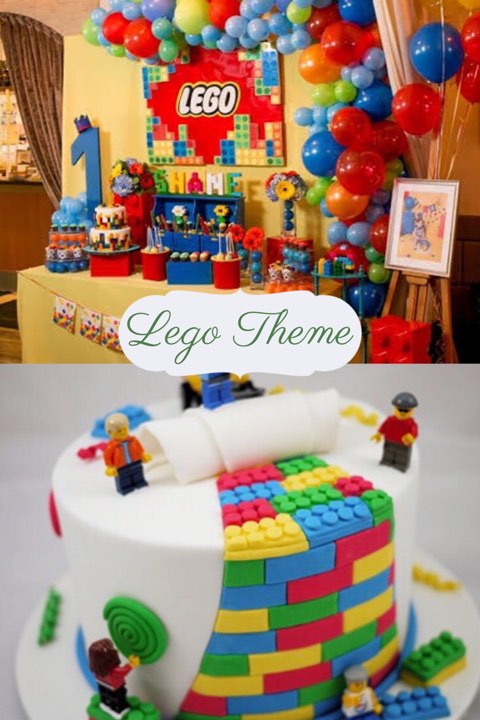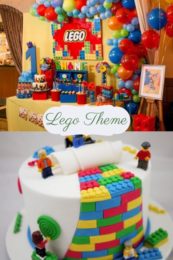 Lego is another favorite toy for boys where they learn to build various aircraft's, vehicles or buildings. This can definitely be a birthday theme for boys. Arranging Lego party will be a blast for all the cute masters in house.
9. Doraemon Birthday Theme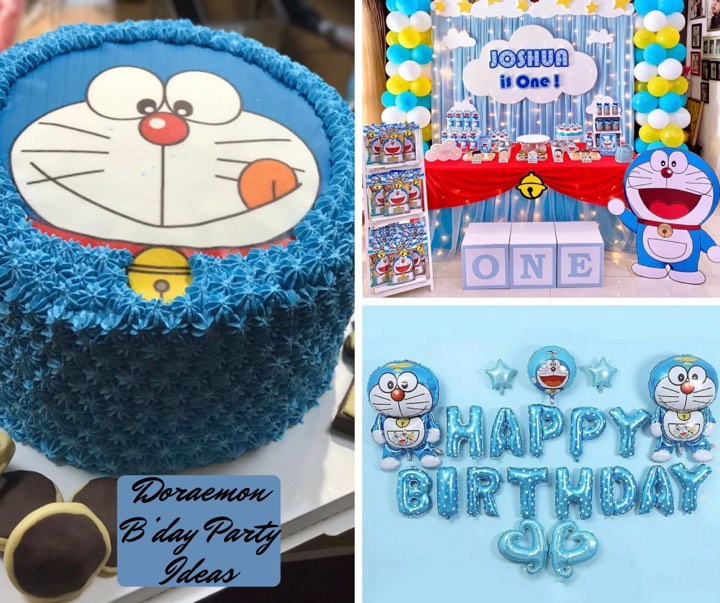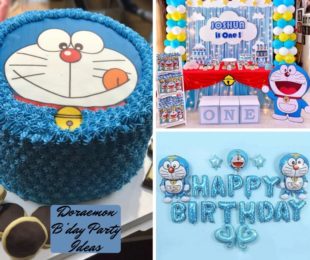 Doraemon is a well-known name in the cartoon world that most of the children love to watch. This can be a brilliant party idea for boys as they will feel to be at the cartoon land with their favorite character Doraemon.
10. Motu Patlu Birthday Theme
Nowadays, cartoon themed parties are common. So if you don't want to experiment much then go for Motu Patlu themed party. Children will enjoy seeing their most-loved cartoon characters present in the party.
11. Chhota Bheem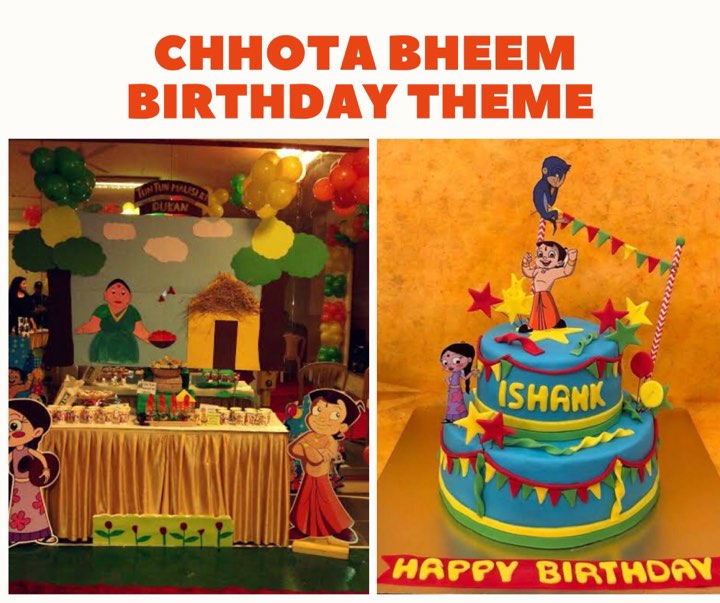 Chhota Bheem is again a cartoon themed birthday party. So, it is obvious that children of all ages would enjoy a lot. Party items will be easily available in the market like various cut-outs, balloons, and other supplies that can be used to decorate the venue.
12. Peppa Pig Birthday Theme
Children of all ages love to see cartoons and they learn a lot from it. As we are into cartoon themes, Peppa Pig is a perfect choice for 1 year old babies. So, including this theme for birthday party can be a great idea.
13. Golf Birthday Theme
If any of the family members is a golf lover, then you can surely go for this unique theme. The balloon backdrop and the amazing dessert table with minute golf details are absolutely spectacular. You will wonder why nobody opted for a golf themed party yet.
14. Lumberjack Birthday Theme
Everybody will love a cute Little Lumberjack. This can be a fun idea to have a stack of pancakes that they can munch on instead of a special cake. This is a great party theme for one year old boys that the whole family and friends will have fun at!
15. Construction Birthday Theme
Is your son a little civil engineer? Then this absolutely unique theme 'Construction site' will excite him. Even the guest would love to see the detailing on the cake.
16. The Hungry Caterpillar Birthday Theme
Everyone in the party will feel this occasion the most fun day ever. And your little one will be overwhelmed to be in this 'Hungry caterpillar' party theme. He will feel relaxed amidst the crowd and gatherings. He will also feel special in this familiar theme.
17. Train Birthday Theme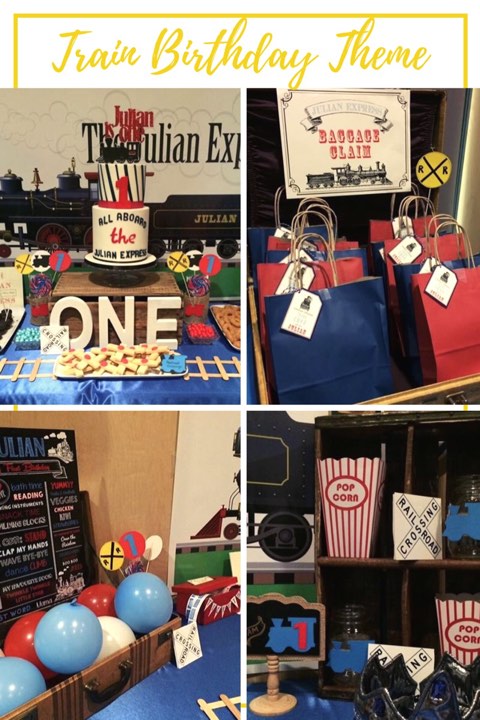 Train can be another transport theme where the cake can be designed like a train with lot of colors. You can also place various train toys and make each corner of the room as stations. Children will love to play around.
18. Cars Birthday Theme
If your little boy is fond of hot wheels, then cars will be his most loved theme. Cars theme is very popular among boys of young age. But you can also include this theme for your little munchkin.
19. Transportation Birthday Theme
All types of transportation can be a superb theme for preschool goers and toddlers. They get to see many of that on roads while roaming with parents. So they will be very much interested to be in a party where all these will be present in front of them.
20. The Numeral ONE Birthday Theme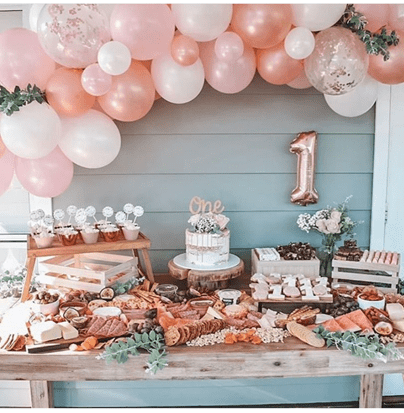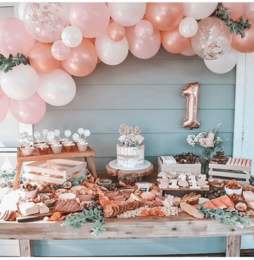 The number 'one' can be a theme, which is getting popular in recent times. You can make a customized cake with the numeral one. Also the wonderful decoration can be done with balloons and cut-outs of the number. Customized chocolate and cookies can also be made for it.
21. Little Bear or Teddy Bear Birthday Theme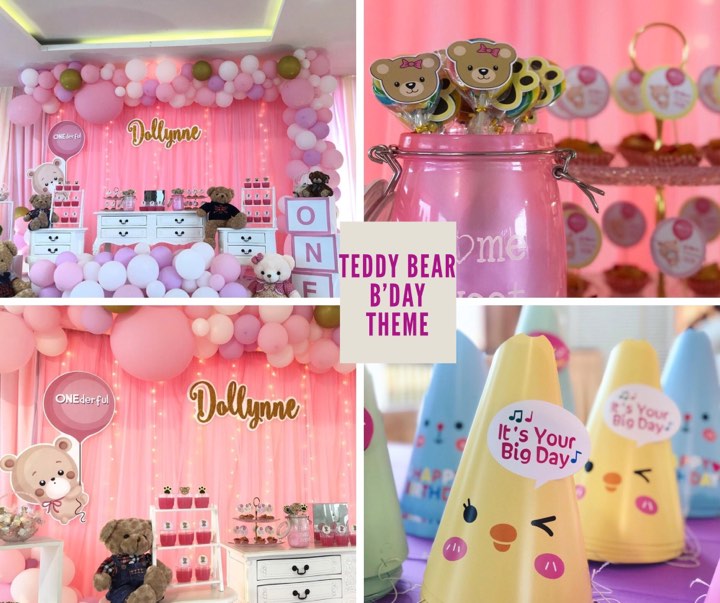 Little bear or Teddy Bear can be another common birthday party theme. Soft toys are always very close to babies and teddy bear is one of them. This theme will be an easy option and party supplies will be in abundance.
22. Moon and Stars Birthday Theme
Moon, stars, cloud and sky are a dreamy theme which looks very classy. It is also suitable for one year old babies as they learn to notice this now. You can even prepare a backdrop with balloons related to the theme.
23. Pirates Birthday Theme
If you are a fan of Pirates of Caribbean, then you can go for this theme. Children can dress up like cute little pirates and they will have a bundle of adventures on this special day.
24. Yellow Birthday Theme
This yellow theme gives a very sophisticated look with lot of elegance. You can dress up your little one in a bright yellow outfit. All the guests will surely appreciate the efforts taken to create this color theme for the birthday party.
25. Puppy Dog Birthday Theme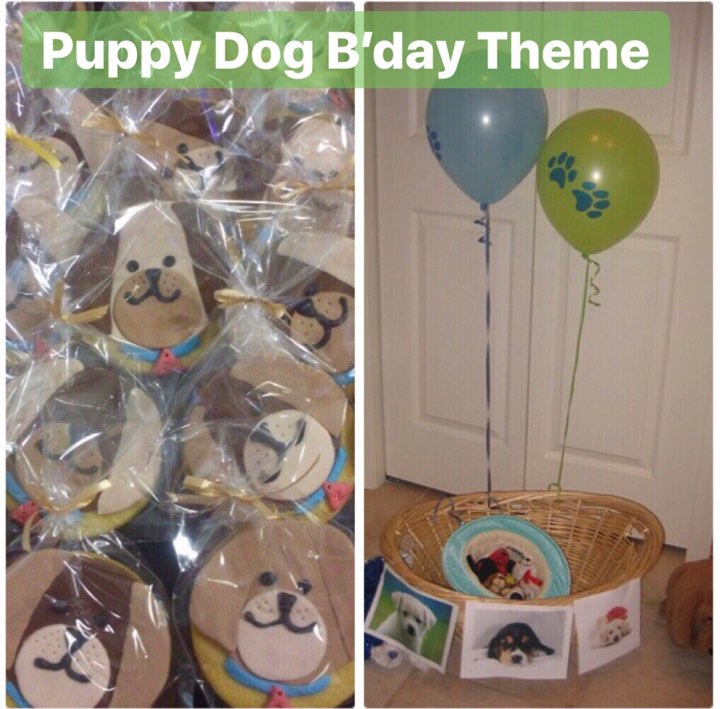 If you have a little puppy dog at home who is very fond of your little one, then you can surprise both of them together by opting for this theme.
26. Summer Bash Birthday Theme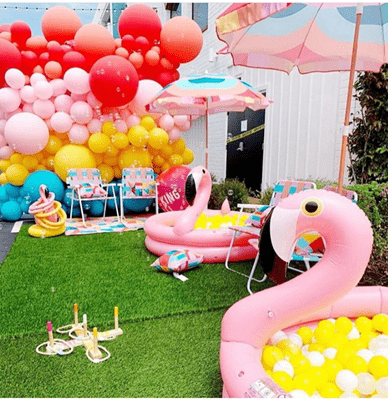 If your cutie pie is born on April or May or June month of the year, summer bash can be ideal theme for him. You can arrange a small pool with umbrellas for them. It can be an outside party for the kids to enjoy summer.
27. Little Prince Birthday Theme
Your little prince may not be able to appreciate you but this royal Little Prince theme will definitely mesmerize all your party guests. Everyone will adore this royal décor with amazing details.
28. Doughnut Birthday Theme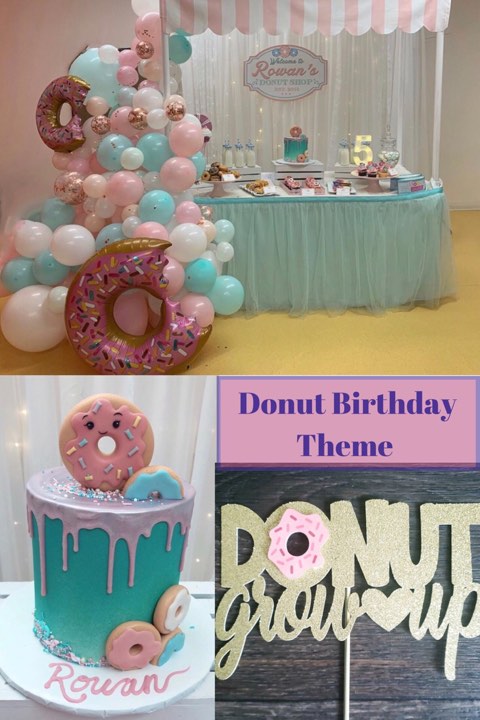 No one can ever think that doughnut can be a theme for parties. But yes, it can be an awesome idea to gather numerous doughnuts of different shapes, sizes and flavors. Children will eat and enjoy the party. The excitement will be evident on their faces.
29. Sky Blue Birthday Theme
Another color theme can be done in sky blue or light blue color. This looks very cute for the 1st birthday of boys.
30. Superhero Birthday Theme
Superheroes like Batman, Spider man, Superman or Captain America are always liked by kids mainly boys. This theme is rather easy option and kids will have ultimate enjoyment.
31. Vintage Birthday Theme
Vintage look can be arranged if you can add white and golden in this theme. The dinner tables will be the attraction for all to enjoy the delicious food.
32. Fruity Affair Birthday Theme
All kids like some or the other fruits. But I am sure; many didn't think this can be a theme for 1st birthday. You can also put a tutti-fruity ice-cream parlor in the party venue.
33. Baby Sheep Birthday Theme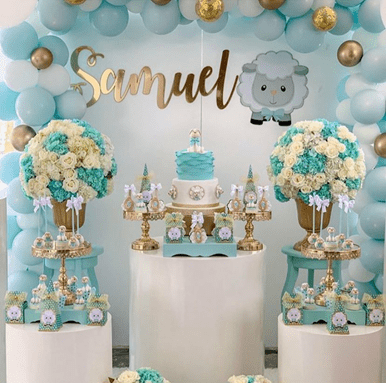 Baby sheep is another cute theme for one year old sweet boys. The cake, decorations and even return gifts can be customized in this theme.
34. Dinosaur Birthday Theme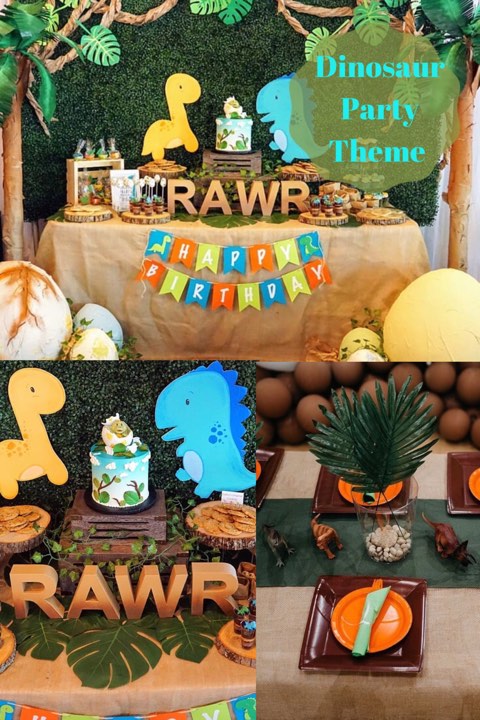 Young kids are very fond of dinosaurs. Even very small babies play with dinosaur toys. So, it will be a thrilling experience for the children to be a part of this theme.
35. Colorful Balloons Birthday Theme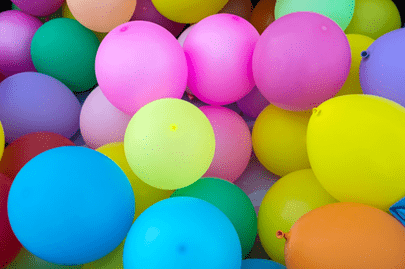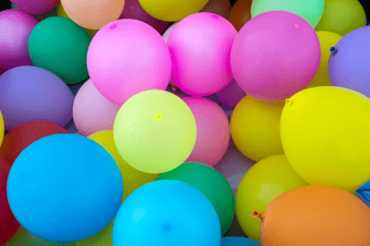 If you want to keep it simple yet with a fun element, then colorful balloons will always show the charm. Kids of all ages love to play with balloons.
36. Origami Birthday Theme
Origami or decoration with items made from paper can be implemented if you want to keep the budget low. Although it is cost cutting, the atmosphere will still look festive. And on top of that, everyone will appreciate your creativity.
37. Oranges Birthday Theme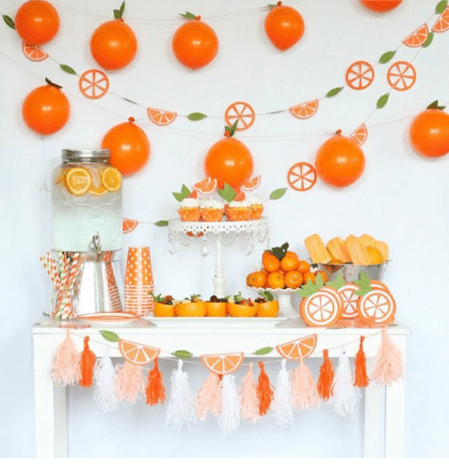 Is your little baby in love with oranges? Then this is his kind of a theme. He may jump off to try to munch some.
38. Monkey Birthday Theme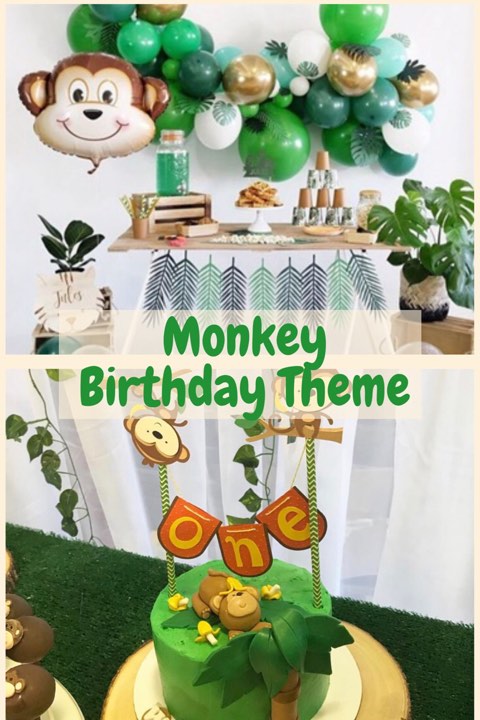 We often refer our most active little ones as sweet monkeys. So, it can be a matching theme for enthusiastic kids who love to jump, roll or run around the house.
39. Flamingos Birthday Theme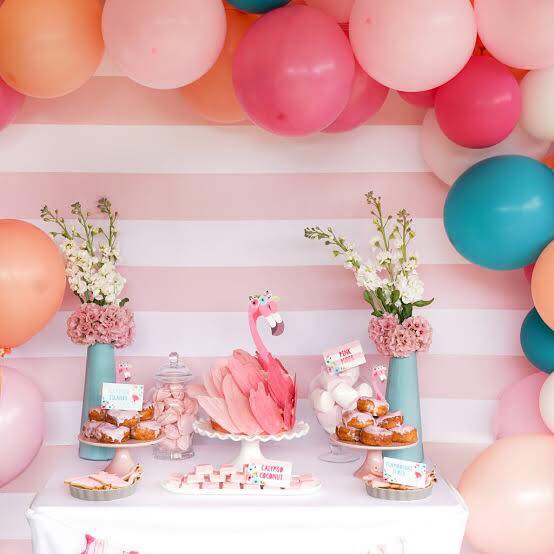 Flamingos or birds can also be a unique idea for birthday theme. It is colorful and provides a joyous environment.
40. Under the Sea Birthday Theme
It is another dreamy themed party which the kids would wonder to be at. Your little one will enjoy the colorful under water sea creatures. Cut-outs of fishes, sharks, dolphins and endless number of shells can be decorated.
41. Toy Land Birthday Theme
Remember the movie 'The Toy story'! All kids will jump with laughter and enjoy to their fullest if this theme will be there at your baby's first birthday.
42. Baby Elephant Birthday Theme
Another cute theme is baby elephant. The decorations and customized cake together can make it absolutely perfect for a one year old.
43. Rainbow Birthday Theme
The rainbow theme looks very vibrant. Children with colorful dresses can form rainbow pattern in front of the camera. You can arrange few creative games related to all the seven colors present in the rainbow.
44. Minions Birthday Theme
Minions are the cute ones that will add a lot of colors to the party. This is also a popular cartoon theme.
45. Candy Land Birthday Theme
Chocolates and candies cannot be kept away from kids. And if you hang them all over, just think about the excitement they will have.
46. Harry Potter Birthday Theme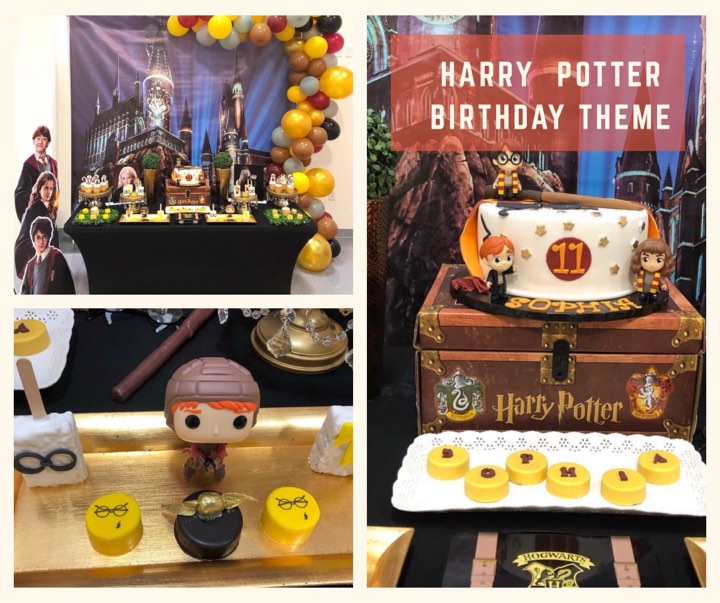 Are you a die-hard fan of Harry Potter? Then you must go for this theme although your munchkin will not be able to appreciate much. The guests will give you a thumbs-up for it.
47. Disney Land Birthday Theme
Disney characters including Mickey and Minnie as the central attraction will be a perfect theme for babies. Small kids will feel lucky enough to have Disney Land theme. This will provide a fun and joyful atmosphere to them.
48. Magic Show Birthday Theme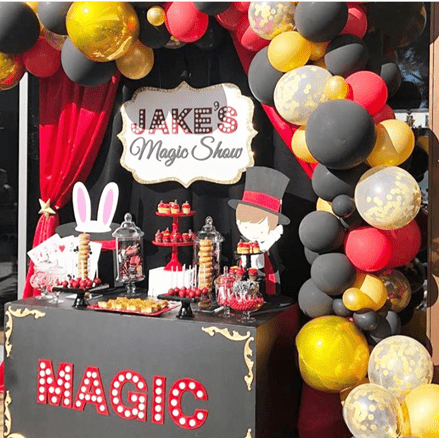 Magic show can be a theme for younger kids. Your little one may not be able to understand the theme but he will definitely enjoy seeing the excitement of all others.
49. Ship Sailor or Bon Voyage Birthday Theme
Your little sailor is starting a journey on the ship. That is what everybody will love to see while attending a birthday party of this ship sailor theme.
50. Honey Ba-Bee Birthday Theme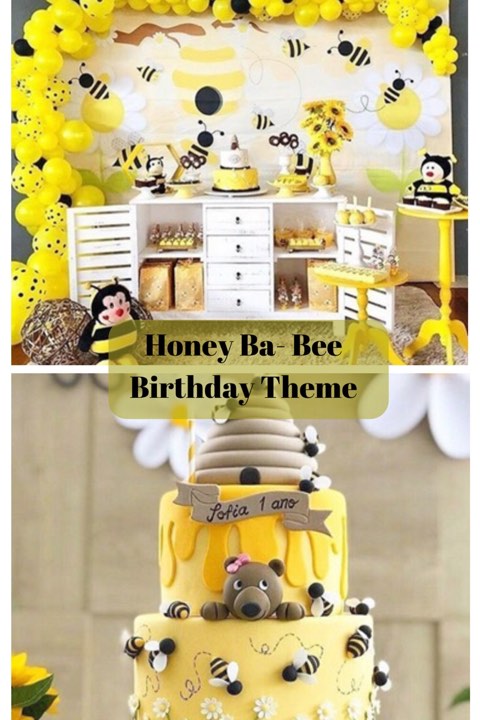 The cutest theme ever which anybody can guess is a honeybee. Yellow and black will be the prime colors. Flowers, honey bees and small bear are all you need.
51. Unicorn Birthday Theme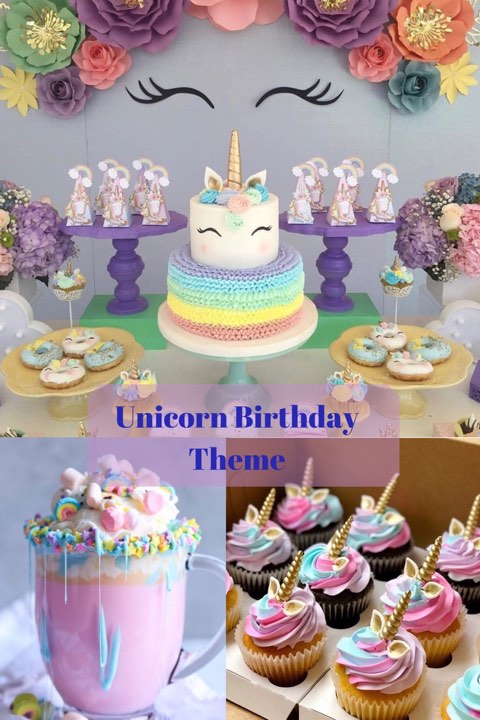 The newest and happening theme is Unicorn which can be used for both boys and girls. The colors which are primarily used are white, purple, sky blue and pink. It gives that fairy tale look and the entire ambiance of the party will be absolutely suitable for toddlers.
52. Boss Baby Birthday Theme
Boss Baby theme is ideal for a cute little man in house who is very particular about everything. You would love to set up this theme for your little boss.
Here, I am coming to an end to the classic 1st birthday ideas for boys. Hope you all have gathered enough party flavors as much as I did. Try to keep it simple so that you can manage properly and this birthday party will be memorable forever!