Bangalore is one of the most beautiful cities in India. It is a perfect amalgamation of surprises and unmatched beauty. The city has a lively and welcoming vibe. This city of lakes is a haven of natural beauty that will take your breath away, 
Wonder why Bangalore is called the "City of Lakes"? All thanks to the numerous natural and artificial lakes scattered throughout the city. Boating in Bangalore is like boons to the city dwellers where the beauty of the placid waters creates an atmosphere of boating, bird watching, or simply wandering alone, enjoying freedom and peace. And when it comes to kids, they will surely give an overwhelming response for boating rides.
Boating Places In Bangalore – Let's Take A Glimpse At The
Lakes In Bangalore With Boating Facilities:
1. ULSOOR LAKE
Photo: Ali Rizvi
Location: Ulsoor
Timings: 10 am – 6 pm (Wednesday closed)
Fee: INR 35
Also known as Halasuru Lake is the largest and the oldest lake massively responsible for the formation of the city. This 120 acres huge lake is dotted with numerous islands which can be visited by boat. Ulsoor Lake can be a fun one-day outing for families with kids keeping boating as one major recreation. A lazy stroll along the shoreline is enough to refresh one's soul. So every time you are on the eastern side of Bangalore, this place is a go-to destination to enjoy nature. The best boat ride in Bangalore from Ulsoor Lake will make your experience better. Go to Ulsoor lake boating for a lovely boating experience.
2. NAGAWARA LAKE

Photo:  Holidify
Location: Lumbini gardens, Outer ring Road
Timings: 10 am to 7 pm
Fee: INR 50
The area of the lake is 43.86 hectares, which is a beautifully landscaped lake surrounded by an amusement park called Lumbini Gardens. This waterfront park, having long well-maintained sideways, enhances the lake's attraction to people who want to relax in various leisure activities.
Boating is one of the most popular activities, and speed boating is way more thrilling at the speed of 60 to 80 km/hr. Various other boat rides like pedal boating, family bumper boating, boating on jet skis, and leisure boating are packed with entertainment for the visitors. They even offer a guide to accompany the rider for safety measures. All need to wear life jackets before boating, and the good part is that they have jackets for kids as well, so even young kids can enjoy the boat ride.
3. SANKEY TANK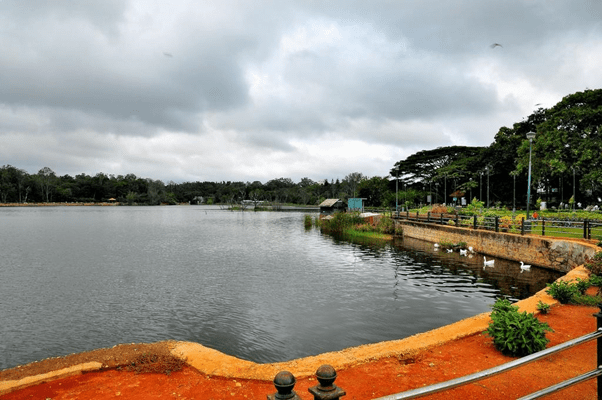 Photo: Mouthshut
Location: Malleshwaram
Timings: 6:00 AM to 10:00 AM and 12 Noon to 5:00 PM (Friday closed)
Fee: INR 10/person (Boating) & INR 20/person (Boating plus drop in and out of an island in Sankey tank)
Sankey Tank is a man-made tank of about 37.5 acres, one of the most popular places in Bangalore to hang out. Both nature lovers in search of calm surroundings and adventure enthusiasts looking for fun-filled activities can enjoy themselves to their fullest here. The Sankey tank is also an ideal place for bird watchers as there are various species of birds around the tank, making the area chirpy and peaceful.
Sankey Boat Places Club, managed by KSTDC, offers visitors joyous boat rides such as rowboats, pedal boats, and motorboats. A unique way of boating along with drops to and from the island, which is located in the middle of the lake at minimal charges, can bring smiles to your little ones.
4. MADIWALA LAKE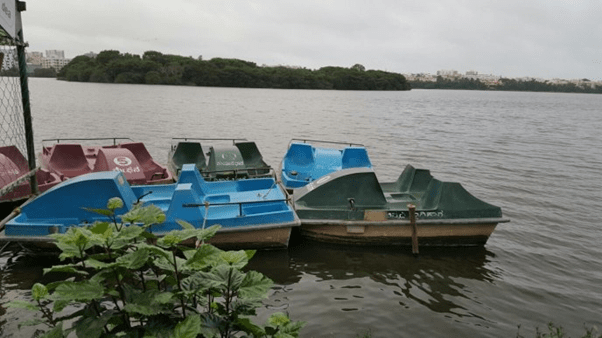 Photo: Interviewbubble
Location: EWS colony, stage 2, BTM layout
Timings: 10.30 am – 6.30 pm
Fee: INR 50
BTM is considered one of the bustling suburbs, and Madiwala Lake complements it perfectly. Madiwala Lake is regarded as one of the largest lakes in Bangalore, with more than 300 years old lake spread over 270 acres of vast terrain with lots of trees, bamboo bushes, and shrubs. This is one of the best boating places in Bangalore, loved by both couples and families, as the lake offers plenty of natural splendour. Moreover, the water and seasonal birds are worth watching for hours to get isolated from all worries.
Here are some of the Tips For Travelling In Train During Pregnancy.
The Madiwala boating club offers pedal boating facilities for 2 to 4 people/boat and even provides life jackets. Boating is accompanied by excellent bird-watching sessions with aquatic birds, including Kingfishers, Storks, Spot Billed Pelican, Sandpiper, Herons, Glossy Ibis, Egrets, Ducks, and a lot more helps in rejuvenation. It is a great success for the Karnataka State Forest Department, which has maintained it for over a decade.
5. HEBBAL LAKE
Photo: Jolad Rotti
Location: Bellary Road, Outer ring road
Timings: 10 am – 5 pm
Fee: INR 20
Hebbal Lake is not such a vibrant one, but this span of 150 acres is heaven for 70 species of migratory birds. The major attraction here is the view of sunrise and sunset. The boating facility is there at a very nominal charge. So most couples find their space among the chirping birds. This lake is seasonal and regains its charm during monsoons with abundant greenery. This place is just an hour away from the central city by road but is worth it. Hebbal Lake is one of the best couple's outing spaces in Bangalore.
6. RANGANATHITTU BIRD SANCTUARY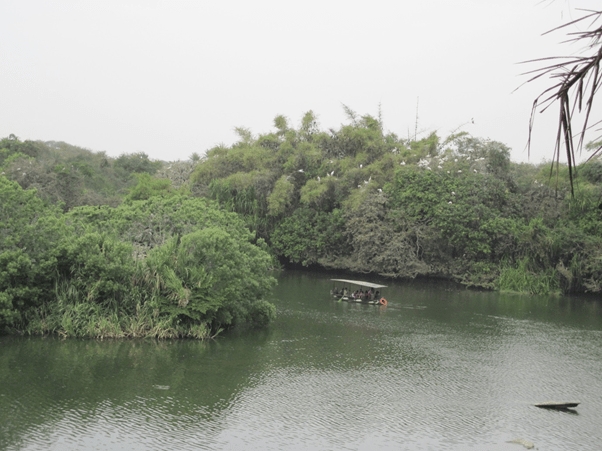 Photo: Anirban Sinha
Location: Mandya, Karnataka
Timings: 9 am – 6 pm
Fee: INR 50 (adults), INR 25 (kids) INR 300 (foreigners)
This Bird sanctuary is the largest in Karnataka situated 128 km away from Bangalore city. This is a must-visit picturesque place for its widespread flora and fauna.  Various migratory birds, some of them very rare, can be spotted here that come from Siberia, Australia, and North America. In short, it is a paradise for every bird lover/watcher.
The boat ride on the river offers a breathtaking scenic beauty of birds, crocodiles, otters, and lush green nature. Life jackets for everyone are mandatory to wear. Experienced guides and oarsmen from the forest department conduct the boating rides.
7. BHEEMESHWARI FISHING CAMP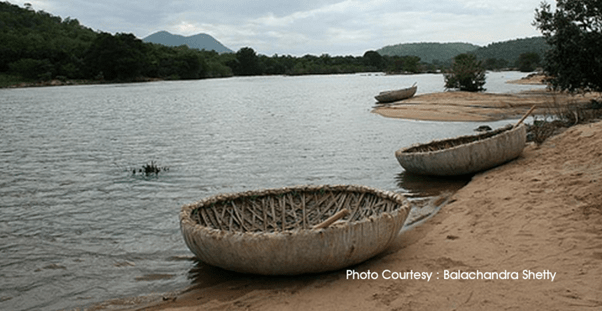 Location: Mandya, Karnataka
Timings: 10 am – 5.30 pm
Many pristine water bodies make Bheemeshwari an ideal place for a lazy boat ride, especially on the Cauvery River. The river water flows along a path surrounded by green forests and colourful landscapes which allows the passengers in the boat to spot a variety of birds and animals in the region.
Also, explore the Best Park in Hyderabad. The tiny boats are also known as Coracles, as it floats on the river, the cool water beneath, and the pleasant breeze above create a splendorous moment for a romantic outing or a leisurely escape.
8. BANNERGHATTA BIOLOGICAL PARK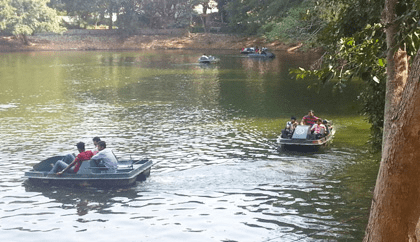 Photo: Travel to Karnataka
Location: Bannerghatta Road
Timings: 9.30 am – 5 pm (Tuesday closed)
Fee: INR 60 per person/trip (duration 30 minutes) & INR 300 full boat hire/trip (4 persons) (duration 30 minutes)
Every city cannot boast of a wonderful National Park within its boundary possessing such a variety of flora and fauna as Bangalore. Since the weather conditions of Bangalore remain pleasant throughout the year, boating is a brilliant option if you are visiting Bannerghatta Biological Park. Excitement and relaxation come hand in hand amidst this refreshing natural setting. Pedal boats and rowing boats are put into service for the recreational facility of tourists. Although it is especially famous for its lion and tiger safaris, flora and fauna treat the eyes.
Hopefully, boating in the Bangalore facility keeps increasing in number so that people from all over the country can spend leisure time aligning their hearts with Mother Earth.
9. AGARA LAKE
Location: Outer Ring Road, Close to Koramangala and HSR Layout
Timings: 5.30 to 11.00 AM (Morning) Followed by 4.00 – 6.30 PM (Evening)
Fee: INR 60 per person/trip (duration 30 minutes) & INR 300 full boat hire/trip (4 persons) (duration 30 minutes)
Agara Lake is one of the oldest lakes which has its purity in water. The clean water adds a treat to the eyes of tourists and also the birds. One of the best couple outing places in Bangalore is this Agara Lake. There are many temples that are nearby which helps tourists to have a look at them too. The beauty of the lake increases with the presence of stars in the sky during the nighttime in the clear water.
10. MADIWALA LAKE
Location: EWS Colony, Stage 2, BTM Layout
Timings: 6:00 AM to 6:15 PM
Fee: INR 50 per person/trip (duration 30 minutes) & INR 10 entry fee 
This place for boating in Bangalore is a boating centre that is affordable. It is also a great place to roam around and just enjoy nature. You can also go jogging and have a fun time with your friends and family. Go there for a picnic, spend the day watching birds, enjoy nature, and enjoy your time with your loved ones.
11. Manchanabele Reservoir
Although this place is located a bit farther from the city, it is definitely one of the best areas for boating near Bangalore. It has a beautiful view of the river merging into the hills which makes for a beautiful and picturesque location. If you ever want to go for a long drive with your friends and family, this is a great place for you to check out.
12. Lalbagh Lake
This is another beautiful lake in Bangalore that has a beautiful boating area. It is located within the Lalbagh botanical garden, which itself is a popular spot for families. The beautiful landscape makes for a gorgeous site for the visitors. It is also one of the hotspots for photography and bird watching.

In addition to all the above-mentioned lakes, there are numerous other places where one can enjoy boating in Bangalore. The Kaikondrahalli Lake which is located in Bangalore is another famous spot for sightseeing, bird watching and boat tours. In a nutshell, it would be safe to say that Bangalore is the melting pot for modernisation, traditional appeal, impeccable natural beauty and urban development. No matter what you are looking for, this city has something to offer everybody. 
FAQs of Boating Places in Bangalore
1. Which is the biggest lake in Bangalore?
Ulsoor Lake is the biggest lake in Bangalore with a total expanse of 1.5 square km. In addition to being the largest lake, it is also one of the oldest lakes in the city and is one of the most famous recreation spots in Bengaluru.
2. Does Bangalore have a lake?
Bangalore which is a bustling city in India is home to a number of lakes. These lakes are famous for various recreational activities including boat tours. In fact, there are many eating joints, parks and other attractions to enhance the charm of the lakes.
3. What is special in Madiwala, Bangalore?
Madiwala Lake is one of the biggest lakes in Bangalore. It is spread across an area of 114.3 hectares. It is believed that it was built by the Chola dynasty in a period of one day. In fact, the water in the lake was good for drinking till the 1990s. Due to expansion, pollution has left the water of this lake unfit for drinking. 
4. What is a round boat in Karnataka called?
The round boat for boating in Bangalore is called Coracles and is made with the use of materials like bamboo, reeds, plastic sheets, and other materials. This makes the boat waterproof and sturdy, unlike the versions that were made centuries ago with leather instead of plastic. It has been used in India for aeons.
5. In which season do we go for boating?
The best time to go to a boating area in Bangalore is during the post monsoon or winter season. However, you can always head out to the boating area to experience its lush landscape and greenery.