Wonder why Bangalore is called the city of lakes? All thanks to the numerous natural as well as man-made lakes scattered throughout the city. These lakes are like boon to the city dwellers where the beauty of the placid waters creates an atmosphere of boating, bird watching or simply wandering alone enjoying freedom and peace. And when it comes to kids, they will surely give an overwhelming response for boating rides.
Let's take a glimpse on the lakes in Bangalore with boating facilities:
1. ULSOOR LAKE
Photo: Ali Rizvi
Location: Ulsoor
Timings: 10 am – 6 pm (Wednesday closed)
Fee: INR 35
Also known as Halasuru Lake is the largest and the oldest lake massively responsible for the formation of the city. This 120 acres huge lake is dotted with numerous islands which can be visited by boats. Ulsoor Lake can be a fun one day outing for families with kids keeping boating as one major recreation. A lazy stroll along the shoreline is enough to refresh one's soul.
2. NAGAWARA LAKE

Photo:  Holidify
Location: Lumbini gardens, Outer ring Road
Timings: 10 am to 7 pm
Fee: INR 50
The area of the lake is 43.86 hectares, which is a beautiful landscaped lake surrounded by an amusement park called Lumbini Gardens. This water front park, having a long well-maintained sideways is enhancing the attraction of the lake to the people who wants to relax in the various leisure activities.
Boating is one of the most popular activities, out of which speed boating is way more thrilling at the speed of 60 to 80 km/hr. Various other boat rides like pedal boating, family bumper boating, boating on jet skis and leisure boating are packed with entertainment for the visitors. They even offer a guide to accompany with the rider for safety measures. All needs to wear life jackets before boating.
3. SANKEY TANK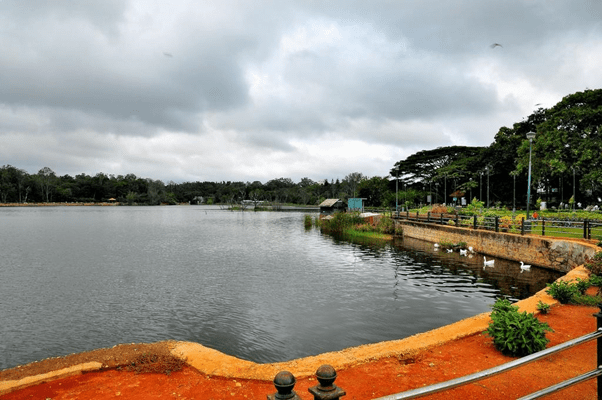 Photo: Mouthshut
Location: Malleshwaram
Timings: 6:00 AM to 10:00 AM and 12 Noon to 5:00 PM (Friday closed)
Fee: INR 10/person (Boating) & INR 20/person (Boating plus drop in and out of an island in Sankey tank)
Sankey Tank is a man-made tank of about 37.5 acres, one of the most popular places in Bangalore to hangout. Both nature lovers in search of calm surroundings and adventure enthusiasts looking for fun-filled activities can enjoy to their fullest here.
Sankey Boat Club managed by KSTDC, offers visitors with joyous boat rides such as row boats, pedal boats and motor boats. A unique way of boating along with drop to and from the island which is located in the middle of the lake at minimal charges can bring smiles in your little ones.
4. MADIWALA LAKE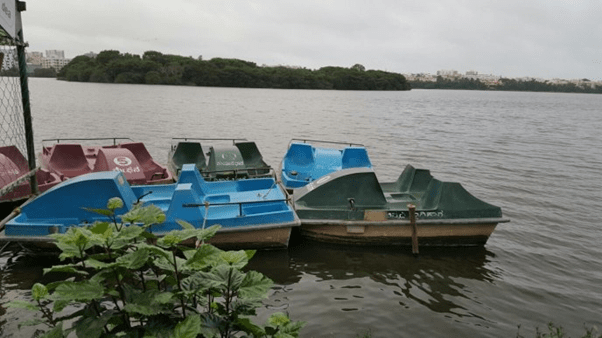 Photo: Interviewbubble
Location: EWS colony, stage 2, BTM layout
Timings: 10.30 am – 6.30 pm
Fee: INR 50
BTM is considered one of the bustling suburbs and Madiwala Lake complements it perfectly. The more than 300 years old lake spread over 270 acres of vast terrain with lots of trees, bamboo bushes and shrubs. This is one of the best boating places in Bangalore loved by both couples as well as families, as the lake offers plenty of nature's splendor. The water birds and the seasonal birds are worth watching for hours to get isolated from all worries.
The Madiwala boating club offers pedal boating facilities for 2 to 4 people/boat, even provide life jackets to all. Boating accompanied by astonishing bird watching session of aquatic birds including Kingfisher, Storks, Spot Billed Pelican, Sandpiper, Herons, Glossy Ibis, Egrets, Ducks and lot more that helps in rejuvenation.
5. HEBBAL LAKE
Photo: Jolad Rotti
Location: Bellary road, Outer ring road
Timings: 10 am – 5 pm
Fee: INR 20
Hebbal Lake is not so vibrant one, but this span of 150 acres is a heaven for 70 species of migratory birds. The major attraction here is the view of sunrise and sunset. Boating facility is there at a very nominal charge. Mostly couples find there space in the midst of the chirping birds. This lake is seasonal and regains its charm during monsoons with an abundance of greenery.
6. RANGANATHITTU BIRD SANCTUARY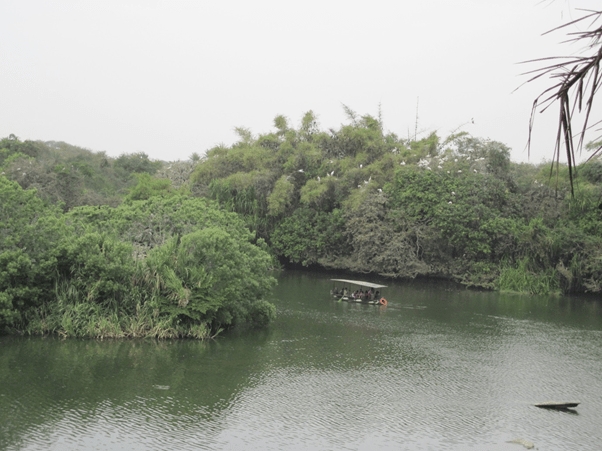 Photo: Anirban Sinha
Location: Mandya, Karnataka
Timings: 9 am – 6 pm
Fee: INR 50 (adults), INR 25 (kids) INR 300 (foreigners)
This Bird sanctuary is the largest in Karnataka situated 128 kms away from Bangalore city. This is a must-visit picturesque place for its widespread flora and fauna.  Various migratory birds, some of them very rare, can be spotted here that comes from Siberia, Australia and North America.
The boat ride on the river offers a breath-taking scenic beauty of birds, crocodiles, otters and lush green nature. Life jackets for everyone are mandatory to wear. Experienced guides and oarsmen from the forest department conduct the boating rides.
7. BHEEMESHWARI FISHING CAMP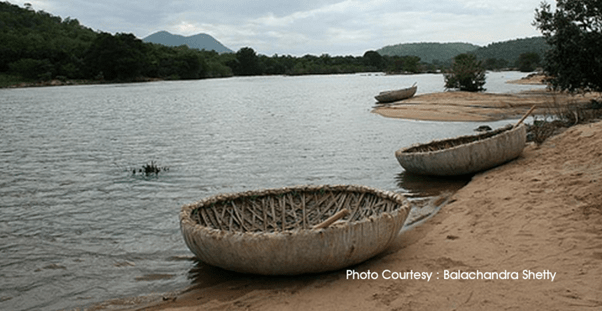 Location: Mandya, Karnataka
Timings: 10 am – 5.30 pm
Many pristine water bodies make Bheemeshwari an ideal place for a lazy boat ride especially on Cauvery River. The river water flows along a path surrounded by green forests and colorful landscape which allows the passengers in the boat to spot variety of birds and animals in the region.
The tiny boats also known as Coracles, as it floats on the river, cool water beneath and pleasant breeze above create a splendorous moment for a romantic outing or a leisure escape.
8. BANNERGHATTA BIOLOGICAL PARK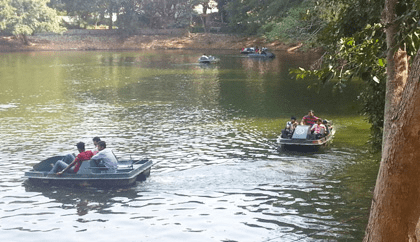 Photo: Travel to Karnataka
Location: Bannerghatta road
Timings: 9.30 am – 5 pm (Tuesday closed)
Fee: INR 60 per person / trip (duration 30 minutes) & INR 300 full boat hire / trip (4 persons) (duration 30 minutes)
Every city cannot boast of a wonderful National Park within its boundary possessing such a variety of flora and fauna like Bangalore. Since the weather conditions of Bangalore remain pleasant throughout the year, boating is a brilliant option if you are visiting Bannerghatta Biological Park. Excitement and relaxation comes hand in hand amidst this refreshing natural setting. Pedal boats and rowing boats are put into service for the recreational facility of the tourists.
Hopefully boating in Bangalore facility keep on increasing in number so that people from all over the country can spend the leisure time in aligning their hearts with Mother Earth.