——————In this Article——————
Importance of Games in Child's life
---
Education is significant to all of us as it enhances our knowledge, skills and abilities. It makes us a strong individual who can think rationally and always go with a positive attitude in his/her life. Every parent wishes to see their child moving towards the path of success which is only probable through proper education. But it doesn't mean a child becomes a bookworm. He/she should be active in games and sports too. In this article, the importance of games in child's life is discussed.
Physical education period is the most awaited thing that all children look forward to in school. This period normally lasts for 50 minutes in school so for a lot of children it seems less of time. They eagerly wait for this period in school and have a desire that it never ends. At home also, many children wait for the evening time so that they can go and play outdoor.
What is the importance of games in child life? It is more than just them playing with their friends. It is more than just engaging in games that might seem at times pointless to us. Playing any games/sports always have a positive impact on children. Overall it enhances a child's physical, social, cognitive and emotional well-being. Apart from improving their physical development, it also helps in shaping and enhancing their fine motor skills. Well, children participate in sports for ample reasons. Be it for fun, or due to personal motivation, acquire the status that playing a sport brings with, for fitness, due to parental pressure, or a desire to be like a famous sportsperson a child admires. Whatever the reasons for a child to engage in a sport may be, they most definitely reap the benefits of it. A games importance is not just on what they play, their status and popularity but also on what the game inculcates in them.
Therefore, it would be safe to say that the importance of games in child development is noteworthy. 
Every sport/game has different rules and regulations and assists in different ways in the development of a child's mind. Before writing down the importance of games in a child's life, let us know first its classification. Sports and games can be classified as follows:
Indoor games

Outdoor games
Indoor Games
Indoor games are those that are played indoors, in a room dedicated to a game or just in a room as simple as your living room. They do not require one to go outside in an open space to play. Indoor games are not only super fun but also work as a stress buster for kids as well as parents. It can be further classified into two categories of games. First, that involves a child's physical movement and another physical activity. The indoor games that involve physical movement are Puzzles Games, Chess, Quiz, Carrom, etc. All these games enrich the mental power of the child. Another set of indoor games that involve physical activity are badminton, table tennis, etc. A lot of minor games are also played indoors. The importance of minor games then rests also in the environment a child is surrounded by.
Here is the list of 3 best Indoor Games that can bring the family together:
1. Indoor Bowling 
This is one of the best indoor games for kiddos. Indoor bowling is super interesting and enhances hand to eye coordination in the child. Setting up the indoor bowling needs basic things to get started or you can also buy bowling set from kid's shop. When you look at the importance of indoor games for kids, for hand and eye coordination, bowling is the best. This is because you need to engage in evaluating the distance and mustering enough speed to throw your ball to knock all the pins down.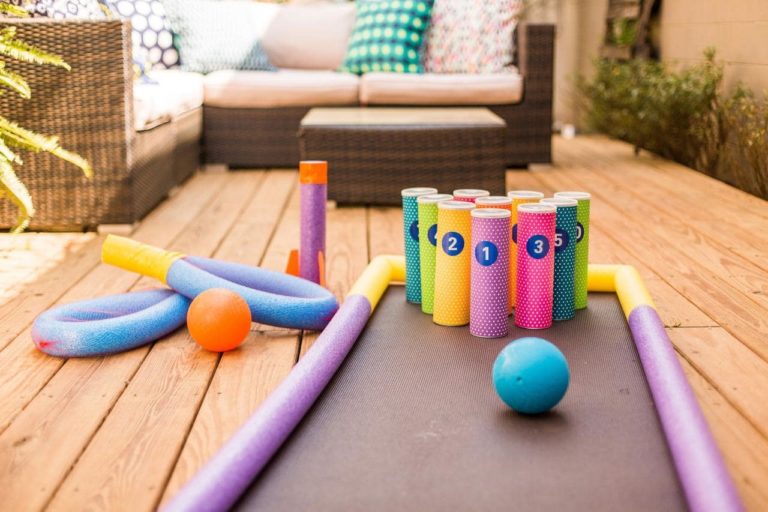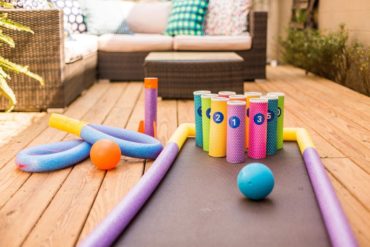 How to set up Indoor Bowling:
Spacious floor
Empty cans or plastic bottles -10 nos
Plastic ball – 1
Marker
How to Play:
Using the marker draw the bowling lane and also number the cans or plastic bottle.
Arrange the bottles in ascending order similar to the bowling pins.
Ask the kid to strike the arrangement using the ball and write down the points.
2. Toss the shirt 
It is not only up to you to understand the importance of games, your child should also be aware of what they are playing and how it helps in their development. This is another fun game that needs minimal setup and is also an extremely interesting indoor game for kids. all you need is a folded T-shirt and a bucket. Help the child to learn the importance of minor games, it will not only increase their concentration but also is a brilliant way to teach effective use of minimal resource. So, the next time they get bored, they might even be able to come up with their own fun games.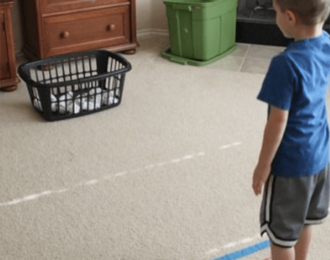 How to set up toss the shirt game:
Spacious floor without any hurdles.
Folded shirt – 2
Bucket – 1
How to play:
Toss the shirt game is extremely simple. All you need is to fold the shirt similar to a ball and tie it together so it doesn't open up.
Place the bucket near the wall and move at least 10 steps away from the setup.
Take turns to throw the rolled-up shirt inside the bucket.
3. Puzzles 
Puzzles are one of the best indoor games for kids which will never get old or boring. The importance of indoor games especially puzzles are huge, it is an educational as well as an engaging activity for kids. There are a variety of puzzles each come with a different theme and learning outcomes. From numbers, words to picture puzzles, there will never be a monotonous one to solve.  Here, the importance of game shows itself in how well the child can strategize to solve different puzzles. The child can learn new things in the form of puzzles. As a parent, never ignore the importance of minor games. Encourage your child to solve a greater number of puzzles to boost IQ.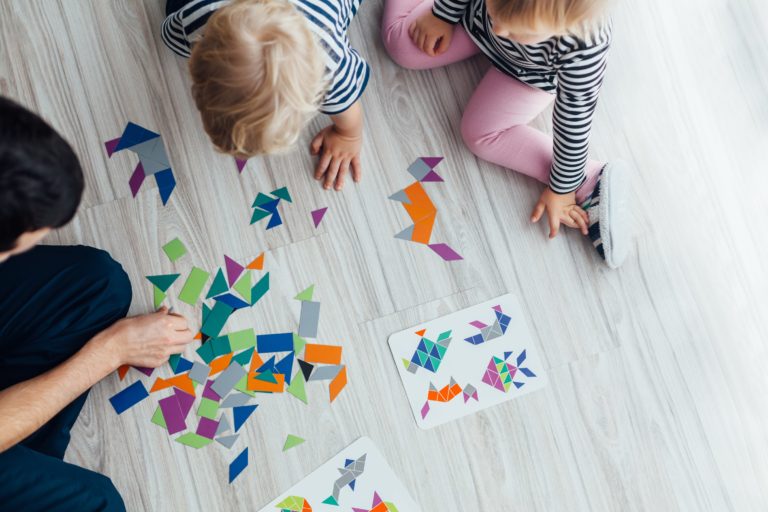 How to create puzzles:
Cut down a big picture into small similar sized squares.
How to Play:
Encourage the child to assemble the pieces of the puzzle to form a final picture and ask them to talk 2-3 lines about the picture.
You can also invest in different puzzles like fruits, vegetables, 3D Puzzles, and a lot.
Moms, be a part of our Facebook closed community called
"Parenting Mom Style"
to share any kind of

your experiences

and queries.
Outdoor Games
Outdoor games are those that are played, happening or situated outdoors, in a spacious environment such as a playground.  Nothing is more relaxing and fun for a child than stepping out for an energetic gaming session with family and friends. Hockey, Cricket, Volleyball, Basketball, Football, etc. are some of the outdoor games. Never ignore the importance of minor games, outdoor games help the child to stay energetic and physically fit.
The importance of games for kids, especially outdoors games, makes sure that your child gets enough physical activity throughout the day. Being physically fit is extremely important no matter what the age is. And children require as much exercise as they can get.
Here is the list of 3 best Outdoor Games which your child will enjoy to the core:
1. Water Balloon Splash
The Water Balloon Splash is the best outdoor games for kids during summer, the game helps the child to concentrate, grab the ball, and target the right audience. Water Balloon Splash can be played in the park or home balcony. Be prepared to be fully drenched.
5/5 - (15 votes)