It's that time of the year again when I start getting birthday blues. Yes, you read it right. I, indeed, get birthday blues. This weekend, I turned 34 years old, and my birthday blues are back. I love celebrations, but slowly, birthdays' charm and fun start fading. After that, you get busy in life. 34 years spent on this planet and I can say that through the experience of all these years I have accumulated quite a bit of teaching that I'd like to share. I'm 34 years old now and have a long life ahead of me, but it does not mean I haven't learned anything.
One question that people might often wonder about is – is 34 years old old? Not really.
Life teaches you different lessons as you grow up. You look at it in another way when you are 24 and 34. In your 20s, life is in a transformation phase. Life is full of dreams and is quite complicated. I liked life more when I entered my 30s. I was more confident, had learned many things, and enjoyed life more than I did in my 20s. For me, 34 years old meaning is that I have quite a lot of experience that will help me in my life further on. 
There Are Some Things That I've Learned During My Life Journey Of 34 Years:
1. Nothing Is Permanent
Whatever situation you are in, it'll pass. However, nothing is going to stay permanently. Being 34, I still have a roller coaster of a journey to experience. One thing I have made my mantra is to never give up and to never hold on to something for too long. Whenever you find yourself in a difficult phase of life, just take a deep breath and tell yourself, "This too shall pass." This thought may give you the power to bear difficult times, but the same holds for good times. Everyone experiences good and bad times. Life is not always a bed of roses. Be ready for all the uphill and downhill life has in store, but don't stop dreaming and believing in yourself.
2. Be Independent
Being raised by an independent woman, I learned this thing early in life. A 34 years old woman who relies on no one but herself, I have no fear of saying that I am dependent on anyone. Don't expect anyone else to fill out your form or pay your bills. Do it yourself if you can. Buy your own grocery. Financial and emotional independence both are important. Financial independence comes when you start earning but emotional independence is something you have to work upon. It comes only when you start loving yourself and start enjoying your own company. Set your priorities and invest wisely and timely for your future.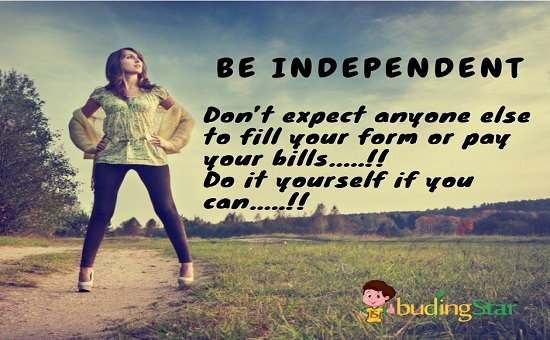 3. Relationships Are Important But Not Everything
This is something everyone should know when they reach their 30s. Every relationship has its place in life. Balance them and give time to all important people in your life. Do not forget your parents when you get married. Once you leave home, they worry about you and miss you. Call them often and take care of them. Do not neglect your husband once you have a baby. It is essential to spend time together to maintain a healthy relationship. Do not ignore your friends. Only the pandemic has made me realise it but at 34 years of age, I still do understand the importance of friendships. Every time they checked in on me, ensured I was alright just like my parents would. They are the ones who help you unwind. Realize their worth before it's too late. Learn to identify toxic relationships and leave them before they start affecting your life. Have the power within you to move out of any unworthy relationship.
4. Agree To Disagree
Throughout life, we meet many people. Unfortunately, not all of them share the same point of view as yours. It is essential to have healthy discussions about anything, but not all meetings end in agreements. At 34, I've reached that level where I can accept that other people might also be correct, and I choose to agree to disagree. Their beliefs may be different from mine, but we can still be friends.
5. Don't Compare And Don't Judge Quickly.
This is very simple to say but difficult to follow. Comparison is something with which we've grown up. It started with the height and weight compared with other toddlers of the colony moved to the marks and percentage in school then to the job and salary package. Sometimes, it seemed endless because even if you managed to get a good job, some uncle's daughter's wedding invitation would come, and comparisons would start again about the right marriageable age. But now, when you are the master of your ship, stop doing that. Your friend's life is moving on a different timeline than others. Don't judge anyone quickly in one or two meetings. A person's life is more profound than it looks. You never know what they have been through.
These things have made my life smoother and more accessible. Despite some viewpoint differences, I can relax more and enjoy tiny little moments with my family. It helps you to have an uncomplicated and stress-free life.
Mistakes I Have Made Until 34 Years Old:
Mistakes I have till Until Turning 34 years old.
Hyman Rickover, a great man, once said that success teaches nothing; only failure is educational. 
Being over calculative in life – Constantly having the urge to be perfect, we tend to take calculative steps in life, which is excellent. Still, sometimes it is essential to live life to the fullest, which prevents most of us from living our life to the fullest.
No, instead of maybe – We tend to find a middle way out, but life is too short to waste maybe's and regret later. So be decisive and say a no to things and places you don't want to be at.

Stop comparing –

Being

34 year old

I realise that there is no point comparing myself to anyone.

In this race of becoming better, we tend to forget that everybody is good in their way; we waste time reaching rather than growing.

We all have different levels of skills, different interests and different passions.

So instead, work harder day and night to become a better version of yourself and not like somebody else.
Here We Are Sharing Few Wishes That A 34 Year Old Man Wants In Their Daily Life:
1. Experience Togetherness
These past two years were impossible to face all alone. Whether it's about living romantically single or not is totally dependent on you. But if you want to be socially apart during this time, then it is a very bad idea. You will need some people to shape your thoughts and life in a different way. Now it's the right time to pick up your phone and make a wish to make a call to your friend, a work colleague, or to someone you barely know. This thing will make you happy.
2. Make Mistakes
Mistakes are the result of imperfection and imperfection is always beautiful. People pick up the difference in the arguments and they themselves assume it as a mistake. A happy ending at the end of each and every film will make the audience bored. So do mistakes as it is the image of a person as you will not have a birthday life anymore.
3. Progress Will Be Slow
My 34-year old friend is not linear and happy in his life. So are you!
The fake idea of having progress smoothly as per your goals the whole way is a lie. Progress is not linear as at some point in your life you will get wiped out. Wipeout will arrive in the picture of unemployment, breakups, the death of your loved one, or any other reason. At that point, all of us want to have a person in life to whom we can share our sorrow.
When any of these events happen in your life you get broken. And often that is when you start again. Always have faith in yourself and start again to destroy the myth of linear progress. Starting again helps you learn from your mistakes and this thought will bring progress and happiness next time.
4. Men Want To Choose Work They Enjoy
Having lots of money is not enough for a happy life.
This year I personally found that money's usefulness lies in how it can be a soft pillow in uncertain times. When we have enough money, we can take time out to think about other things also and can access accordingly. All men want to choose the work that they really enjoy. At that point money also gives you the opportunity to be more open to the work that you really wish to have.
To all the 34 year olds, enjoy your life and don't stress so much over things that are not under your control. You still have a lot to experience and take what you have with you to the journey ahead. 
Reminisce in memories from your childhood like going to Nani house and playing with your cousins. 
Got a birthday bash coming up? You might want to look up some unique first birthday party ideas boy.
Also Check:
Happy Parenting