We are pretty sure no women on earth eagerly wait for the period, and if we are provided with a choice, we will never want aunt flow to visit us. But what if you are planning a fun weekend trip? You may want to deal with autoflow first so that you can enjoy a comfortable trip with your fellas and family.
There are many medicines available in the market which induce periods, but they do more harm than good. We have curated the list of best home remedies to make periods come faster. But first, let's look at the causes.
What causes a delay in periods?
L

ow body weight

Stress

Obesity

PCOS or polycystic ovary syndrome

Chronic diseases

Or thyroid issues etc.
20 Best Home Remedies to make Periods come faster:
1. Vitamin C: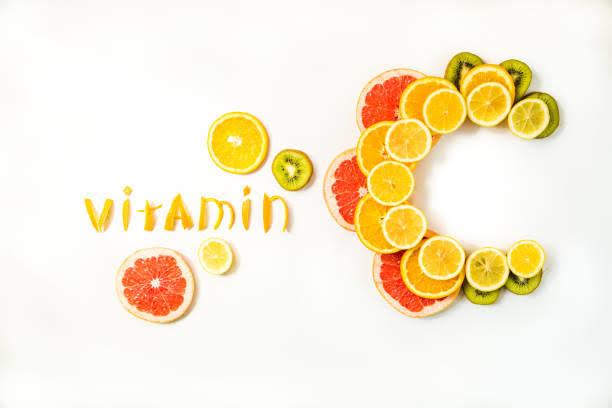 Vitamin C is the one-stop solution for your question on how to get periods fast. Include a lot of vitamin C rich fruits like black currants, broccoli, red bell pepper, tomatoes, oranges in your diet. Vitamin C has the power to stimulate estrogen level, and at the same, it suppresses progesterone levels. This, in turn, causes contraction of the uterus and helps to get periods faster.
2. Sesame Seeds:
Til seeds are heat-producing seeds in nature, and it increases the contraction of the uterus. A handful of sesame seeds works like a charm to induce the periods. Soak two teaspoons of sesame seeds (preferably black) and chew them first thing in the morning to get the periods faster. In addition to it, you can also dry roast seeds and consume one teaspoon every day to regular your periods. It is also a workable home remedy to get periods faster.
3. Carom Seeds: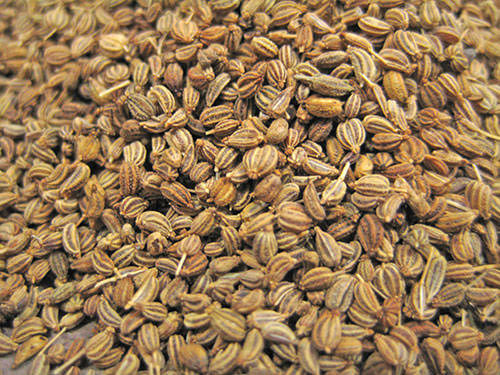 Carom seeds concoction is the solution for your query on how to get periods immediately. Carom seeds are popularly known as Ajwain and is one of the most exceptional choices which works as an excellent health supplement. It is widely used in India to regular periods and ease the pain caused by menstrual cramps.
To prepare carom seeds concoction, boil one glass of water, add 3/4 teaspoon of carom seeds and 1/2 teaspoon of jaggery. Boil everything for 10-15 minutes. Take this concoction in an empty stomach. This potent drink will solve all your period's problems.
4. Ginger: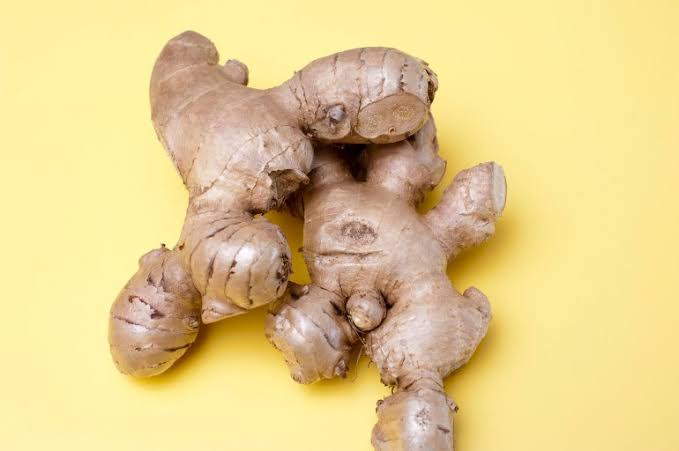 When you ask an elderly lady in your family how to get periods immediately, Ginger is the only answer you will get. Ginger is an excellent home remedy that can stimulate contraction of the uterus, which eventually will induce periods fast.
It is practically not possible to eat raw ginger, and the best option is to make piping hot ginger tea and gulp it down first thing in the morning. Preparing plain ginger tea is easy, take one glass of water, add 2 inches of peeled, crushed ginger to this water. Let this water boil for 10-15 minutes, strain this tea and add honey. Take this tea twice a day to induce periods.
5. Fenugreek seeds: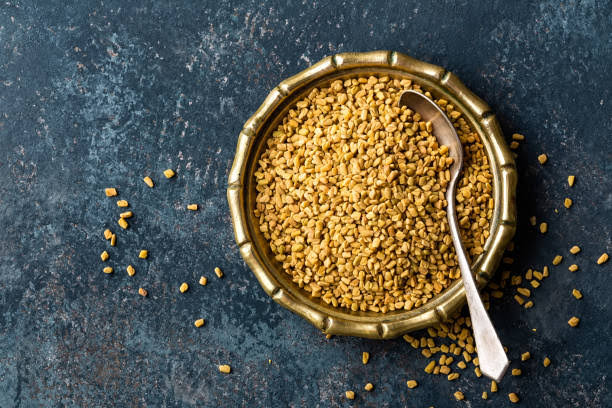 Methi seeds are popularly used in India to reduce the effect of menstrual cramps. It is also a highly recommended choice to induce periods early. Soak one tablespoon of fenugreek seeds in 1 cup of buttermilk, drink this every morning. If you are lactose allergic, you can replace buttermilk with lukewarm water.
6. Coriander seeds: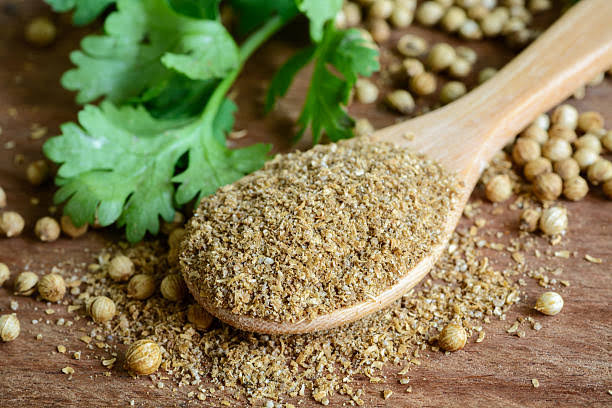 Coriander seeds are loaded with emmenagogue properties, and it is one of the safest choices if you are looking for how to get periods immediately in one day. All you need is to prepared coriander seeds concoction and drink the same 3-4 times a day.
Take one tablespoon of coriander seeds, boil the same in 1 glass of water until it is reduced to half. The coriander seeds concoction is ready to induce your period.
7. Asafoetida: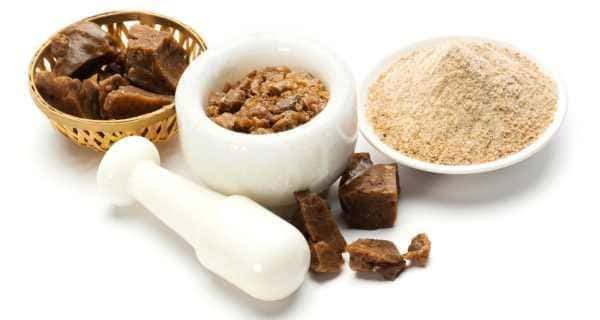 Asafoetida naturally makes your body warm and is one of the finest ingredients to induce periods. It stimulates estrogen and suppresses the secretion of progesterone. In case you are searching for how to get periods soon, Asafoetida is the safest choice.
Apart from inducting the periods on time, it also strengthens the female reproductive organ. Take a 1/4 teaspoon of Asafoetida with one glass of warm water on an  empty stomach.
8. Papaya:
If you are looking for how to get periods in one day? Papaya is the answer. Papaya is a superfood for women who have menstrual irregularities. Have a bowl full of unripe or semi-ripe papayas to induce uterine contractions.
This will help you get your periods faster, all thanks to the Carotene. The carotene increases the production of estrogen in your body and also regulates the menstrual cycle.
9. Turmeric: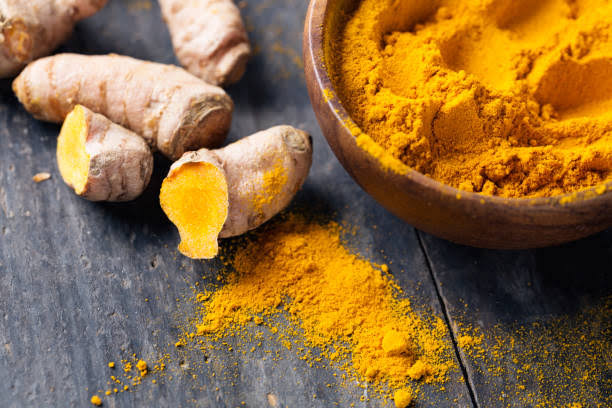 When it comes to the best home remedies to solve any health issue, Turmeric has a significant role. When you look for how to get periods immediately within a day, turmeric comes to the rescue. It works as a powerful component to boost the estrogen level.
You can include turmeric into your diet or prepare turmeric milk. To prepare turmeric milk, boil milk, add 1/4 teaspoon of turmeric powder and add sugar. Drink lukewarm turmeric tea twice a day to get periods immediately.
10. Spice Food: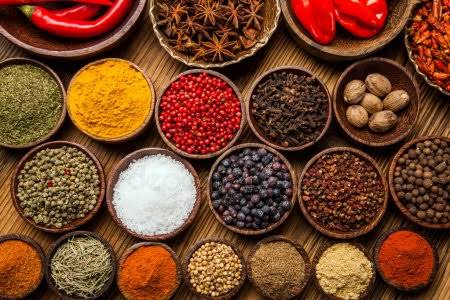 To get periods early, you need to increase your body temperature. Spicy food elevates the body temperature and causes massive uterine contractions. Have naturally spicy food like hot chillies, peppers, etc. to get your periods.
Try to include the right amount of spicy food into your diet without damaging your digestive system. This is one most straightforward home remedy if you are looking for a solution on how to get periods immediately.
11. Sex:
Yes, you read it right. Sexual activity induces periods early. When you have an orgasm, it can help the cervix to dilate. This vacuum pulls menstrual blood and is one of the best solutions for the question of how to get periods in one hour.
You can trigger periods through penetrative as well as non-penetrative sexual activities. Moreover, regular sexual activities also reduce stress and balance healthy hormone stimulation.
12. Yoga:
Yoga is one brilliant solution to get periods faster. Your body should be fit and healthy and less prone to disease; this automatically will regulate your menstrual cycle. Malasana and Dhanurasana promote uterine contractions and cause your periods to arrive faster.
13. Aloe Vera:
Aloe vera is a superb medicine that soothes an upset tummy. It can also be used as a powerful home remedy to regulate the menstrual cycle and induce periods faster. Cut open an aloe vera leaves into two halves, scoop out the gel and mix one tablespoon of honey. Grind together into a smooth juice, dilute with 1/2 glass of water and consume it as first thing in the morning.
14. Milk and Dates: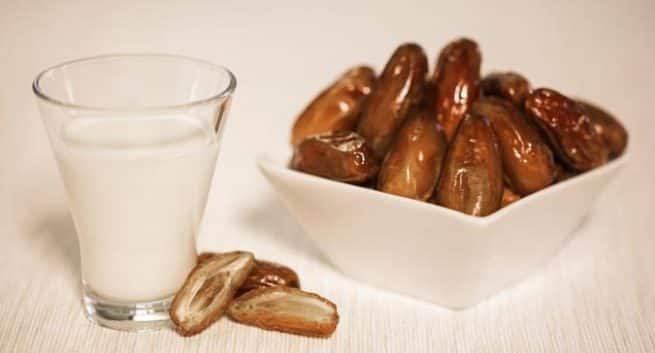 Dates are a superfood for women, and it is loaded with lots of health benefits. When you take 2-3 dates each day, you can find your menstrual cycle regulated. Moreover, dates are excellent sources of natural iron and increase the hemoglobin level.
The natural properties present in dates increases red blood cells count. Soak 3-4 numbers of dates in 1 glass of warm milk. Grind into a smooth paste and consume these dates infused milk every night before going to bed.
15. Birth Control Pills:
If you have an issue in regulating your periods, the birth control pill is a long term solution. It solves the problem of irregular periods by triggering the hormones. The hormonal contraceptive pills control hormone and a certain degree of certainty, this eventually regulars menstrual cycle.
16. Apple Cider Vinegar: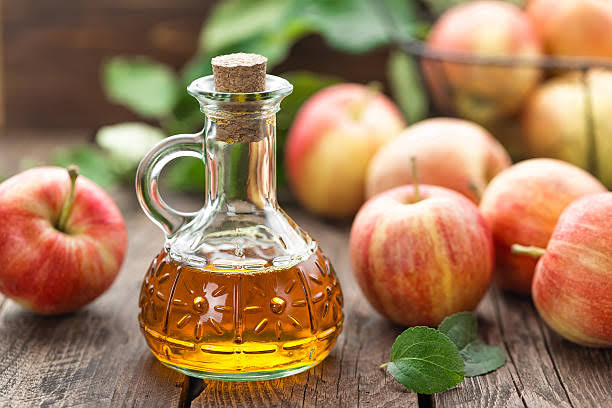 Apple cider vinegar is the best remedy for PCOS, and it restores ovulatory menstruation. The taste of apple cider vinegar can be a bit bitter but you can dilute 1 cup of apple cider vinegar with one glass of water and consumer twice a day to regulate auto flow. To enhance the taste add 1 tablespoon of honey. This home remedy works like a charm if you are searching for the question of how to get periods fast.
17. Salmon: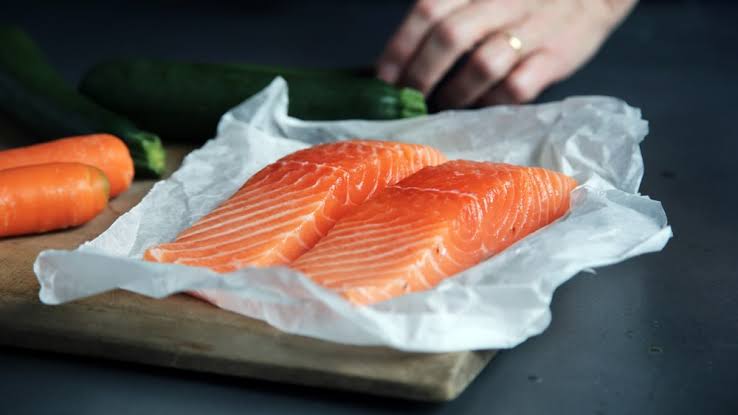 If you are fond of non-vegetarian food and enjoy fishes, getting periods faster is going to be a hassle-free affair. Salmon fish has the property to induce and stabilize the hormones and regular menstrual cycle. Salmon contains the right amount of fish oil and improves periods.
18. Tofu:
Tofu is a calcium dense superfood that can regular periods. Tofu can be included in the everyday diet to get periods faster. It is an excellent choice for vegan and lactose intolerant ladies. Tofu is made from Soy milk, and it contains the right amount of phytoestrogens which induces periods faster.
19. Hot Water Pack:
Hot water pack provides instant relief from excruciating menstrual cramps, and it also works as a natural remedy to get periods earlier. All you need is to place a hot water pack on your lower abdomen for 15-20 minutes 3-4 times a day.
20. Eat Heath Balanced Diet: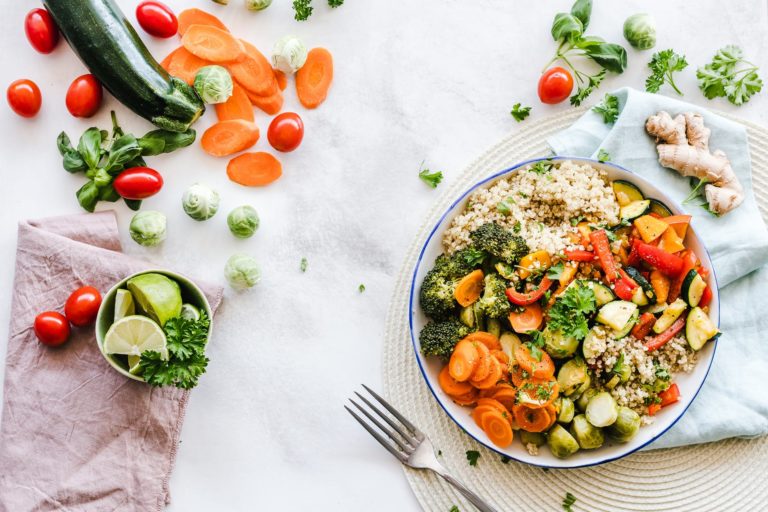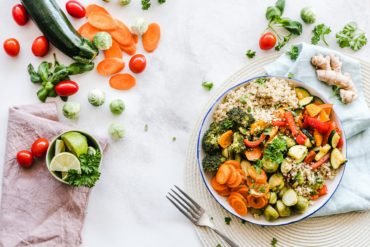 The delay and irregularity in the menstrual cycle can be due to weakness and lack of essential vitamins and minerals in the body. Consume a balanced diet and avoid skipping a meal. Drink a lot of water and follow a healthy lifestyle to prepone your periods.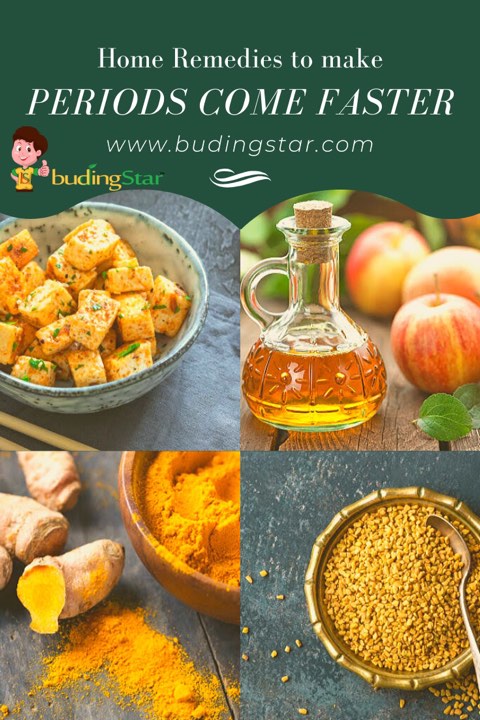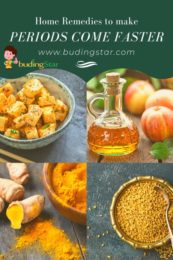 A perfect combination of a healthy diet and workout is the key to regular your menstrual cycle. Don't stress out and keep yourself clam if your periods are not on time. It will only make the situation worse. All these home remedies, as mentioned above, are natural, safe and without any side effects. Also, we have mentioned many home remedies on how to get periods immediately in one hour.
21. Parsley:
Parsley has been used traditionally for inducing menstruation. 3 doses of 2g dried parsley should be taken in 150 ml of warm water, you can also have parsley tea twice a day.
22. Celery:
It is a completely safe option and one of the best natural remedies to get periods faster, celery juice twice a day stimulates blood flow to your uterus and pelvis.
These home remedies will get your periods faster and are the best home remedies to induce periods faster and keep your body healthy as well.  Avoid taking any pills to prepone periods as much as possible to prevent future side effects.
What are the effects of late periods?
Late periods can cause emotional stress, extreme weight gain or weight loss etc depending on person to person.
Why is it important to induce menstruation or to have regular periods?
Regular periods indicate that all-important parts or reproductive parts of the body are working normally, it also provides important chemicals known as hormones and prepares women for birth.
When to see a doctor?
If the menstrual irregularity is there or periods are late for over 2 months even after applying all the remedies or without pregnancy, medical assistance should be sought.
You may be interested in reading about:
Happy Periods!