Fancy dress is a brilliant way to encourage your child to be an individual speaker. Every year the school organizes fancy dress competition during Independence Day celebration, school annual day, children's day, etc. One of the best ways to ace in fancy dress competition is to create something unique for your child. A unique fancy dress idea is always a hit and once the child grows up, these love moments will hold a special place in their heart. Here is the list of 7 unique fancy dress ideas for boys.
Best 7 Fancy Dress Ideas For Boys
1. Snail
Yes, this is one of the most unique fancy dress ideas for boys. You can easily make the snail costume or even get one for rent. Snail is super cute and is a commonly found agricultural and garden pest. Snail eats leaves and munch stems.
Requirement: Dress up your child in a dark green t-shirt and pants. To create the shell, use a basket and tie around the back. You can also include 2 handles like the backpack. During the performance ask your child to craw slowly.
Dialogues: "I am Mr. Snail, I love munching leaves and stems. Nommm..Nommm!!.
2. Rocket
This is another brilliant and unique concept for fancy dress competitions. Dress up your child as a human rocket and amaze all audience. To create a human rocket is super easy, you need basic props and a lot of cardboard boxes to do a DIY rocket.  Take the needful printout and paste it on the cardboard.
Requirements: Dress up your child in black T-shirt and tights. Spray paints 2 liters big soft drink bottle with silver color. Prepare a cylindrical shaped large size rocket using cardboard. Attach the 2 bottles on both sides. Write INDIA, Rocket PSLV, etc on the card boards. Use a blue color chart paper to create wings on both the side. You can also rent out rocket costume.
Dialogues: "Hello, I am rocket and I help to launch spacecraft"
3. Ghost
This is one of the terrific ideas to dress up boys for a fancy dress competition. But this idea needs zero efforts and the audience will skip a heartbeat for sure. The ghost look is easiest to create.
Requirements: Create the look using pure white bedsheet, cut out 2 holes to mark eyes and 1 to create breathable space for nose.
Dialogues: "Here I comet scare you all… Bhoooot aaya"
4. Cloud
This is one of the smartest fancy dress ideas for boys, you can create a cloud easily and it also is the best way to create awareness about rain and planting trees.
Requirements: Cut out a big sized cloud on cardboard, paste white color chart paper, and draw the edges using a black marker. Wrap around the cloud on the child's waist. Make sure the face is visible.
Dialogues: "I am a cloud, plant more trees so that I can continue to visit you and shower rain"
5. Recycling Bin
The global warming issue is real. It is a must for us to make the next generation well aware of the ill effect of global warming. Recycling Bin is a smart way to make kids understand the importance of recycling.
Requirements: Create a rectangular shaped box using cardboard and write on it with bold letters as "Recycling Bin". You can also stick old pens, pencils, color around the body of the bin.
Dialogues: "I am Recycle bin, I convert your trash into useful things. Reduce waste and recycle".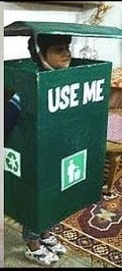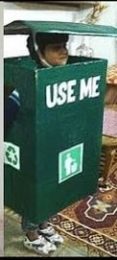 6. Mask
Mask is an iconic character and is mostly loved by kids. the colorful green face not only looks unique but also is one of the best fancy dress themes for boys.
Requirements: Make sure your child wears a yellow color formal dress. Club it together formal shoes and felt hat. Color the face green.
Dialogue: "Folks, I am Mask. Somebody stop me!!"
7. Olaf
There is no kid on earth who does not enjoy watching Frozen movie. It is one of the iconic movie which grabbed both kids as well as adults' attention. When we say Frozen movie apart from Elsa and Anna, Olaf grabbed more limelight. Olaf is a wonderful choice of fancy dress for boys. It is easy to dress up as Olaf.
Requirements: Olaf is an adorable snowman; it is easy to create the look. Cut-out cardboard and cover it with white chart paper. Create 2 big circle shapes and use the black color button to create droopy eyes. To create the nose, stick orange carrot, and attach twigs for hands and feet. The Olaf is ready to rock the fancy dress competition.
Dialogues: "Hey friends, I am Olaf and summer is my favorite".
Most of the above-mentioned fancy-dress costumer can be prepared at home. Pick any of these fancy dress ideas for boys and encourage your child to give the best shot.