You may create getting dressed up for your child more thrilling and interesting by looking into some fancy dress ideas for kids. Children like dressing up for fancy dress events as an opportunity to impersonate their favourite celebrities or tv figures. You wish your child to steal the spotlight when you create a unique outfit for him, whether it's their favourite animated character or specially designed clothing for a particular event. You must be creative while modifying their attire for this fancy dress costumes. While there are many options for a kid's fancy dress, choosing the best boys halloween costumes might be challenging. Here seem to be a few creative suggestions from which you can select. Choose your favourite from the choices of childrens fancy dress costumes below.
Fancy dress is a brilliant way to encourage your child to be an individual speaker. Every year the school organizes fancy dress competitions during Independence Day celebration, school annual day, children's day, etc. One of the best ways to ace the fancy dress costume competition is to create something unique for your child. A unique fancy dress idea is always a hit and once the child grows up, these love moments will hold a special place in their heart. The kids fancy dress events make them more courageous, creative and open to their surroundings. Here is the list of 7 unique fancy dress costumes for kids.
Read about: The importance of Sports & Games in Student's Life.
Best 7 Fancy Dress Ideas For Boys
1. Snail
Yes, this is one of the most unique fancy dress ideas for boys. You can easily make the snail costume or even get one for rent. Snail is super cute and is a commonly found agricultural and garden pest. Snail eats leaves and munch stems.
Requirement: Dress up your child in a dark green t-shirt and pants. To create the shell, use a basket and tie around the back. You can also include 2 handles like the backpack. During the performance ask your child to craw slowly.
Dialogues: "I am Mr. Snail, I love munching leaves and stems. Nommm..Nommm!!.
2. Rocket
This is another brilliant and unique concept for fancy dress competitions. Dress up your child as a human rocket and amaze all audience. To create a human rocket is super easy, you need basic props and a lot of cardboard boxes to do a DIY rocket.  Take the needful printout and paste it on the cardboard. It is one of the best and easiest homemade fancy dress ideas for kids.
Requirements: Dress up your child in black T-shirt and tights. Spray paints 2 liters big soft drink bottle with silver color. Prepare a cylindrical shaped large size rocket using cardboard. Attach the 2 bottles on both sides. Write INDIA, Rocket PSLV, etc on the card boards. Use a blue color chart paper to create wings on both the side. You can also rent out rocket costume.
Dialogues: "Hello, I am rocket and I help to launch spacecraft"
Read about: Take it Easy Mom!.
3. Ghost
This is one of the terrific ideas to dress up boys for a fancy dress competition. But this idea needs zero effort and the audience will skip a heartbeat for sure in this boys easy fancy dress idea. The ghost look is easiest to create.
Requirements: Create the look using pure white bedsheet, cut out 2 holes to mark eyes and 1 to create breathable space for nose.
Dialogues: "Here I comet scare you all… Bhoooot aaya"
4. Cloud
This is one of the smartest fancy dress ideas for boys, you can create a cloud easily for this fancy dress costume and it also is the best way to create awareness about rain and planting trees.
Requirements: Cut out a big sized cloud on cardboard, paste white color chart paper, and draw the edges using a black marker. Wrap around the cloud on the child's waist. Make sure the face is visible.
Dialogues: "I am a cloud, plant more trees so that I can continue to visit you and shower rain"
Read about: 5 Ways To Encourage Your Child's Participation In Household Chores.
5. Recycling Bin
The global warming issue is real. It is a must for us to make the next generation well aware of the ill effect of global warming. Recycling Bin is a smart way to make kids understand the importance of recycling.
Requirements: Create a rectangular shaped box using cardboard and write on it with bold letters as "Recycling Bin". You can also stick old pens, pencils, color around the body of the bin.
Dialogues: "I am Recycle bin, I convert your trash into useful things. Reduce waste and recycle".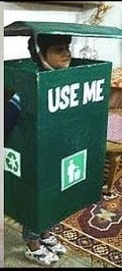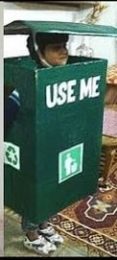 6. Mask
Mask is an iconic character and is mostly loved by kids. The colorful green face not only looks unique but also is one of the best fancy dress ideas for boys.
Requirements: Make sure your child wears a yellow color formal dress. Club it together formal shoes and felt hat. Color the face green.
Dialogue: "Folks, I am Mask. Somebody stop me!!"
Read about: Ideas for Healthy Lunch Boxes for Kids.
7. Olaf
There is no kid on earth who does not enjoy watching Frozen movie. It is one of the iconic movie which grabbed both kids as well as adults' attention. When we say Frozen movie apart from Elsa and Anna, Olaf grabbed more limelight. Olaf is a wonderful choice of fancy dress for boys. It is easy to dress up as Olaf.
Requirements: Olaf is an adorable snowman; it is easy to create the look. Cut-out cardboard and cover it with white chart paper. Create 2 big circle shapes and use the black color button to create droopy eyes. To create the nose, stick orange carrot, and attach twigs for hands and feet. The Olaf is ready to rock the fancy dress competition.
Dialogues: "Hey friends, I am Olaf and summer is my favorite".
Most of the above-mentioned fancy-dress costumer can be prepared at home. Pick any of these fancy dress ideas for boys and encourage your child to give the best shot.
8. Fruit
Fruits are the current popular and easy to set up boys dress up costumes because of their colourful and bright appearance and interesting message. You can go for any type of fruit you want, like a banana, an apple, grapes and more. Your boy will love wearing these boys costumes and can talk about the health benefits of consuming fruits daily.
Requirements: It's super easy to create any fruit, take the grapes for example. All you need is a purple chart paper that you need to cut up in the shape of grapes and add a brown coloured twig at the top with a brown coloured chart paper, and your kid is ready with the children's fancy dress outfit!
Dialogues: "An apple a day keeps the doctor away." or "Be like a pineapple. Stand tall, be sweet, and always wear a crown."
9. Prince
A prince is the most beloved and charming toddler boy dress up outfits because of how adorable it looks on little boys! Also, it is super easy and looks exceptionally eye-catching and stunning. There are several qualities in a prince that are appreciable, and your little boy can take inspiration from those and present them through his boys dress up clothes.
Requirements: For a prince outfit, you will need some royal colours like blue, white, red and gold and make a nice combination of these to make a complete ensemble. You will need a crown and shiny shoes to suit the prince!
Dialogues: "A good prince looks after his kingdom like his own family. Bow down to the royal prince and rejoice!"
10. Pirate
The most notorious of the boys dressing up costumes is the pirate, but it will surely steal the show and make for a memorable outfit. A pirate is someone who attacks ships at sea and is considered a fearsome character in any movie or story. This children's fancy dress will surely turn heads and look cool on your little one.
Requirements: For a pirate costume, you need a white shirt, black baggy pants and a pirate's hat. Lastly, you need an eye patch to complete the look!
Dialogues: "Aye aye captain!"
Read about: How to Deal with Bad Habits in Children.
Last Minutes Ideas:
1. TRAFFIC SIGNAL
You can try to make a traffic signal. By this, you can teach your kid the safety rules on the road. He too can describe this idea on stage verbally. 
Requirements
For this, you have to take a cardboard or cardboard box, black chart paper, red, yellow and green paper, gum and pens. First of all, cut the black chart paper in a long rectangle and paste it on the cardboard or you can paste the cart paper on the box that fits your child's height. Now cut three big circles of cardboard and paste red, yellow, and green paper on them, and then paste these circles on the cardboard. Let your child wear a black shirt and black pants and then place the box on his shoulders.
2. CHEESEBURGER
The other unique and exciting idea for fancy dress is to dress your child as a cheeseburger. If your kid is a fast-food lover then you can opt for this idea. He too will show interest in it.
Requirements
All you need is yellow, green, red, and beige clothes, a sewing kit, and a brown onesie of your kid's size. First of all, cut the yellow cloth in a square shape to cover your child's body. Then cut the red cloth into small semi-circles and stitch them from all sides. Now cut the green cloth into uneven edges to give it a cabbage look. Then, using Velcro, add all the pieces one by one on your baby who's wearing a brown onesie. Add the beige cloth on top to give it a burger look. 
Read about: How To Remove Stretch Marks: Home Remedies.
3. HERSHEY'S BAR
If you have decided your little one to be a Hershey's Hershey's Bar in this fancy dress competition then this decision will be simply perfect for your little one. It will be the sweetest fancy dress for kids and your little one will surely love to be chocolate. 
Requirements
All you need is just a soft polyester wrapper in brown color that will give your kid a fine look. You can design the cloth according to the design of the chocolate and then can sew it like a bar of chocolate keeping the upper side open.
4. MAHATMA GANDHI
Mahatma Gandhi was the father of our nation. He was one of the most wanted characters for fancy dress competitions. You can dress your child up as Mahatma Gandhi for Independence Day fancy dress competition or in any other regular open theme fancy dress competition.
Requirements
A white dupatta that can be tied as a dhoti or white lungi, round-shaped spectacle, a stick, and Multani mitti to give a bald look.
Read about: Natural and Herbal Remedies for Cold and Cough for Kids.
5. KOALA BEAR
You can even try some animal characters like a koala bear. It is a very cute animal character for a fancy dress competition. Lots of kids are not aware of it. But it will create fun and excitement in kids fancy dress competitions and your kid too will surely love to enact like it.
Requirements: 
You can sew the dress at home. All you need is gray and white cloth, artificial eyes or you can buy the dress online or from the market.
6. JOKER
This is always an iconic look that is eye catching and interesting to create. Your little one will look very cute in a Joker outfit with fancy hair and an adorable Joker childrens fancy dress. It is one of the best homemade fancy dress ideas for kids that is unique and easy to put together.
Requirements:
Take some purple dress pants and match it with a green jacket. All you need now are some classic face paints and colourful hair to complete the look.
7. KNIGHT
A knight is one of the most loved costumes for kids boys and will become a popular one for Halloween or any other fancy dress competition. Portray a brave and fearless knight at the last minute with some easy to find accessories and clothing that you might even find at home.
Requirements:
All you need is a grey full t-shirt and grey pants for the outfit. Pair it with accessories like a sword and made from foil and a headgear made similarly from a bike helmet. You can also make a shield from cardboard and cover it in tin foil.
Read about: Best Summer Kids' Drinks.
FAQs of Boys Fancy Dress Ideas
1. Which is the best character for a fancy dress competition?
Even though there are plenty of options and ideas available to choose from the best fancy dress ideas for boy kids would be the ones that the boy himself is a fan of. To win the fancy dress competition for boys dress him up like a character that he admires so he can truly enjoy representing that particular character. If your boy likes any particular marvel character or any other cartoon character then he can dress up like that respective character to make it more interesting and comfortable for him.
2. What are the 3 most popular costumes?
The three most popular costumes during a fancy dress competition for boys would be batman, Krrish, and spider-man. These characters have shared love with almost every other little boy and henceforth are extremely popular costumes used during a fancy dress competition for kids.
3. What are the top 10 costumes this year?
The top 10 costumes this year used as fancy dress for kids and boys include
Spiderman 

Stranger things

Dinosaur 

Rabbit

Pirate 

Zombie 

Ghost 

Cowboy 

Clown 

Vampire 
4. What are the benefits of fancy dress competitions?
Fancy dress costumes competition helps kids build their imagination and allow them to explore themselves with colours, prints, style, and more. These dress costumes for kids can establish gender identification depending on the type of competition it is. It also strengthens relationships and improves communication.
5. What are the rules of fancy dress competitions?
Different fancy dress competitions have different rules, but one rule remains which is that you have to stick as close to the requirements as possible. Not sticking to the requirement is like breaking the rules. Different competitions have different requirements or rules which you have to follow to come up with solo or group costume ideas.