It is full of excitement and joy when it is time to dress up your kid for fancy dress competitions or have to make a fancy-dress ideas list for his or her school. Nowadays many preschools also organize fancy dress competitions for nursery kids. These fancy-dress competitions not only make a kid happy and excited but also impart some useful knowledge based on those fancy dress themes. By this, they can easily gain the knowledge about the famous personalities and will remember them all life long. 
There are many fancy dress competition ideas to choose from. Whether it is a school competition, or it is for a cultural club, you can choose from the following Fancy Dress Ideas list for your kid.
Fancy Dress Ideas:
1. Indian National Leader Fancy Dress Ideas
This is the favourite fancy dress idea for most of the schools during National Holidays like Independence Day and Republic Day. And this would be the most preferred fancy dress competition idea for nursery kids as well. Dressing up your kid in a way of an Indian national leader is the most fun yet easy task to do. In addition, if you can make your kid memorize any famous dialogue of that Indian National leader, then it will be like a cherry on a cake.
Here are some nice ideas to look upon:
(a) APJ Abdul Kalam
Late Sri. Avul Pakir Jainulabdeen Abdul Kalam was an Indian scientist who serves the nation as the 11th President of India. He has always been a 'Youth Icon' and 'National Hero' of all ages. Therefore, dressing and presenting to be like him is going to be a major task. 
Requirements – His dressing style was very simple and one of the best unique fancy dress ideas for boy kids in India, so you can choose a brown coloured 'safari suit' or a simple cotton kurta pyjama. Only a white wig (which is widely available) needs to be arranged to get a complete look like him.
Dialogue – "Don't declare Holiday on my Death, instead work an extra day, if you love me."
(b) Bhagat Singh
No Indian National fancy dress competition idea can be completed without this name. Bhagat Singh was the most influential revolutionary of the Indian Independence movement. He had a very charismatic persona and recreating his style is easy and comfortable. Let us now check the requirements for Bhagat Singh's dressing style.
Requirements – A formal white cotton shirt, and a formal black/brown cotton pant with a Brown coloured hat styled in manner. For the moustache, you can draw the moustache with a Kajal pencil.
Dialogue – "By crushing Individuals, they cannot kill ideas."
(c) Rani Laxmi Bai
Rani Laxmi Bai was the Queen of Jhansi, and her real name was Manikarnika. Rani Laxmi Bai is the most preferred idea for dressing up your little girl for her fancy dress competition. An easy way to make your daughter look like a real queen. Let us check all things you need to make your little one look like Rani Lakshmi Bai:
Requirements – Although there are many shops that rent the costume of Rani Laxmi Bai on a daily basis, still if you want to recreate her style on your own then drape your daughter with Marathi style saree of silk fabric and accessorize her with some ornaments and jewellery. A sword and shield can be taken on a rent basis.
Dialogue – "I shall not surrender my Jhansi."
(d) Netaji Subhash Chandra Bose
Netaji was one of the famous nationalists of India. His defiant patriotism made him the hero of India. This is a good fancy dress idea for boys in India. You can easily dress your boy as his style of wearing was very simple and elegant.  Many of the children get themselves dressed as per Netaji's style. Netaji was the real icon of India's Independence. His looks and dressing style were simple and comfortable.
Requirements – A green coloured khaki dress with hat, round-framed spectacles, and boots.
Dialogue –  "Give me blood, I will give you freedom."
(e) Atal Bihari Vajpayee
If you are looking for the option for a fancy dress competition for class 1 boys then you can choose Atal Bihari Vajpayee for your boy. Atal Bihari Vajpayee was the most prominent Indian politician who served the nation three times as the Prime Minister of India. He was one of the co-founders of the Bharatiya Janata Party. Dressing up in his style can be very eye-catching and will look attractive. He was also simple in his dressing attire. So, let us check what are the requirements to get his looks:
Requirements – A white coloured dhoti- Kurta with Blue coloured cotton Bundi /Nehru jacket. A black sandal and square-framed black coloured spectacles.
Dialogue – "I dream of an India, free of hunger and want."
(f) Sarojini Naidu
Sarojini was an Indian poet and also a political activist. An inspiration to many women, she was among the few first women who stepped out and took leadership for our country. Sarojini Naidu was also the first President of the Indian National Congress and Governor of Uttar Pradesh. She was full of zeal and patriotism. This is number one in the fancy dress ideas list for the girl child.
Requirements – A light blue colour simple saree with a red blouse. The hair needs to be roughly combed with white colour paint or apply a generous amount of powder at the crown region.
Dialogue- "A country's greatness lies in its undying ideals of love and sacrifice that inspire the mothers of the race."
2. Animal-Based Fancy Dress Ideas
When it comes to having fancy dress ideas for kids then animal-based ideas work a lot for both girls and boys. Animal-based fancy dress ideas are a great hit among young learners as they learn about the animal kingdom. The dresses for the animals can be collected on a rent basis and few of them can be made at home as well.
(a) Lion / Lioness
You can dress up your smarty kid in an orange or brown coloured jumpsuit or in a onesie. Buy a simple Lion mask from any local stationery shop and your kid is ready to roar.
(b) Rabbit
The white furry dress can make your little one cute like a rabbit. You can rent the furry ears of the rabbit to make a complete look of a rabbit.
(c) Butterfly
It is the most loved fancy dress idea for every little cute girl. All you need to have a bright sparkled, flared skirt or even frock. The wings and the antenna can be bought on a rent basis from any costume shop.
(d) Bear
Bear is the most loved and cuddled animal among the children. You can make your kid look like a bear by wearing him a brown coloured furry dress. However, the onesie is most preferred.
3. Disney Character-Based Fancy Dress Ideas
Although these characters are cute and attractive, they are not so easy to make at home. Hence, it is good to buy or rent the costumes of your kid's favourite Disney character and get him/her ready for the competition.
Image Courtesy: Party Delights
(a) Snow White
If you are looking for fancy dress competition ideas and dialogues then Snow White is an ideal pick. Dress up your cute girl as the fairest maiden on the land. Snow White is one of the most loved characters by both girls as well as boys.
Requirements – It is difficult to create a Snow-White costume, it is better to opt for an outfit on rent.
Dialogue – I have lips red as rose, hair black as ebony, skin white as snow. Who am I?"
(b) Prince Charming
How about turning your sonny boy into a prince? Yes, dress up your boy as Prince Charming. Prince Charming is one of the most loved characters of Disney. All thanks to the gentleman's behaviour. It is one of the best fancy dress ideas for boys in India.
Requirements –  Recreating Prince Charming is super easy, all you need is white long shit, club it together with red trousers. Create a dagger and drown using cardboard.
Dialogue – " I don't even know your name! How will I find you?"
4. Jai Jawaan, Jai Kisaan Based Fancy Dress Ideas
This is one of the best fancy dress ideas for class 1 boys. This is a famous slogan of the Indian Government which emphasizes and appraises the hard work of Indian soldiers and Indian farmers. Therefore, here, you can choose to dress up your boy in any one dress like you can dress him like a farmer or you can choose a soldier to dress up or you can go with a navy dress up. The dresses can also look like the uniform of the Indian defence sector, like naval officers, army personnel, or air force personnel.
5. Easter Based Fancy Dress Ideas
Easter is a festival that is celebrated on account of the resurrection of Lord Jesus after their death. During this festival, eggs are usually gifted to each other. Hence, you can decorate your kiddo in a way of cute chicken, or egg. Many dresses are available online to shop or you can collect the same on a rental basis. And if your kid has any jumpsuit or onesie in yellow and white colour, it will be a great match.
6. Christmas Fancy Dress Ideas
For this auspicious theme, you can dress your kid like a Christmas tree, a Santa Claus, Mother Mary, or even a snow-man.
7. World Book Day Theme based Fancy Dress Ideas
World book day is a yearly event celebrated on April 23. It is organized by the United Nations Educational, Scientific and Cultural Organization, to promote reading, publishing, and copyright. You can choose a variety of book characters to dress up for world book day.  
You can take the help of the following list:
(a) Tintin
You need a blue t-shirt, underneath a white collared shirt, brown pants, and spiked hair (which can be done with the help of hair gel).
(b) Harry Potter
This is one of the easiest outfits for a fancy-dress competition. You need a white shirt with normal school trousers. A drumstick can be used as a magic wand. One added prop is the glasses of Harry Potter.
(c) Tom Sawyer – from the book of Mark Twain
Always a protagonist in the books of Mark Twain, Tom Sawyer's get-up is easy to be picked up. A white formal shirt, blue jeans, and a hat with messy hair.
Always a protagonist in the books of Mark Twain, Tom Sawyer's get-up is easy to be picked up. A white formal shirt, blue jeans, and a hat with messy hair.
8. Save water, Save World Theme Fancy Dress Ideas
This is a very sensitive topic used for a fancy dress. Hence, you can show your creativity through this idea. You can use a number of slogan to communicate. The outfit should be blue in colour as it resembles water.
Some ideas are listed below:
(a) Drop of Water
In this idea, you need cardboard and cut it into the shape of a water drop. Colour this shape in light blue and write any slogan or quotation which you want to convey. Hang this cardboard on the shoulders of your kids with the help of a cloth.
(b) Fish-Shaped Cardboard
Fish is related to water hence you can also make a shape of a fish in the cardboard, colour it, and hang it on the shoulders of the kid. The outfit of your kid can be in blue colour.
(c) Sea Creature
Water has many sea creatures. So, you can choose any one of them and decorate your child accordingly. Sea creatures can be octopus, fish, sea-horse, starfish, etc.
9. Fruit Theme Fancy Dress Ideas
This theme of fancy dress is quite easy and comfortable for the kids as well as for the parents. There is a number of fruits & vegetables around us. Choose anyone among them and dress up your kid accordingly. The dresses can be arranged either via rent or by your creativity.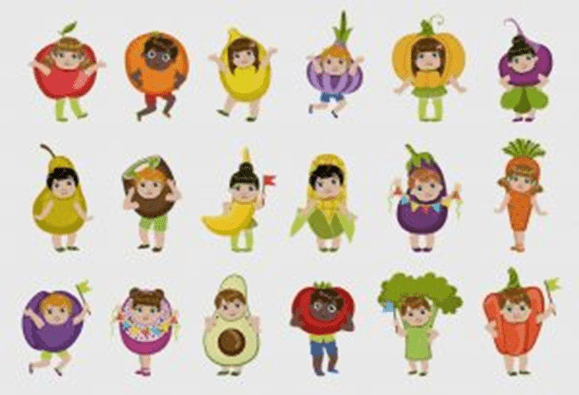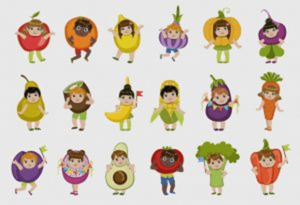 Image Courtesy: Firstcry
(a) Watermelon
This fruit is widely loved by the children. It's a beautiful and bright colour appeals to be attractive to everyone. It is one of the healthiest fruits.
Requirements – The outfit can be made as a cardboard cut-out. The half-cut shape of the watermelon looks really attractive.
(b) Pear
It is an easy fruit to make a cut-out of cardboard. Paint the same in a light green colour and brown as its twig.
10. Bird Theme Fancy Dress Ideas
Bird has always been an attractive creature of nature for the kids. They get fascinated by these little and cute creatures. Therefore, dressing them in a bird look will make them more excited and happier.
Some of the ideas which you can take to get them dressed as a bird are:
(a) Parrot 
This is a costume that you can use to make your little one like a talking parrot. These types of costumes can be bought on a rental basis from any costume shop or can buy online.
(b) Crow
The outfit for the crow is easy and you can use any full black trousers and shirt to complete. In addition, you can search for the following crow mask which is widely available.
[icon type="icon-lamp"] Moms, be a part of our Facebook closed community called "Parenting Mom Style" to share any kind of

your experiences

and queries.
11. Environment Based Fancy Dress Ideas
This unique idea can help you to send out a strong message in support of the environment. You can take the help of the following environment-based fancy dress ideas for children.
(a) Tree
You can make a cardboard outfit for making your kid a 'tree'. Paint this tree-shaped cut out in green-brown colour. You can write a good slogan for saving trees.
(b) Flower
It is a perfect outfit for your kid. However, this costume will take a bit of extra effort and creativity, but in the end, it will be your best effort of yours. Choose any flower – Sunflower, Daisy, or any flower with big petals. The costume should have a stem and petals in it. And the centre of the flower will be the face of your kid.
(c) Sun
This costume can be designed easily at a home. Make a cut out of the sun with the cardboard, and paint it a yellow or orange colour. The round shape centre will be the face of your kid. Get him dressed in a yellow or orange jumpsuit or onesie.
12. Our Helpers Fancy Dress Ideas
'Our helpers' is the community of those people who help and serve society with their specific work or profession. It includes Doctors, teachers, postmen, gardeners, milkmen, police, etc. So, choose any helper from the vast numbers and get your kid dressed like the same.
(a) Policeman
Our biggest community helpers are a policeman and almost all the kids want to be like police officers and want to serve society. It is the best fancy dress idea for a school competition.
Requirements – You can get a policeman's dress, cape, belt, and stick on rent.
Dialogue –  "I am a policeman and I serve the society. Jai Hind".
13. Famous Personality & Celebrity Fancy Dress Ideas
This unique idea can let your kid earn an extra point in the competition. When your kid is dressed up like a famous personality or a celebrity, he should also imitate the personality and throw some dialogues.
The list which can be taken as an idea is as follows:
(a) Albert Einstein
Every mom wants her child to be like Einstein in his/her studies. So, this is a good time for the mothers to dress up their kids as per their wishes. The costume is a simple, grey-coloured jacket and trousers. The only thing which should be arranged is the wig and a moustache.
Dialogue – "Life is like riding a bicycle. To keep your balance, you must keep moving."
(b) Abraham Lincoln
Abraham Lincoln was a famous personality and he was the person who had abolished slavery. The costume needed is a white formal shirt with a black coat and black bow. The accessory needed is the French cut beard.
Dialogue – "That some achieve great success, is proof to all that others can achieve it as well."
(c

) Amitabh Bachchan
No doubt, Amitabh Bachchan is a famous personality who look-alike every child wants to be. All needed is a proper formal attire including a coat, formal shirt and trousers and yes, his identifiable white French half beard.
Dialogue – "Rishte me to hum tumaare baap lagte hain, lekin naam hai Shehanshah."
14. Indian Mythological Characters
This idea includes the depiction of God and Goddess or any other mythological character.
(a) Lord Shiva
An easy yet more on accessorize character to carry. Lord Shiva is termed to be one of the most powerful gods. The costumes are widely available at every costume shop. The outfit and the related accessories can be bought on a rental basis.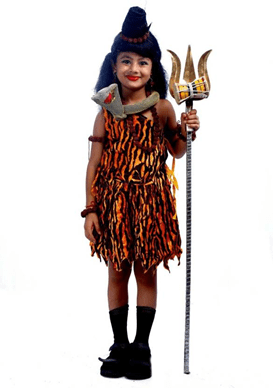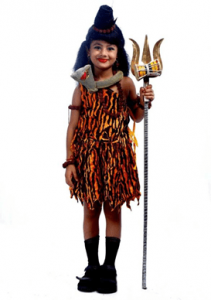 (b) Maa Durga
The get-up of Goddess Durga is quite simple as only Saree and some ornaments are needed to complete the look. Drape your daughter with any bright coloured plain saree (most preferably red coloured saree) and complete her make-up with all needed accessories like bangles, bindi, anklets, earrings, nose pins, etc. Add a trident as well to complete the entire look.
(c) Hanuman
This is one of the favourite characters amongst the children. A dhoti, crown, and a mace will complete the look.
15. Comic Book Characters
The comic book is like a friend of every child and if you choose the idea to dress up your kid in his fancy dress competition, it will be full of excitement for your kid.
Look out for these ideas:
(a) Chacha Chowdhury
An easy get up with a red turban and big moustache and your kid is ready to rock the competition in Chacha Chowdhury's style.
(b) Shaktiman
This is the most loved character among children. The costume for Shaktiman is easily available on a rental basis. Get your kid dressed as Shaktiman and see his enjoyment.
(c) Pinki
A most loved comic book character. Smart, intelligent, and funny Pinki is the best character to choose for your little princess.
16. Daily Use Stuff
Under the daily use stuff, we include LPG Cylinder, clock, toothbrush, soap, clock, etc. This idea is innovative yet informative for the children.
(a) Clock
The clock is the most useful everyday stuff which not only shows the time but also replicates its importance. It is an ideal innovation that makes us an organized individuals and every kid should be aware of its importance.
Requirements –  A big circle made out of cardboard and number are written on it with a bold marker.
Dialogues –  "Tick Tock, This Is A Clock."
17. Aim in Life
Here, you can let your kid dress up according to his/her aim in life. What he /she wants to be in life can be depicted here. Like doctors, police, teacher, engineer, writer, navy officers, etc.
18. Technology-Based Fancy Dress Ideas
The best part of this idea is your kid can become any gadgets of his/her choice. The gadgets can be, mobile phones, computers, laptops, TV, remote control, etc. A strong message can also be conveyed with the help of this idea. The costumes for the technology-based fancy dress are easily available at costume shops.
19. Harry Potter Based Fancy Dress Ideas
Harry Potter is the most popular character for fancy dress ideas.
A few ideas related to this theme are:
(a) Harry Potter
Those identical round-framed spectacles, messy hair, and formal school dress make your kid a perfect Harry Potter.
(b) Prof. Dumbledore
(c) Hagrid
20. Superhero Characters
Your child must have wanted to become a Superhero so that he can fly and can save the world from various dangers. There is a number of superheroes that can be taken as an idea – Superman, Batman, Spiderman, Captain America, Wonder Woman, etc.
21. Theatre Theme Fancy Dress Ideas
This is one of the unique and cutest themes for kids. Theatre is something which every child is fascinated by, the big screen, booming sound, coke, burgers, and delicious popcorn. You can choose anything from this and dress up the cutie easily.
(a) Popcorn
Popcorn is loved by both kids and adults; this is one of the healthiest snacks which can be munched while watching movies. This is also an ideal fancy dress idea for school competitions.
Requirements – Dress up your child in a white plain T-shirt and black pants. Prepare a rectangular box and write popcorn in bold letters. finally, at the top, crush paper chunks and paint in mild yellow colour.
Dialogues – "I am yummy popcorn, everyone loves me. Nom!! Nom!! Nom!!"
22. Candy Theme Fancy Dress Idea
This is one of the cutest and most colourful fancy dress competition ideas for the girl children. Candy is loved by all the kids and this theme of fancy dress will instantly grab the audience's attention.
Requirements – Dress up as a colourful candy and wear matching shoes. Make sure to include matching hair accessories and delivery the dialogue with a smile and confidence.
Dialogues –  "Hey, I am Candy, sweet and crunchy, everyone loves me".
23. Number Theme Fancy Dress Idea
This is again a smart and easy theme of fancy dress for kids. If your little one enjoys number counting, then it is a perfect choice for a fancy dress competition for class 1. Dress up your kiddo in any number of his choice or as ZERO.
Requirements – Dress up your child in a black shirt and pants, cut out a big sized zero shape from cardboard, colour in red and tie it around your child's waist.
 Dialogue – "My name is zero and I am the hero who has the power to make any number big when I stand next to them".
24. Traffic Signal Fancy Dress Idea
The importance of traffic signals must be taught to kids from a very small age. Dress up your child as a traffic signal light i.e. red, green, and yellow. Create awareness by talking about the importance of following the traffic lights. It is also an amazing fancy dress idea for boys in India.
Requirements – You can get the outfit of traffic lights on rent and can do a quick DIY using a big cardboard box.
 Dialogue – "Hello, I am a traffic signal, Red stands for Stop, Yellow for Look and Green for Go".
25. Colour Pencil Fancy Dress Idea 
Every child loves to colour and surely colouring is a major part of every child's daily routine. The Colour pencil fancy dress theme is not unique but also is super-duper adorable fancy dress competition ideas and dialogues are super easy as well. If you are looking for group fancy dress ideas, you can dress up kids in colourful costumes and place then next to each other to resemble a pack. 
Requirements – Dress up your child in their favourite colour pencil. You can take the outfit on rent or easily create one using themocol sheets.
Dialogues – "Hey, I am the colour green, the colour of nature"
26. Harry Potter 
At a party or a school fancy dress competition, nothing surpasses a Harry Potter outfit. Harry Potter, the benevolent wizard from J.K Rowling's literature series, is a popular costume choice among children. To transform your child into Harry Potter, all you need are rounded-frame spectacles, a wand or stick with one pointed edge, and a long black cloak.
Dialogue to say: I firmly vow that I am up to no good! (with a sly grin on his face).
27. Cinderella
Cinderella is a well-known fairy tale figure who appears in the French folk storey Cinderella, or The Little Glass Slipper. To make the experience more engaging, dress your small girl in a lovely pink Cinderella costume with glass shoes (or anything similar) and teach her to speak a line from the narrative. If your little girl can pull this off with ease, it can be an award winning fancy dress idea for her. 
Dialogue – Oh, my goodness! It's 12 a.m., and I have to leave.
28. Board Games
You can also dress up your kid as your favourite board game if you are looking for easy fancy dress ideas for your kids. In fact, a board game can be amongst the best fancy-dress ideas for boys to show their personal interests.
(a) Ludo
In order to dress up your kid as ludo, you can choose an outfit that matches the four colours of the game. You can also make your kid wear a cap that has a dice detailing on it. 
(b) Chess 
This one is also one of the best fancy dress ideas in India. You can opt for black and white outfit combination and matching accessory to personify the chess pieces. The whole idea is just to have a lot of fun with the whole process and make the event memorable for yourself and your kid. 
29. Musician / Rockstar:
In fact, you can also try dressing up your child as a famous musician or rockstar. For instance;
(a) A.R. Rahman 
He is a notable Indian musician and you can dress up your kid in a style that matches him. You can also see the kind of outfit A.R. Rahman was wearing when he won the Oscar and try to replicate that for your child. It is one of the easiest fancy dress ideas for boys 
(b) Lata Mangeshkar 
She is lovingly remembered as the nightingale of India. While thinking of dress ideas for kids, especially girls, you can make them wear a cream or white saree and make a braid just like how the late singer used to dress up. 
So, these were the fancy dress ideas for your little munchkin. 
Fancy dress competitions have been a part of many communities and have gained much popularity in the past few years. They are commonly held at schools, community centres, and other locations where people can come together and celebrate their favourite hobbies and interests. Fancy dress competitions for kids usually pit the best of the best in a particular hobby or interest against each other in a competition of creativity and skill. It is a great way for hobbies and interests to unite and get their name out to the community. The school holds a fancy dress competition where the students compete to see who can come up with the most interesting and best fancy dress idea. The winning outfit is determined by a vote from the audience and is usually the most innovative idea for a fancy dress competition. The costumes generally incorporate elements from a particular film, book, national leaders, or game. The students also have the opportunity to design their own costumes. We have listed down some amazing ideas for a fancy dress competition that you can try on. Our huge list of creative ideas for fancy dress competitions has ideas that will surely make your child win the competition. We have fancy dress competition ideas for national leaders, fancy dress ideas for girls, nursery fancy dress competition ideas, and professional fancy dress competition ideas, which are also accompanied by dialogue for fancy dress competitions. We not only provide you with varied themes for fancy dress competitions but also attach a special dialogue for that particular character with it to make work easier for you. Different fancy dress themes can be a great way for children to learn about other cultures and traditions, and for children to learn about themselves and their own cultures.
Do let us know in the comments below if you know of any unique fancy dress ideas. We would love to know your thoughts. 
FAQ's
1. Which fancy dress costume is the best?
Every fancy dress costume is best as fancy dress for kids are exciting for both, the parents and the children. It allows the kids to explore and also get the confidence to get up on stage and say a few lines. Although there are certain fancy dress ideas for competition that can never go wrong! If your child is a girl you can go with Cindrella and Maa Durga. These are the best fancy dress competition ideas for girls! And for boys Harry Potter, Shaktiman, Policeman and APJ Abdul Kalam are the best fancy dress ideas for kids. 
2. What are the three most popular costumes?
The three most popular ideas popular costume ideas can be again cinderella as a fancy dress for kids allow making them feel like dreamy, Indian national leaders so that the kids learn about our history and culture and know what these heroes have done for the country, and some fancy dress ideas that could never go wrong are dressing them up as their favourite cartoon characters! 
3. What kind of character should I dress up as?
You can dress up as any character you wish to. It could be your favourite character from Indian national leaders, your favourite cartoon character, your favourite personality and celebrity and Indian mythological characters as well!
4. How do you prepare for fancy dress?
In order to prepare for fancy dress, you should properly acquaint yourself with the mannerisms and attire of the character that you have chosen. Subsequently, you can try to pick clothes and accessories that match the character your kid is trying to personify.
5. What is the history of fancy dress?
The concept of dressing up in quirky and unique attire dates back to antiquity. Ancient Rome and Greece observed events where people used to dress up in special costumes to celebrate religious events or other important occasions. The Halloween festival in the United States Of America is centred around the fancy dress concept as well. Europe and the U.K. has also observed the practice of fancy dress events for special occasions. 
Click here to know the first birthday themes!
Know the best high chair in India.